Basically: An Austen-style Regency 'romance novel' in a fanciful film.
It is a fact not well acknowledged, that during the George W. Bush recession, the readers of Romance novels kept the publishing industry alive. (Because they never stopped buying books.) The Romance Fandom has a habit of snatching up addictive new stories monthly or even weekly, the way other readers buy magazines. Today, not much has changed. It's now the Romance and Young Adult novels that keep publishing flush. 
Here is the puzzlement. The genre "literature" relies on so often is just as often maligned for its fanciful reimaginings of history, prescribed tropes, "egregious sex" (yes, I read that in a review once), and the predictability of its endings. But, babes, that's the point! It's the escapism and the fantasy that makes reading these novels a sure thing. Romance is a very specific genre—its readers know the swoons are promised and the love is real.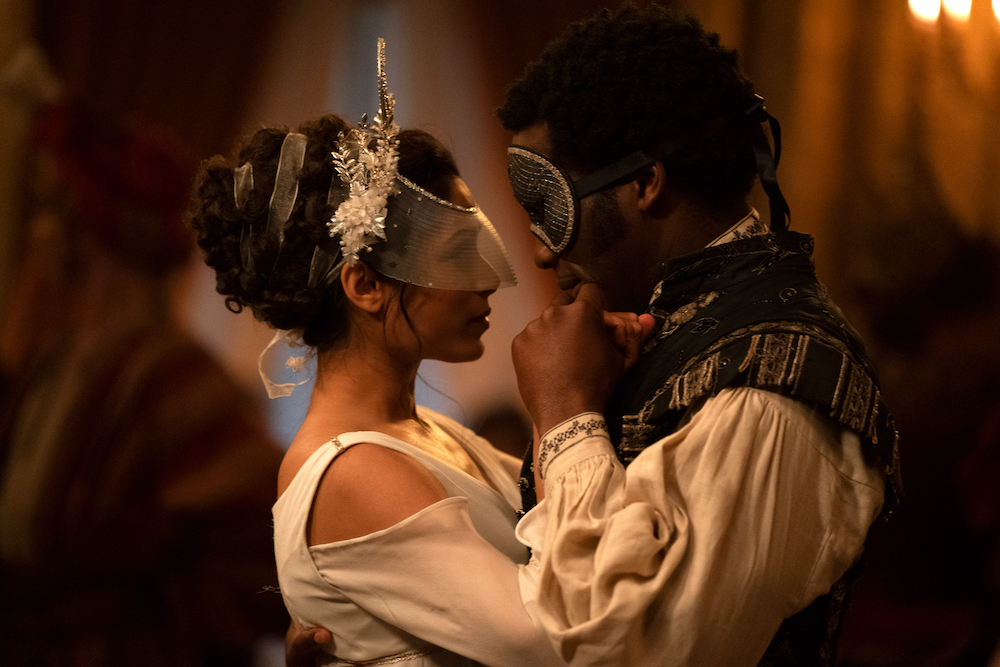 Yet, the story structure that makes a Romance novel so glorious is unrelated to the way romantic stories are written for television and films. They are not the same. The screen versions don't have the same reliable progression, the promise of satisfaction, or the tropes. That's why Romance-loving audiences went mad for Bridgerton. Finally, we could watch a story unfold with the same chapter structure, the same promise of swoons, and the sense of everlasting love that the novels deliver. 
However, before the Bridgerton series thrilled us, Refinery29 brought us an 11-minute proof of concept directed by Emma Holly Jones, starring Gemma Chan, Freida Pinto, and Ṣọpẹ́ Dìrísù. This was the original Mr. Malcolm's List. Not to be confused with the novel—both of which were written by Suzanne Allain. The List delivered the dream of a Regency Romance on screen, without the barriers of one-sided "historical accuracy"—all were invited; all were celebrated. The fandom was so ready. . .but we would have to wait a few years for the full story. 
The waiting is over, Mr. Malcolm's List lands in theaters today. Now starring Zawe Ashton, along with Pinto as Selina, Dìrísù as Mr. Malcolm, and the delightful Oliver Jackson-Cohen AKA Lord Cassidy. Look out for Ashley Park too. Her Mrs. Covington is an eye-roll wrapped up in a giggle.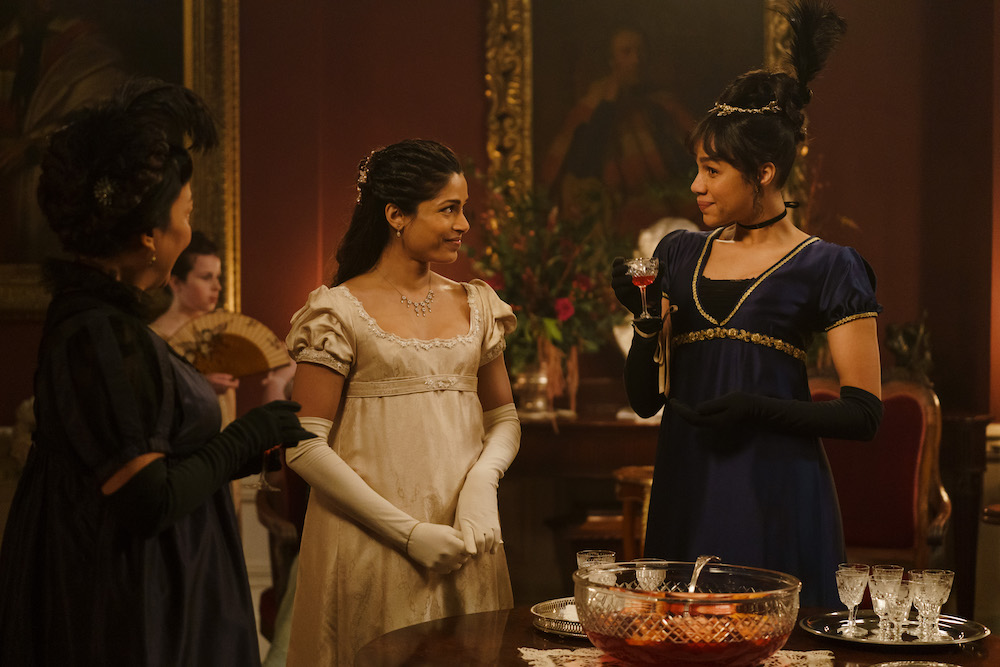 It all starts with Ashton's Julia, a vain and vapid member of The Ton. When you first meet her you're likely to think: oh yay, a historic mean girl. But wait a while and you'll see there's more. Julia, like every other eligible bachelorette, is hoping to land the well-moneyed but titleless Mr. Malcolm (Dìrísù). (Please note: I should be congratulated for avoiding the word "endowed" in that last sentence.) The handsome Mr. Malcolm is pretentious although polite when we're introduced to him. But if you wait a while and you'll see there's more. When Mr. Malcolm embarrasses Julia for lacking the qualities on his checklist for a wife, the lady loses her sh!t. That's when Julia calls in a ringer. It's her best friend and country girl Selina (Pinto), who seems too perfect for this world—a total fairytale princess. But wait a while and you'll see. . .
Mr. Malcolm's List overflows with the drawing-room drama, bouncy banter, and the secrets that Romance readers crave. Romantic movie lovers are likely to enjoy it too. Although it may have arrived a bit too late to lay claim to launching a new genre, and it might be a little too soft to cause excessive swooning, it is still the kind of film that makes you smile. So, if you're ready to watch more romance novels, this List will keep you 'turning the pages' for cozy chemistry and witty times in the Regency era.
In the End: Watch it and smile.