by Day Al-Mohamed
Basically: An evocative universe with airships, travelling cities, and heroes with mysterious pasts that deserves a better story.
I love steampunk. I've always loved steampunk. I read it. I write it. I cosplay it. Which is why I was thrilled to see the first book in Philip Reeve's novel series on the big screen.
Mortal Engines' trailer promised an evocative universe with airships, travelling cities, and heroes with mysterious pasts. Set in a time period thousands of years in the future, the film shows us a world that has been destroyed, where the remnants of humanity are divided into two camps: the Traction Cities, giant cities with wheels and caterpillar tracks that crisscross a muddy barren world; and the Anti-Traction League, who travel by airship, high above the muck. The focus of both is a constant search for resources, sometimes by trade, but often by cannibalizing each other's cities and ships. In fact, the film opens with the great city of London racing across a dried-out bed of the old North Sea, opening up its fiery maw and "consuming" a smaller mining town. Not unlike a giant mechanical monster.
The main character is Hester Shaw (Hera Hilmar). She is on a quest to kill Thaddeus Valentine (Hugo Weaving), the man who brings Old Tech to the Traction City of London, the man who has plans to go to war against the other cities and the Anti-Traction League, and the man who murdered her mother and scarred her face. Londoner, Tom Natsworthy (Robert Sheehan), joins her along with outlaw Anna Fang (Jihae) and members of the Anti-Traction League.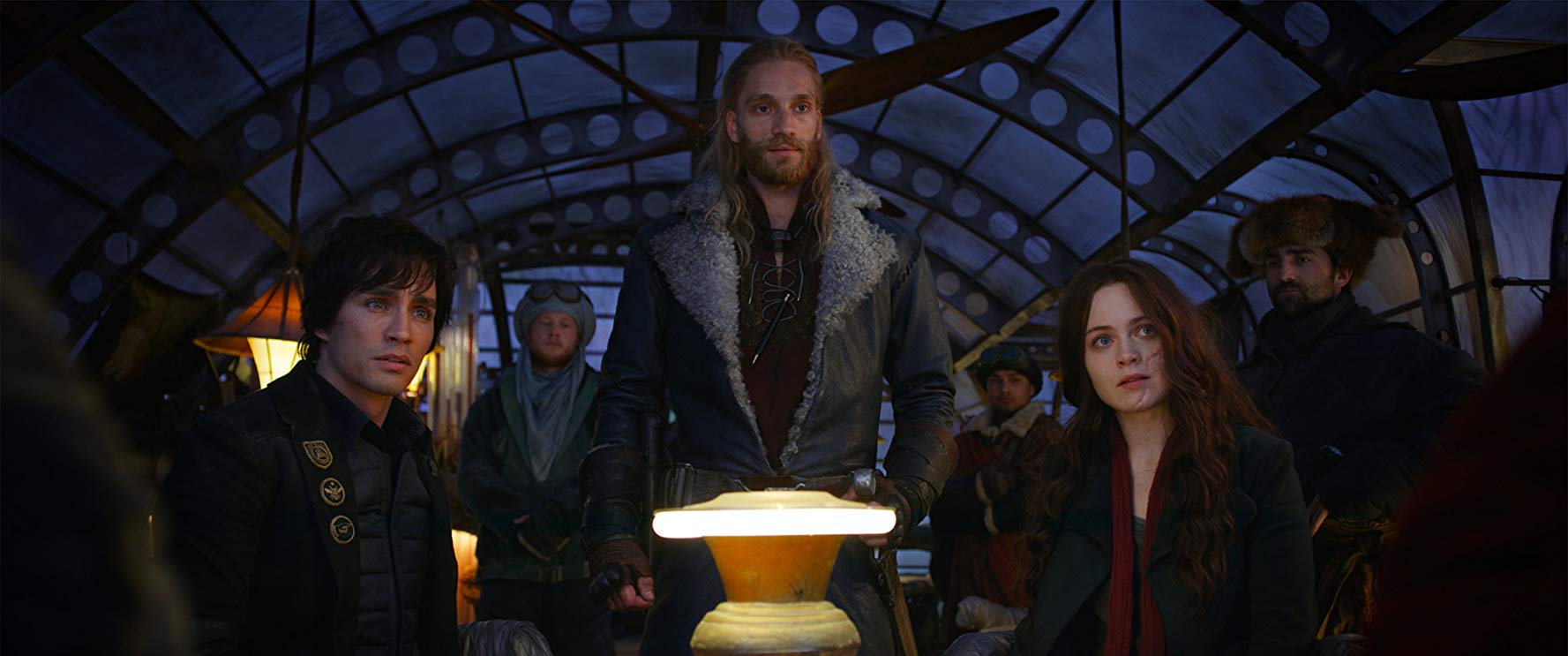 Photo: Universal Pictures
While Hilmar and Weaving have a solid chemistry, it is the secondary characters such as Yasmina (Frankie Adams), Nils Lindstrom (Leifur Sigurdarson), and Leila George D'Onofrio as Thaddeus' daughter Katherine, who just pop on screen. And there will be a lot of young people this coming year cosplaying the red-garbed Anna Fang, who saves our two heroes more than once, and who Jihae plays with such an attitude of #badass it deserves its own hashtag.
Mortal Engines is Christian Rivers' debut in the director's chair and he does a good job with the production. His background as a storyboard artist and visual effects supervisor services him well in his ability to capture striking images and set up powerful emotional beats in the film. His vision for this movie is spellbinding and more than once I found moments that take your breath away.  And I regret that there isn't more. I wish this had been optioned as a television series rather than a film. It would allow us a better opportunity to explore the world, both its visuals and its potential for complex stories and characters. Regardless of what you think of Mortal Engines, I'd recommend keeping an eye out for more films directed by Christian Rivers.
And while I'm here, I have to add a cheer for cinematographer Simon Raby. One of the greatest failures of fantasy and science fiction films is the inability to mesh the fantastical world with the physical world. I don't think there was a point in the film where the combination of CGI and live actors felt artificial. In fact, Raby's work makes it seamless.
Photo: Universal Pictures
I enjoyed the film but why don't I love the film? Great director, amazing costumes, props, beautifully rendered CGI world, and solid acting. While Mortal Engines is technically spectacular, it is inversely disappointing in the script. Unfortunately, this is often the case in many fantastic action and adventure films. We have a whole new dystopian world, a battle for resources, political rivalries, tribalism, even colonialism, and yet the story we are offered is a mediocre revenge story: "You killed my mother, I'm going to kill you. You are going to kill innocent people, and now I have to stop you, with my cadre of new friends (who of course all knew my mother), oh and by the way, I'm falling in love with the boy I met…" Even beyond my objections to a lackluster story, the dialogue has significant problems. It plods along in the mud of the traction cities. Oh, here and there, you might find a line or two that is wonderful but the script is uneven and language leaden.
And perhaps at its core, there are just too many named characters to keep track of. And while I unequivocally LOVE the performances that came from every one of those secondary characters (e.g. Menik Gooneratne as Sathya), Mortal Engines has too large a cast to manage in a story that was not written to be an ensemble. Even Marvel, with its multitude of characters was cautious in its balance and introduction of them before the big "team up."
So, now that I've torn apart the story in Mortal Engines, I will turn around and say, this film IS worth watching. Not unlike Pacific Rim and Transformers, it IS visual spectacle at its very best.
In the End: Mortal Engines is exciting and action-packed, and has a fantastic world and characters that you'll be thinking about long after the credits have rolled.