Basically: Miss Bala goes ballistic but you might as well be wearing a feeling-proof-vest.
Listen. I'm not sure how to review Miss Bala (2019). I don't think I've ever been more confused over whether an action movie deserves a guilty pleasure meme or a full roasting on the radio. The group I saw it with seemed equally half-and-half. To my left I heard, "I love this movie but I'm glad I didn't pay for it." To the right, idobi reviewer Julian Lytle grinningly enthused, "I wish I saw this movie in the barber shop." That would've been the perfect place to watch this thing. Nevermind it seems to think Mexico is a giant crime crater—which is problematic. And there it is, the surprising conundrum of Miss Bala. 'Tis a puzzlement.
The 2019 version of the film, by director by Catherine Hardwicke, is an American re-envisioning of the 2011 Mexican original by director Gerardo Naranjo (who also serves as executive producer here). This is the story of Gloria (Gina Rodriguez) an Angeleno girl of Mexican heritage who takes a ride down to Tijuana to help her best friend, Suzu (Cristina Rodlo), prepare for the Miss Baja California Pageant. The two friends end up partying at the club when a Drug Cartel comes in and literally goes ballistic. After the murderous mayhem, Gloria and Suzu are separated. Suzu is herded into a black van and doesn't return. While searching for her friend Gloria's naivete brings her face-to-face with the preternaturally sexy and scary-as-hell Cartel Jefe, Lino. I found myself hoping his full name would be Lino Marrón so I could draw decisive parallels between that character and Nino Brown (New Jack City) because Lino is played with the same mercurial nuance and vicious machismo by Ismael Cruz Cordova.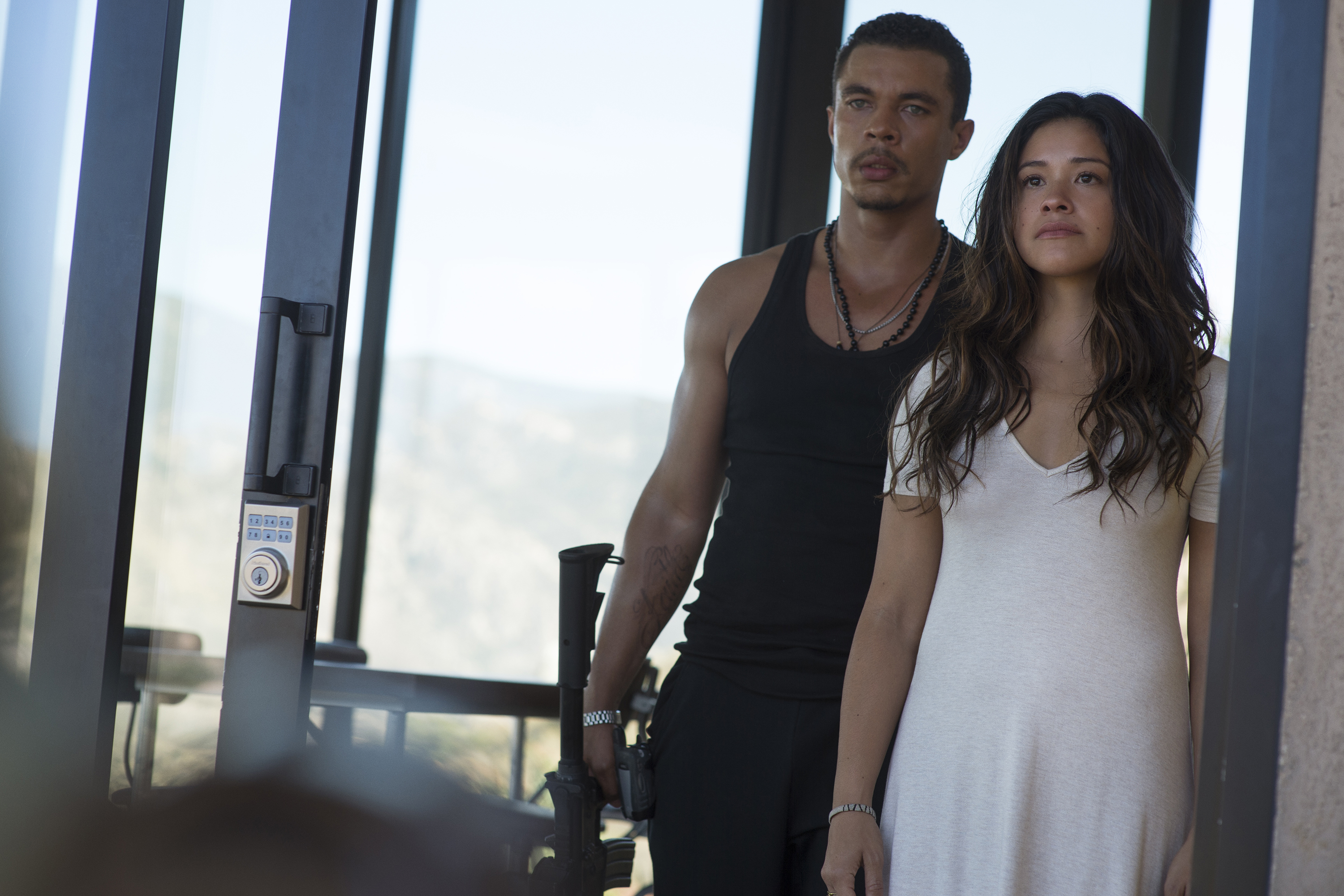 Photo © 2018 - Columbia Pictures
As foils for one another, Rodriguez and Cordova are perfectly paired. Both actors give enthralling performances, allowing Gloria's determination and kind heart to counterbalance Lino's menace and resentment. However, Lino gets a full exploration of the life that made him the man he is. We only know that Gloria is a makeup artist—who people frequently dismiss—and she is loyal and naive and resilient. Those characteristics play out again and again but we never get to know her any better. Speaking of playing, Gloria might as well be the ball in the Toxic Masculinity World Cup of 2019. Y'all, between lascivious Police Chiefs (Damián Alcázar), charismatic Cartel Bosses, and rotten-to-core DEA agents (Matt Lauria), this woman gets spiked into the net so often I started yelling out: Goal!
If only the script had replaced some of its silliness with a sharper focus on developing the leading lady's character, we might've had a true B-movie classic. Instead there are moments when characters make decisions that leave you wondering if they sustained head injuries from one of the many shootouts or 'plosions. Don't get me wrong, I adore shootouts and 'plosions—and these are good ones—but I want to feel more for my female heroes than I'm excited by the bad guys who chase them. Did I mention Lino is fire? And their chemistry is explosive? Like literally, no good can come of it. On the flipside, Rodriguez does everything she can to make us feel the female empowerment of the film…and I'm with her.
Sidebar: If you're looking for Anthony Mackie…don't blink…twice.
You see? I'm not sure how to review Miss Bala. So how about a simple statement of fact? It is a relentlessly ridiculous and yet weirdly entertaining throwback to 90s action flicks. Whether that's good or bad I'll leave up to you.
In the End: Miss Bala is a good time but it's not a good movie.