Basically: Women's fight for equality seemingly goes on forever but not all women fight the same way.
 With the loss of Justice Ruth Bader Ginsburg and the case of Breonna Taylor, the constant battle for equality in this construct of society is, at times, endlessly overwhelming. I came into Misbehaviour having only seen the poster, with an idea that it might have something to do with a beauty pageant, some hilarity might ensue, and it'll be fun. I was completely wrong. Misbehaviour is actually about the 1970 Miss World Pageant and the fight for equality while many different political battles were happening in the world of that time.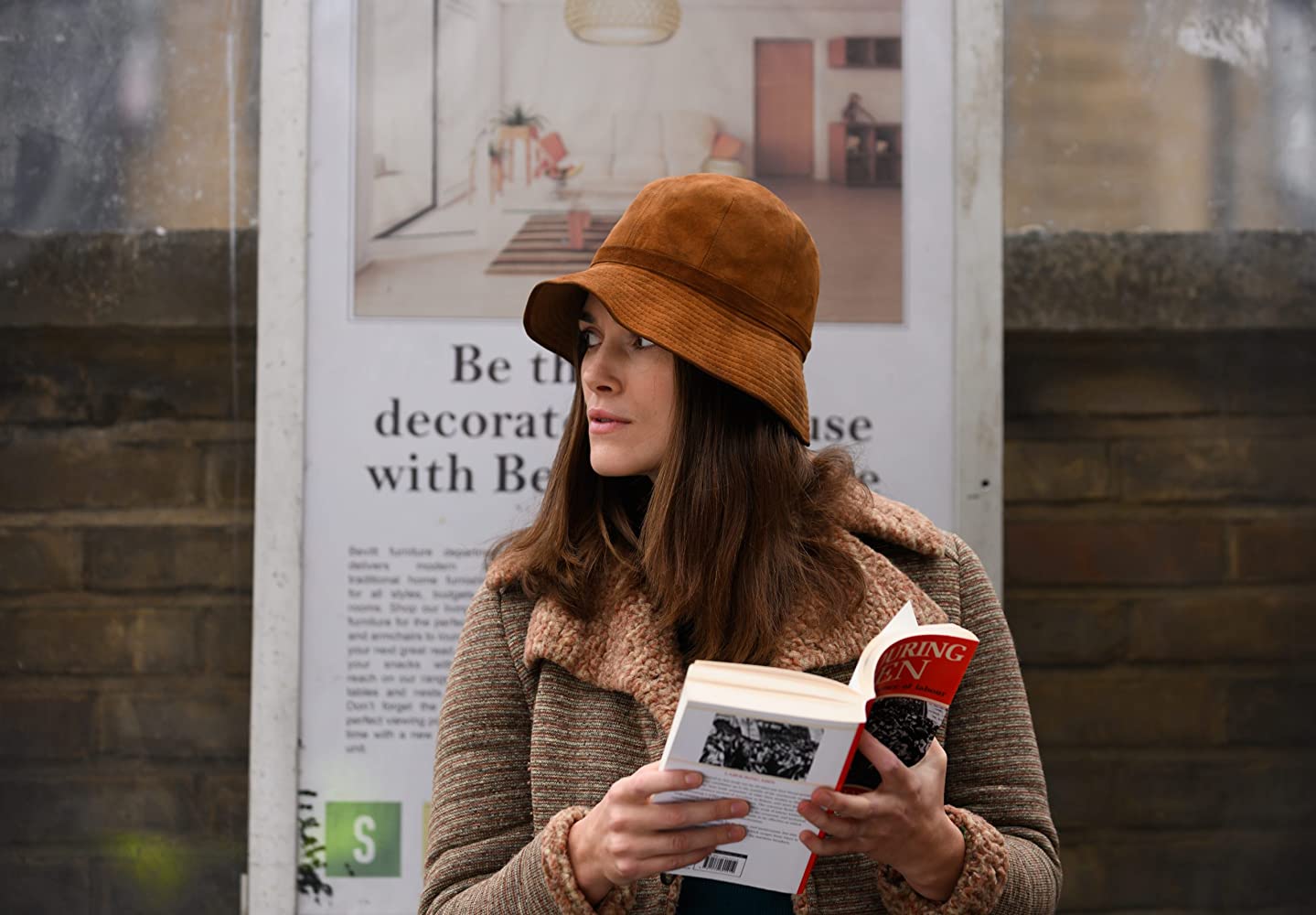 Photo courtesy of Shout! Studios
The film chooses to focus on a few different characters with interesting use of supporting characters as well. We come in with Sally Alexander, played by Keira Knightley, who is dealing with the structures of the patriarchy within academic institutions. At one point she is interviewed by an all male panel who question why a woman of her age, who is a mother, wants to pursue even more degrees. We see her frustration and how she ends up in meetings for the Women's Liberation Movement in London. She becomes more engaged with the group and especially with a younger woman named Jo Robinson, played by Jessie Buckley, who is a lot more radical and careless than Sally—who is a bit older and has to think about her daughter, her partner, and even her mother. This is one of the first things that caught me, Misbehaviour deals with age and class and how that might cause some clashes within the movement. I was happily surprised it didn't stop there.
The film then follows the husband and wife team, Eric and Julia Morely (Rhys Ifans, Keeley Hawes respectively). They put on the Miss World competition and deftly show how focused this Eric is in his pursuit, while he is completely drenched in the casual misogyny and outdated ideas on the structure of the places sexes inhabit. The film also shows just how much Julia does to make things work without him even knowing it. Much like a bull in a China shop, Eric kind of breaks everything and yet gets all the credit, while Julia is there making sure he doesn't ruin things by pissing investors off. The other major couple presented are Bob and Dolores Hope. We see how Hope's casual womanizing causes problems in his marriage. Greg Kinnear plays Hope and is able to channel that charisma Hope had but also shows him in a more complete light. The casual trashness of men in this film is well spotlighted.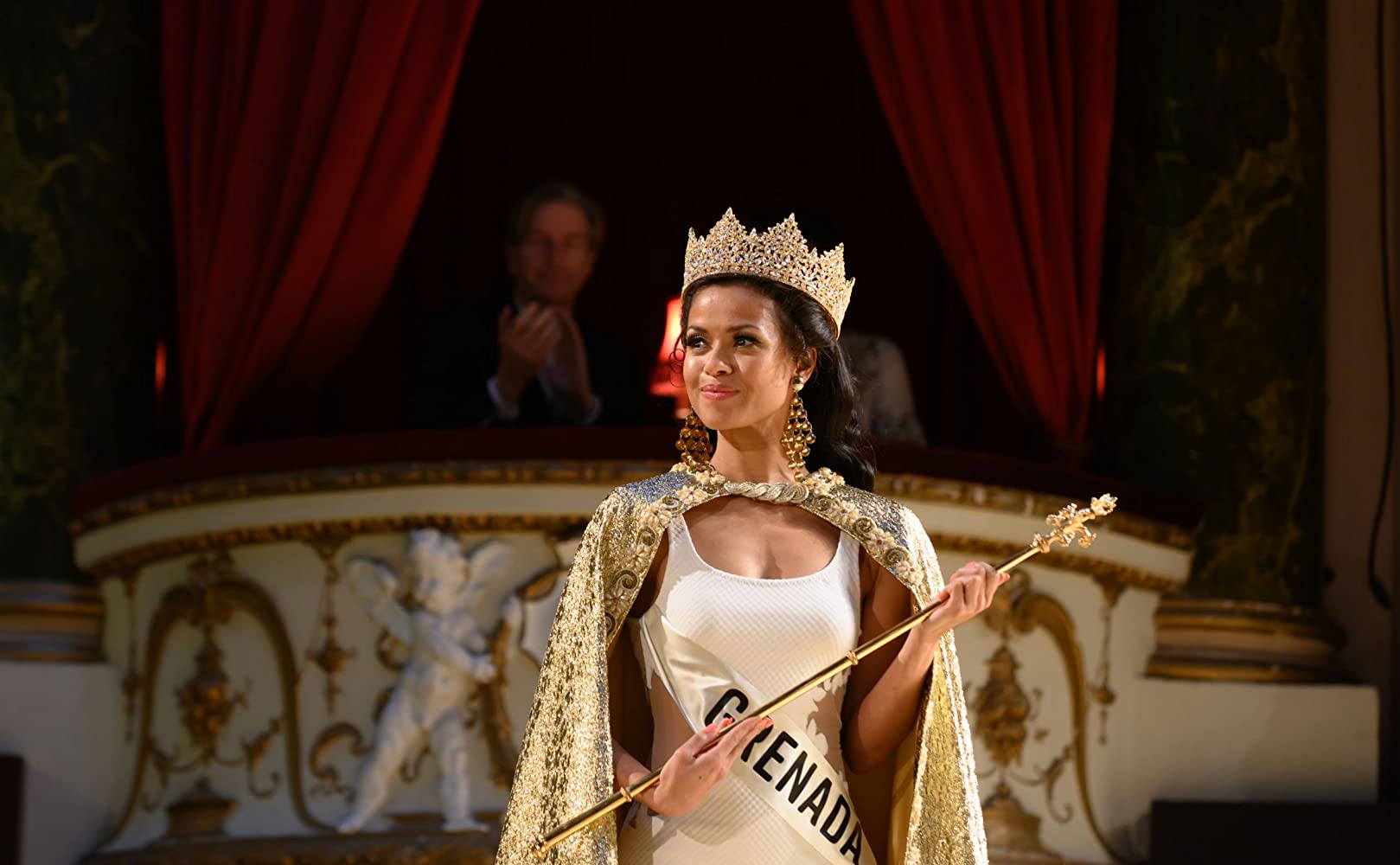 Photo courtesy of Shout! Studios
The third major part of the film is shown through the actual contestants in the pageant itself. This is where it deals with race, with a strong focus on Jennifer Hosten – Miss Grenada (Gugu Mbatha-Raw) and Pearl Janssen – Miss Africa South (Loreece Harrison). Yeah, you read that right, "Africa South" because this was the first time they had a Black contestant from South Africa and they picked her last minute because of political pressure. The filmmakers do a fine job showing how the Black contestants have to use these fleeting moments to become symbols of progress for their people and to somehow get the smallest bit of access that the white contestants and protestors take for granted. Mbatha-Raw plays her character with a smart and deft way of maneuvering the world of the pageant. Everyone takes it as fact that a Black woman shouldn't have any hope of winning. The subtlety of the performance in her face and reactions is great. 
Now, a lot of what I've talked about is the story and how the characters work within—that part of the film does the heavy lifting. I think the overall direction is good but in a way that doesn't use techniques that call attention to themselves. Misbehaviour visually plays into a period piece, connected to the BBC. It's kind of gray in its color and the shots aren't wild angles. All these things allow you to focus on the story and the characters. This style also helps because it gives it a feel of BBC shows in the 70s with a little more gloss thanks to how films look now. And that style along with the performances let the story stick to your ribs. If you didn't know this all happened, like me, it also teaches you something to look into and research more. 
In the End: Misbehaviour is an engaging historical drama that pulls
you in and entertains while also dealing with a heavy topic, all at
high levels.