Basically: This is kind of Lady Braveheart and Mary is gangsta.
Do you know what's a staple of the fall/winter film season aka that Awards Bait? The historical drama. It's when you have a bunch of actors, a ton of them with accents, and an elaborate costuming budget. Sometimes you can smell the bait and you get bored but sometimes you end up with a little gem. Mary Queen of Scots is shaping up to be one of those. It adapts the story of Mary Stuart (Saoirse Ronan) the Queen of Scotland, her cousin Queen Elizabeth (Margot Robbie), and the altercations these two powerful women had in the 16th century. You can get a quick rundown on the plot from reading history books or Wikipedia, but Mary comes back to Scotland after the death of husband King Francis II of France, she claims the throne and threatens the rule of Elizabeth. Their tumultuous relationship leads to a lot of political machinations and a lot of Mary outmaneuvering these attempts schemed up by her cousin and several wack dudes.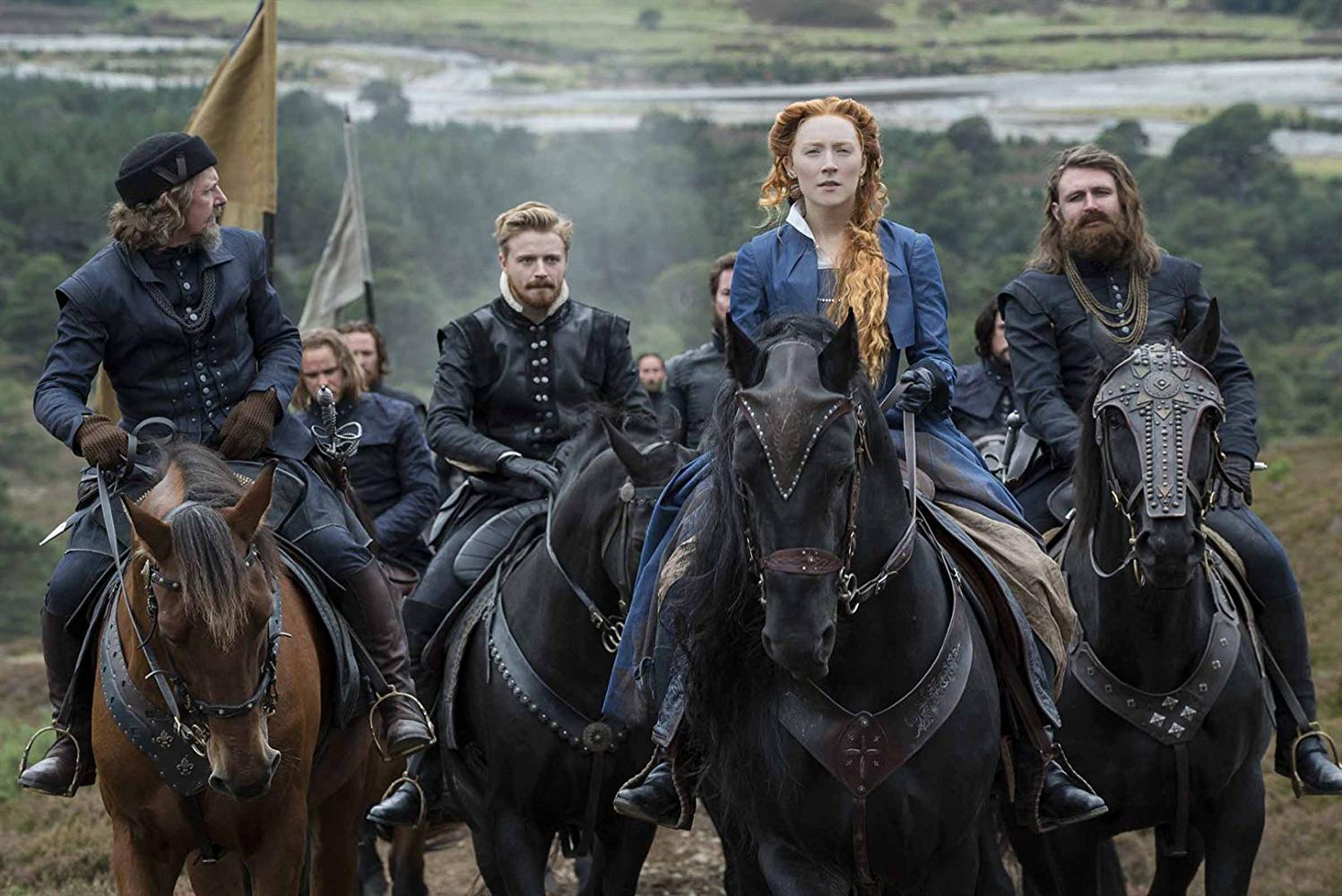 Photo: Focus Features, Working Title Films
Now that's handled, the meat of Mary Queen of Scots are the performances. It's where Saoirse Ronan shines. This is her film and she takes the audience by the collar to let you know it. She portrays Mary with the power and smarts you wouldn't expect from a young woman of that time. Ronan is able to show all the emotions and character of Mary—her strength and warmth and smarts are shown with ease. Every time Ronan is on the screen, you're rooting for her against all her many foes. She never plays the character as a stuck up royal but as a leader. Margot Robbie is the other big star in this. As Queen Elizabeth I she does something here we don't see in most takes on this figure, she plays her with a level of vulnerability, with longing and regret. She's a strategist dealing with the many traps of the misogyny surrounding her and justified paranoia of men. I wish she was featured a bit more because, at the end, they run through a montage of shots of her in all these outfits and it ends up feeling like a Vogue photoshoot.
Going back to my earlier comments about men and their interactions with women. It's a strong theme in this film. Director, Josie Rourke does a great job of continuing this throughout the film and you realize the message here is: If the men around these two monarchs weren't always conspiring their downfall, these two cousins might've been more powerful together. Rourke seems to be making a good movie better by tapping into the current climate of women fighting for equality and the whole idea of how men react to women in power. Mary Queen of Scots is a very enjoyable film that handles the history well and is able to make it relatable to current audiences. Mary is pretty gangsta, go see it.
In the End: Mary Queen of Scots is about an OG Queen making all the folks in the United Kingdom put respect on her name.