by Soma Brodhun
Basically: Mary Poppins returns many years later to work her magic on (all of) the Banks children during a time of grief and financial struggle.
We re-enter the magical world of Mary Poppins to find that Michael Banks (Ben Whishaw) has grown up, has three children of his own, and has recently lost his wife. He has given up his aspirations to be an artist and is working at a bank in order to keep his family afloat. His sister Jane (Emily Mortimer) is continuing in her mother's footsteps, working as a union organizer in the midst of the depression era in London. Things take a turn for the worse and Michael's financial situation is revealed to the family when foreclosure suddenly looms.
Enter Mary Poppins (Emily Blunt) with her usual no-nonsense directness and sly manipulation to save the day. When Michael and Jane see her they suddenly realize the stories and dreams from their youth were not fantasy. Now they have to reconcile how far away from a place of imagination and hope they have strayed in their everyday lives.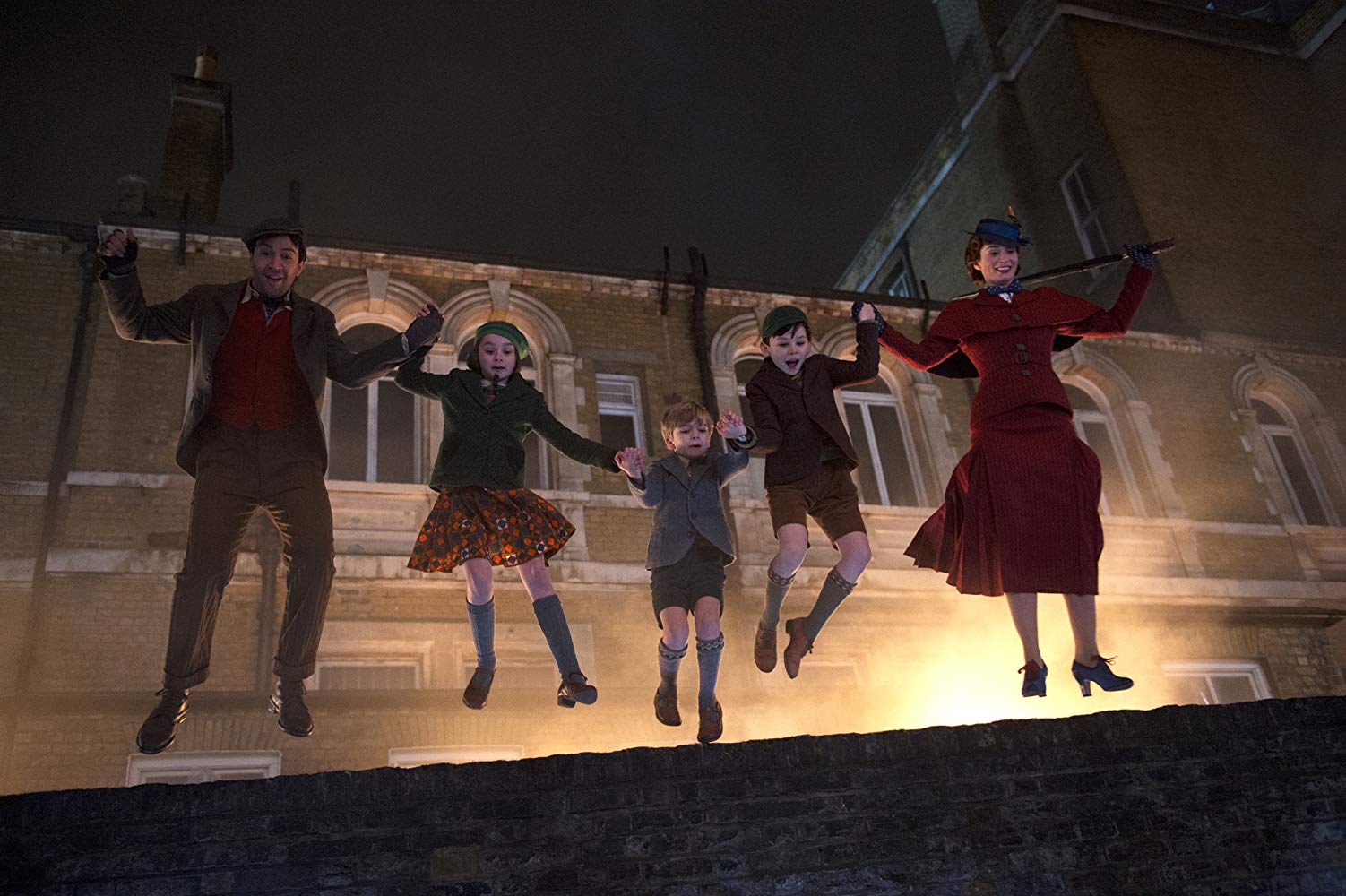 Photo: Jay Maidment - © 2017 Disney Enterprises, Inc. 
The rest of Mary Poppins Returns is a treasure hunt of sorts, as the family search for a vital missing item that may save them from financial ruin. I don't think I am spoiling anything by telling you we get a happy ending in this one.
Emily Blunt is absolutely on point in her turn as Mary Poppins—delightful, sassy, and a little bit wicked! Lin-Manuel Miranda is earnest and affable as Jack, the local lamplighter. The Banks children, Anabel (Pixie Davies), Georgie (Joel Dawson), and John (Nathanael Saleh) are all adorably mischievous and protective of their father. This movie is perfectly cast, with too many amazing supporting players to name, as well as a few surprise cameos and homages. The musical score is also quite good, with several memorable songs to sing and dance to after the curtain drops. Mary Poppins Returns is a refreshing reprieve from some of the cynicism and gloom that now pervades.   
In the End: Go see this movie with your family, young and old, and experience what will soon be counted as another Disney classic.