Basically: A nice little coming-of-age movie in the style of a mockumentary with cute animated characters.
Marcel (Jenny Slate) is a 1-inch tall shell with shoes on. Marcel lives with his grandmother Connie (Isabella Rossellini) in an Airbnb, which used to be the home of a married couple who broke up and moved out. That changes when Dean (Dean Fleischer-Camp) moves in and decides to start making short documentary videos talking to Marcel about his life. Dean's videos are popular on YouTube, leading to Marcel making a wish for his audience to help him find the family he lost in the married couple's breakup. Fame ends up not being much help and more of a hindrance.
Marcel the Shell with Shoes On works well in how it treats the world and Marcel's existence as completely natural. It reminds me of The Littles—how there is little life around humans that humans never notice. Dean is just a voice in the film who, for the most part, talks to Marcel's character, which plays with the format of documentaries. Things look and feel practical, real, and authentic to the world. It's easy to buy what you're seeing even though it's a shell talking to the camera most of the time.
Jenny Slate does a great job as Marcel with a child-like voice and the right amount of precociousness and warmth. Her performance also is a bit melancholy. It's the one thing that stood out to me. It's also—to use a simple term—nice. With the film's limited number of characters, Slate's performance really allows for the story to build a connection between Marcel, Connie, and Dean that enables you to learn and empathize with each character and how they relate to one another.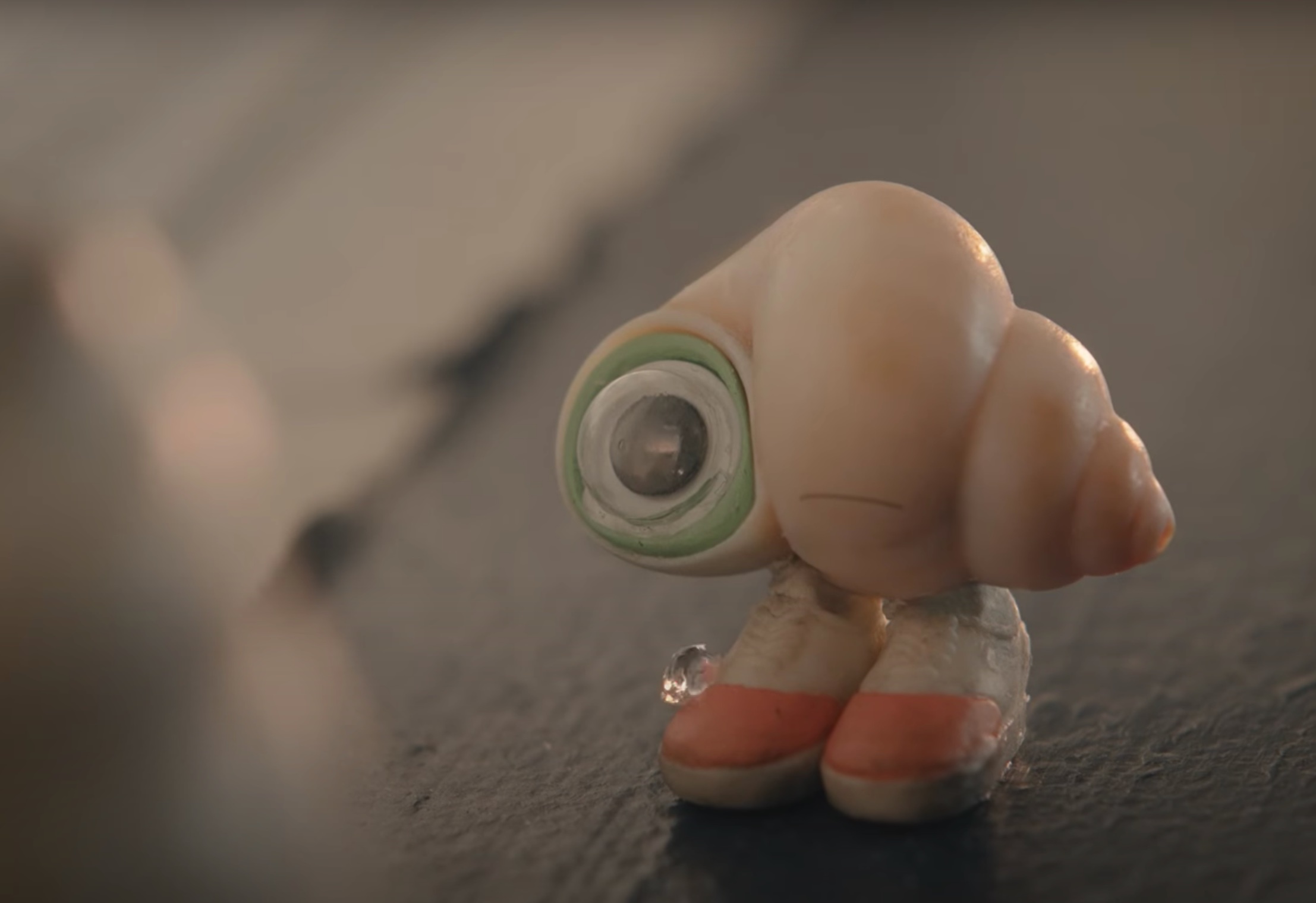 The film's look, cinematography, and even animation don't get in your face with techniques and tricks. As I stated earlier, staying close to a documentary look, shot on a current-era iPhone, helps the story immensely. The animation is straightforward and, in a way, choppy, making the story more alive and real.
Marcel the Shell lingers a bit more than it should in some sections. While that's my thing, it could bore some viewers. The premise could be a bit too quirky for some as well. This isn't an animated film built for families with a bunch of regularly paced jokes.
With that said, I never saw the Marcel the Shell shorts before this film came out and I still haven't watched them. Now I know they exist, I might check them out, but I do like how they worked their history into the movie. It adds some new meta layers even if you haven't seen them. I really connected with Marcel the Shell with Shoes On; it reminded me of my childhood and I'm glad I could see it on a big screen. 
In the End: Marcel the Shell with Shoes On is a pretty perfect and quirky mash-up of animation and live-action that continues A24's run of exciting films in 2022.