Basically: Ma Rainey's Black Bottom is an exquisite shade of the Blues.
From moment one, Ma Rainey's Black Bottom sets us down in a night dark wood. The cinematography is nearly 3-dimensional and we are immediately swept up into running alongside two men. We're uncertain whether the men are running to something or from it, yet from those breathless moments among the trees up to the final refrains we are enraptured.
In sports they would be called a dream team, this coterie of creatives in director George C. Wolfe, producer Denzel Washington, and writer Rueben Santiago-Hudson, along with stars Viola Davis as Ma Rainey and our beloved Chadwick Boseman as the capricious Levee. Wolfe shoots the story based on the August Wilson play like a daydream; you are wide awake in your awareness of the nuanced beauty but equally aware of the barbed wire of disappointment wrapped around the heart of the film.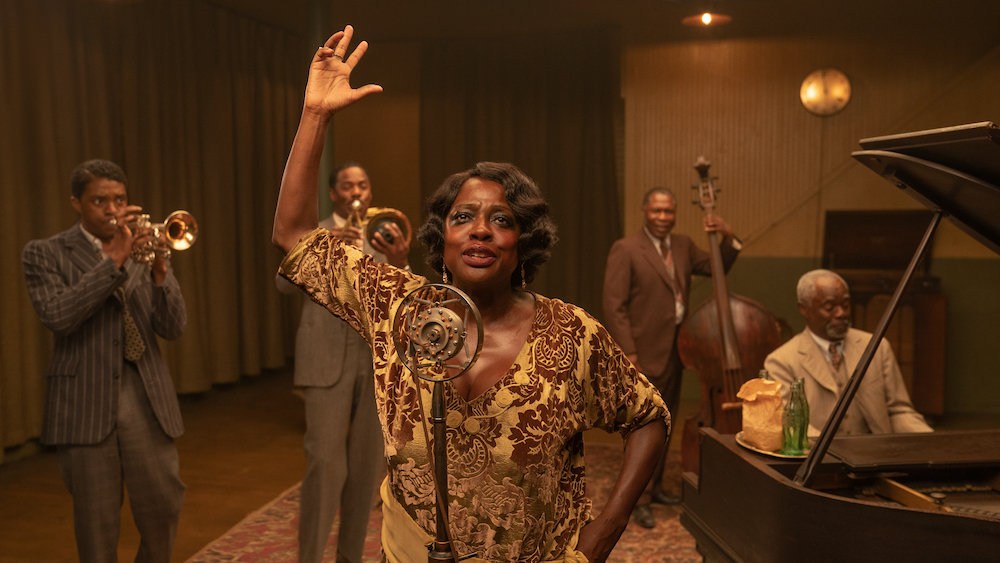 Photo: David Lee / Netflix
We journey from those woods to an earthy, sensual Ma Rainey performance. Dancers surround her, the audience sways, and her band plays the blues just the way she likes it, while her girlfriend shimmies to the same effect (just the way Ma likes it). That juxtaposition of the band, the singer, and the girlfriend (Taylour Paige) become the catalyst for the story, set on a hot day in a Chicago recording studio. That's where the characters are sliced open and we see exactly what they're made of.
Ma Rainey may seem like a character based on Bessie Smith but she is the very real "Mother of the Blues." A woman who wielded the power that came along with her talent like an enforcer, lest the white men of the music industry steal it from her. And although this particular story of an intense day of recording in the 1920s is fictional, Viola Davis' Ma feels as alive as she must've in those jook joints in the southern backwoods of the time. We can feel the heat in Ma's demands for respect as surely as we see it in the glow of her skin, glistening with sweat and smudged grease paint. Ma is unbent—periodt.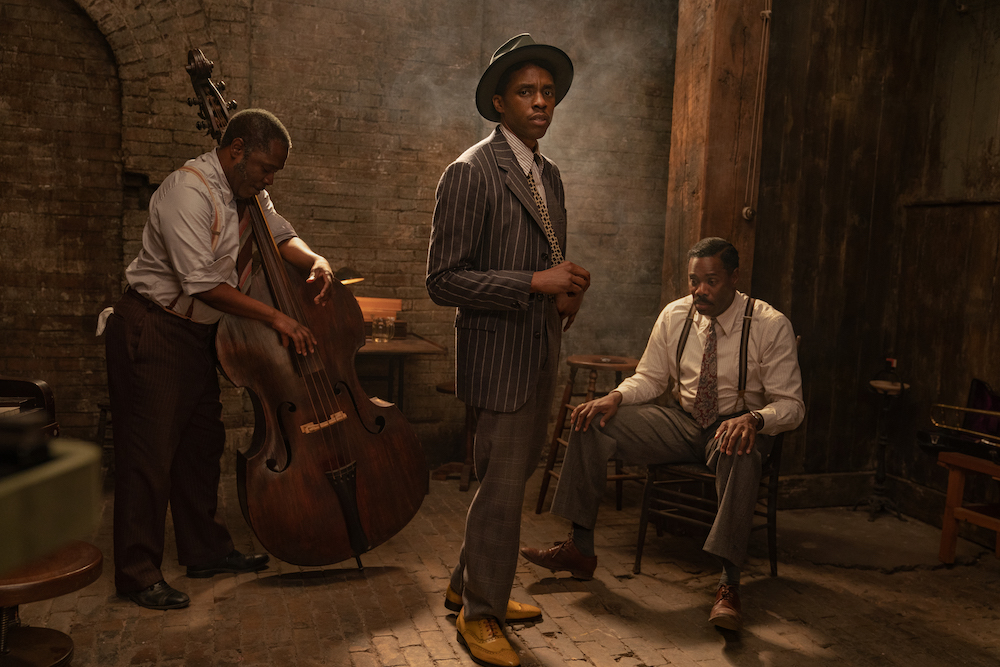 Photo: David Lee / Netflix
Performances like this are no surprise from Viola Davis. She not only embodies every role, she "bodies" them, but Ma is a character we need to see—unapologetically brash when the world is watching and tender when surrounded by loved ones. Likewise, it will be no surprise that Chadwick Boseman is astonishing in his ability to take on the fullness of a character. Levee is a man full to bursting, constantly ready to either explode or implode. Boseman builds tension in the many faces of Levee. One moment dancing with hope, in another violent from disrespect, or shattered by memories, or toppled by disappointment. It's hard not to be greedy for a performance like this, to completely inhale it with a heady glee, but at the same time you want to take it slow because once it's gone there isn't anymore.
The supporting players, mirroring their roles on screen, are the harmony for Ma Rainey's Black Bottom. Colman Domingo is Cutler, the band leader and a foil for Levee. Cutler is silky smooth until there's smoke and tempers flare. Glynn Turman, and Michael Potts show us two other shades of Blackness in the 20s with Toledo and Slow Drag respectively. Meanwhile, Paige gives us something very different from her other roles with Dussie Mae, a woman whose motives and desires remain hidden despite the things she does.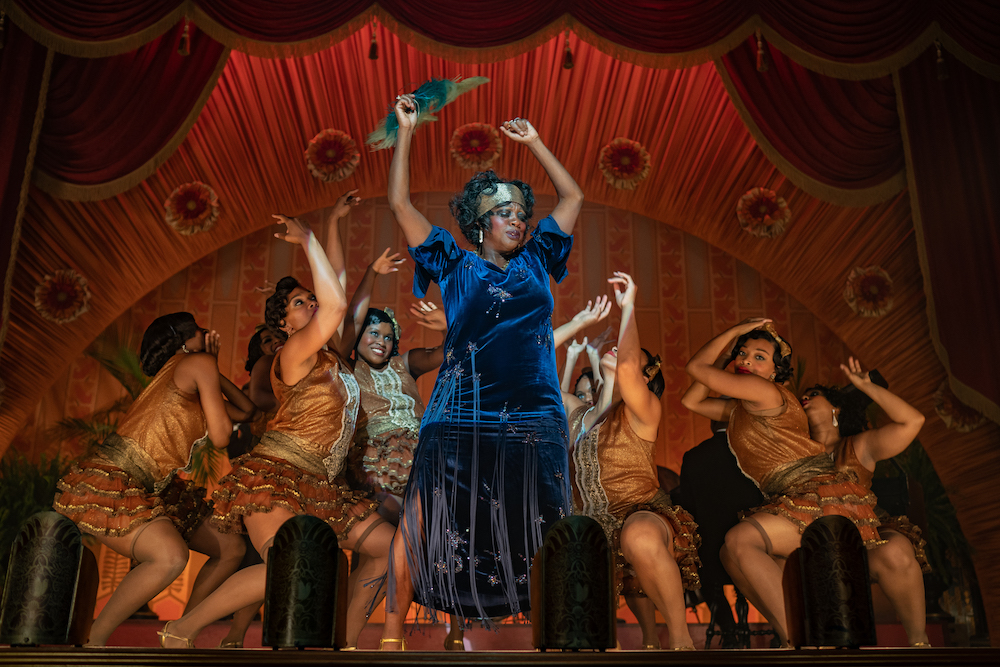 Photo: David Lee / Netflix
Ma Rainey's Black Bottom is powerful. Especially when it explores the theme of promises. Those are the moments when Ma's power and Levee's cravings for the same are incendiary. Ma makes demands because she wants as much sugar in her bowl as she can stand. Levee strives and struts and hurts. And we wonder how long either of them can sustain their stances. 
Ma Rainey's Black Bottom answers that question. And it is an explosion and a whimper and it's amazing.
In the End: Bravo.
—
NOTE: A limited theatrical run for Ma Rainey's Black Bottom begins on 11/25 in Atlanta, Boston, Indianapolis, Miami, Pittsburgh, San Francisco and St. Louis. Additional locations will roll out on 12/4 and the Netflix launch is 12/18.