Grade: C / 5.5
Basically: It's a little bit Terminator, a little bit coming of age, so very promising, and unfortunately a lot of disappointment.
I might be at fault here. I went into the theater wanting to like KIN. I'd hoped for the kind of sci-fi tinged cult classic I used to love when I was younger: Starman, Terminator, Brother From Another Planet, The Last Starfighter. You feeling me? Apparently 1984 had a huge influence. The movies of that year lingered with me, informing my love of science fiction, and I got the same feeling from the more recent Chronicle and Attack the Block. They're all about everyday people who have a brush with the otherworldly, and how both are changed.
Twin brothers and directors, Jonathan and Josh Baker have all the right stuff with KIN. The cast is solid (hey, Dennis Quaid) with leading performances from Myles Truitt as the pragmatic Eli, Jack Reynor as his crime-enthusiast elder brother Jimmy, and Zoë Kravitz as Milly, a stripper who has a heart of gold and the braided mohawk to match (not kidding). They're all good. On the flipside, James Franco gives an evil-villain-is-evil performance as Taylor Balik that's…ugh, it's best we don't talk about that. The VFX are strong—featuring well designed armor, weapons, and tech from another dimension. KIN is shot well, it's well paced; it even has a fantastic cameo near the end.
So what's wrong with it? One thing: DISAPPOINTMENT.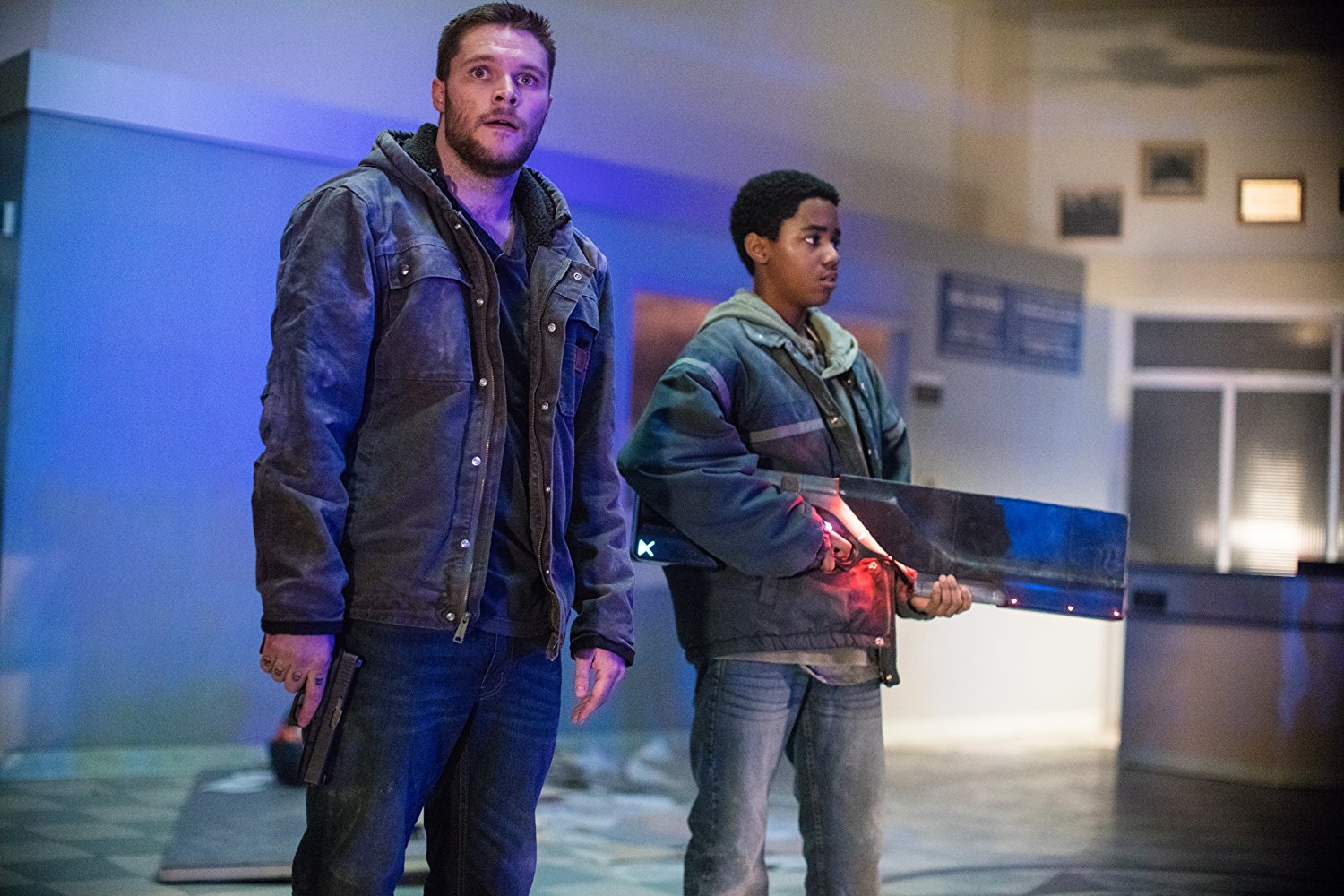 Photo by Alan Markfield / Lionsgate
But let's start with plot. Eli is a fourteen-year-old who gets in trouble at school a lot. We don't know why but whatever he's done this time "it" gets him suspended. Note: He doesn't fit in—protagonist achievement unlocked. Eli also has a scalvaging habit, he collects bits of wire and metal from abandoned sites and sells them off to scrap yards for pocket money. His dad is a hard working square jawed construction man, played by Quaid. They lead an average, if strained, life in Detroit and they seem relatively content.
Enter three catalysts to change things:
1. Eli finds an alien gun at one of his salvage sites.
2. Jimmy comes home from jail owing Balik like $60k in protection money.
3. Jimmy is inordinately stupid and everyone gets dragged down with him.
Stuff goes tragically wrong because stupid and crime don't mix. The next thing you know Jimmy and Eli are on the road and on the run. Even worse, poor Eli thinks they're on a family trip to Tahoe (not kidding). But, hey, at least he brought his  presto-changeo laser gun that tazes, incinerates, and separates all in one. Oh, and Eli is the only person who can use the gun because [insert title here].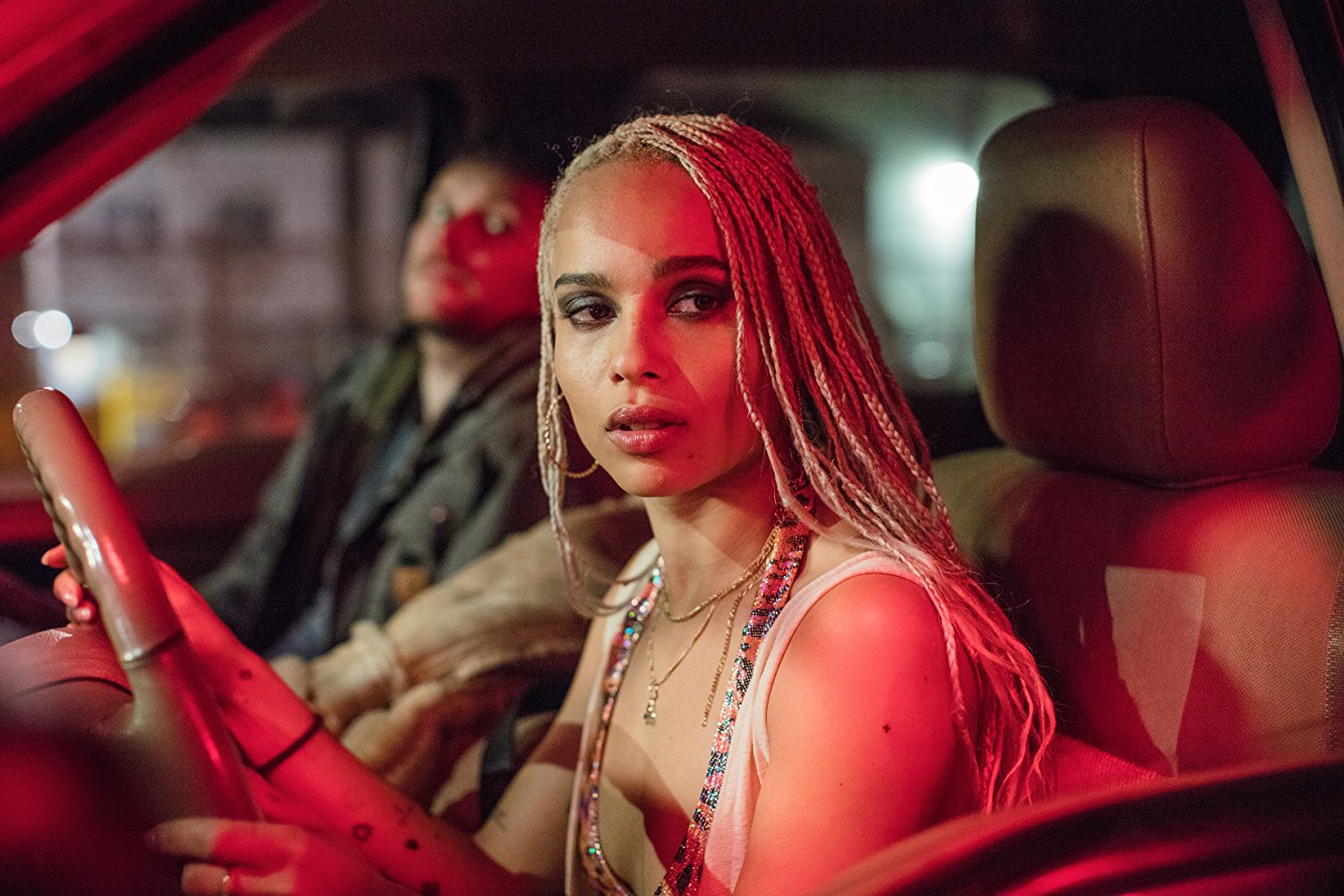 Photo by Alan Markfield / Lionsgate
With so many good elements—the cast, the directors, the effects, even its sci-fi predecessors—KIN could've been a contender. And it's not horrible, it's just that disappointment makes everything worse. This movie is not believable past the opening, the dialogue is head shaking at moments, and there is no story to speak of other than: Hey everybody, boys who don't fit in but have criminal brothers and access to advanced weaponry are headed for a life of violence and pretty women who really, really get them while on the run in a stolen car (not kidding).
Every mid-80s to early 90s science fiction cliche you can think of happens all over again in this movie. Seriously, James Franco's villain pees on the floor of a pharmacy, and attacks a place where everyone inside has guns… Why? Because he's EVIIIIILLLLLL, I guess [picture me shrugging]. As a matter of fact, if we had a time machine and could go back to 1984 we might've all enjoyed watching it. I really, really wanted to enjoy KIN. Well, the ending did set us up for a sequel or two and if they're down for making it, I'm up for watching it.
And that's all I have to say about that.
Wait, no it's not. The directors of this film are also writers and happened to have shot a short film called BAG MAN, on which KIN is based. BAG MAN swerves away from cliches and is a proof of concept I wish its twin creators had stuck with when making KIN. You should watch it—BAG MAN, I mean. I'll help you. Here it is.
—
In the end: If I sound bitter it's because KIN could've been a new sci-fi cult classic, but it never makes it to the future (aka now) and that is really disappointing.