Basically: Can justice exist without mercy or equality?
Just Mercy questions how just our justice system is by taking us back to a formative moment in the life of attorney Bryan Stevenson. In 1988 Stevenson (portrayed by Michael B. Jordan) began what would become his life's work; seeking justice for the wrongly condemned on death row, and converting death sentences into life imprisonment for those who were not. When Stevenson meets Walter "Johnny D" MacMillian (Jamie Foxx) he realizes something is very wrong with the case that sentenced Johnny D to death. The deep roots of Southern racism had found a new way to "lynch" black men. 
There is no doubt Just Mercy is a story that needed to be told in this form. Unfortunately, audiences often dismiss documentaries as academic. Yet dramatic fiction tends to stick to most hearts. And when two actors with as much magnetism as Foxx and Jordan come together we have no choice but to be pulled in. Foxx, especially, is alive in the layers of guilt, resentment, and kindness he builds into his homage to Johnny D. Jordan is steadfast, displaying a strength and determination that is rooted in Stevenson's past. These two are the cogs on which the film turns but very good performances by Brie Larson, Rob Morgan, O'Shea Jackson Jr., Tonea Stewart, and Tim Blake Nelson fuel the emotion Just Mercy delivers.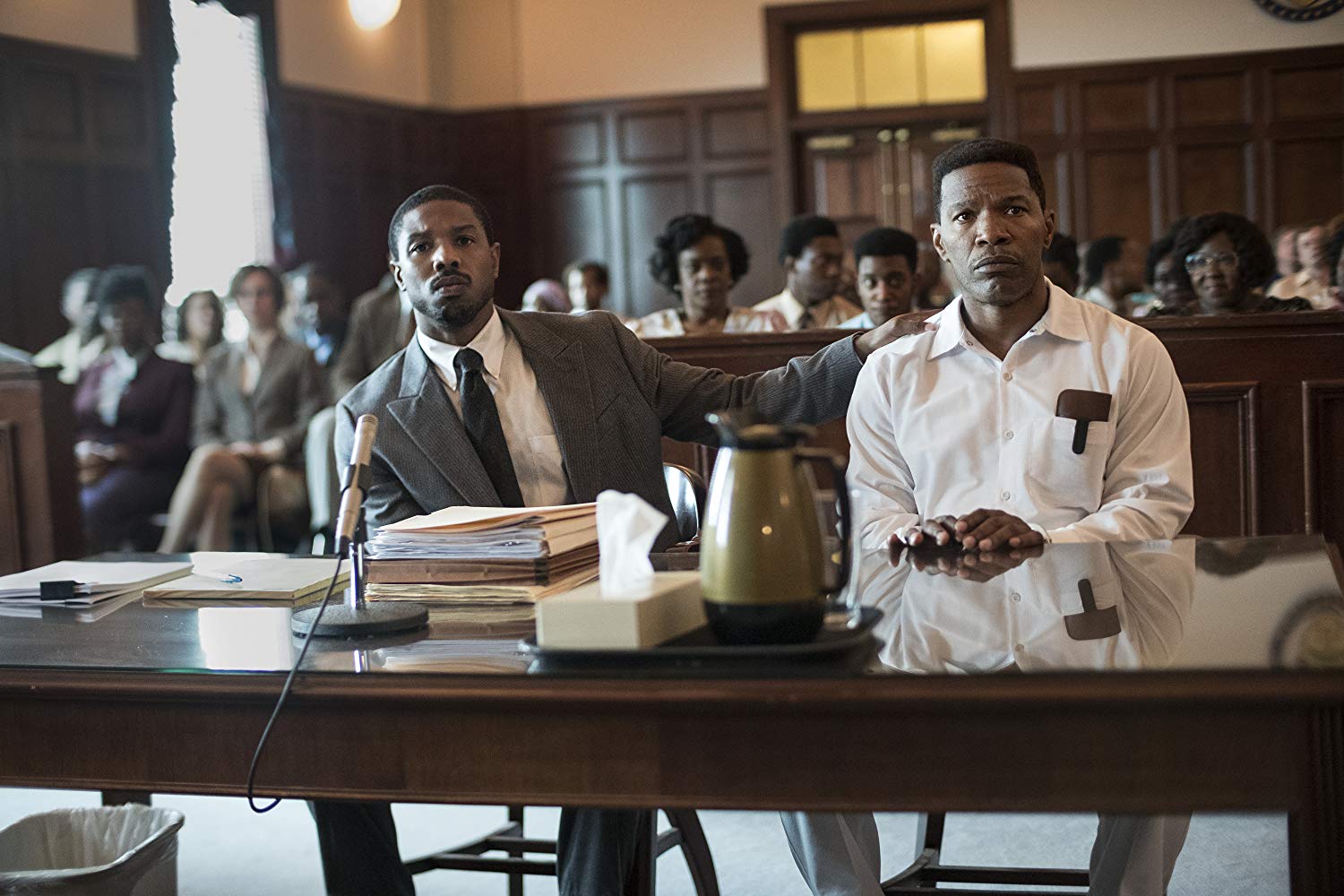 Photo via Warner Bros.
Despite all of that, Just Mercy isn't a movie that makes me want to start a
word-of-mouth Oscar campaign. The film doesn't quite find a way to sparkle but
I'm conflicted. I felt a fist form in my chest while watching this representation of how the poor and the powerless are abused by law enforcement and the courts. It took me back to the pain of watching When They See Us, the story of The Exonerated Five, the boys who were also wrongfully imprisoned and vilified. These are the stories
we see on screen but I wonder how many were never proven innocent, were
never exonerated. 
Ultimately that's what Just Mercy is about, refuting the lie of black criminality—not for acceptance as much as for safety and the ability to truly claim life, liberty and the pursuit of happiness. Or more simply put: The hope that when they see us it begins justly with mercy.
In the End: In some ways you've seen it before, but this story hasn't stopped happening, and if you're into biopics, history, and activism it's well worth a watch.