Actually: 6.5 / Grade: B-
Basically: An expedition to save the dinosaurs from a second extinction has a second purpose, pulling Owen Grady and Claire Dearing back into danger, this time against an even greater threat.
As Jurassic World: Fallen Kingdom opens, a team is retrieving a piece of a dead dinosaur from the wreckage of the abandoned park. Little do they realize they are far from alone.
Meanwhile, the island of Isla Nublar is undergoing a cataclysmic volcanic eruption. There are mere days left to save the dinosaurs but the Congress—heeding the gloomy opinion of Dr. Ian Malcolm (Jeff Goldblum)—will not act. Claire Dearing (Bryce Dallas Howard), head of a group dedicated to saving the dinosaurs, is in despair…until an offer of help is sent from Benjamin Lockwood (James Cromwell), a fabulously wealthy old man with ties to the bygone creator of Jurassic Park.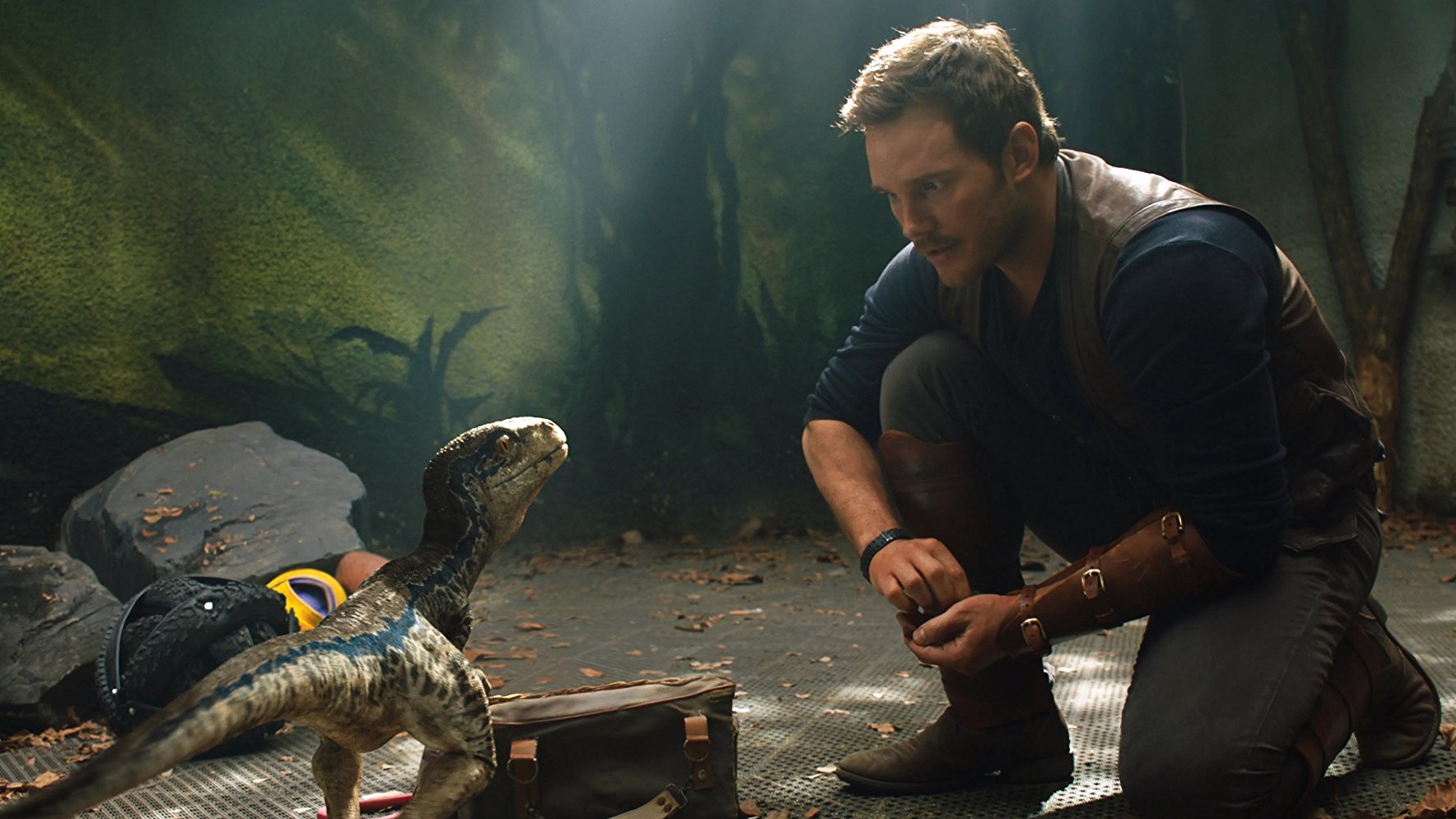 Photo: Universal Pictures
As explained by Lockwood's business manager, Eli Mills (Rafe Spall), the expedition can save eleven species, the most important of which is the last velociraptor Blue. Mills asks Dearing to get Owen Grady (Chris Pratt) on the team; as Blue's former trainer he might be able to bring her to safety. Grady goes along for the ride, bumping up against the unsavory Ken Wheatley (Ted Levine), who leads the mercenary crew providing protection. They are able to find Blue but then things…don't go as advertised. Grady, Dearing, and computer genius Franklin Webb (Justice Smith) are left behind, while paleo-vet Zia Rodriguez (Daniella Pineda) is taken hostage to care for Blue. The Mercenaries have a very specific reason for wanting to save her…
Back at the Lockwood estate, Lockwood's granddaughter Maisie (Isabella Sermon) overhears some forbidden (and forbidding) conversations between Mills and Mr. Eversol (Toby Jones), a fellow who dabbles in singular commodities…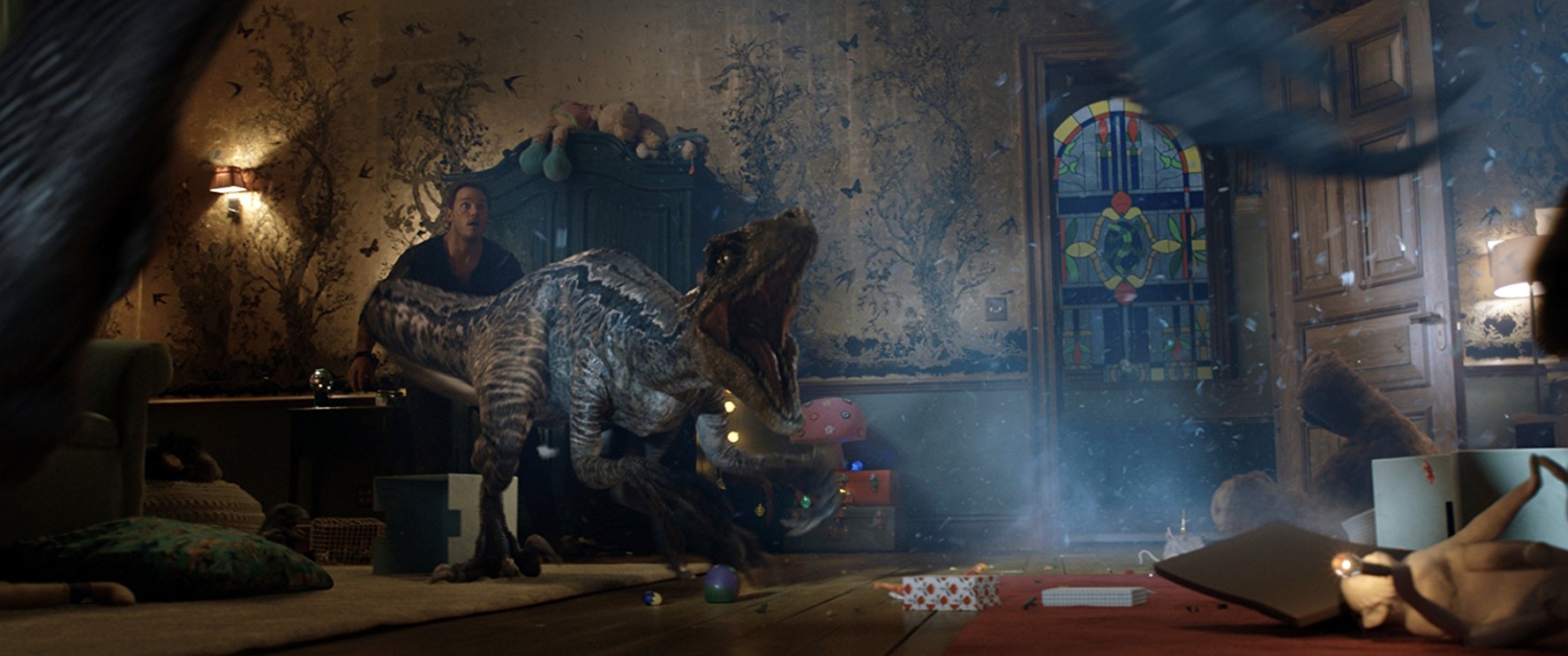 Photo: Universal Pictures
What ensues is a cat-and-mouse game of humans versus humans, humans versus dinosaurs, and even dinosaurs versus dinosaurs. There are some nail-biting moments even for grown ups (and, honestly, they're too intense for the little ones) as well as some plot developments anyone can see coming. If you've seen a Jurassic Park movie before you can guess at what will happen—it's in the movies' DNA, so to speak.
The strong part of Fallen Kingdom is the easy chemistry between Pratt and Howard. The characters grew apart over the past three years but still spark each other like they used to. The two are always fun to watch and give the movie its emotional anchor, especially when a rather surprising accusation is laid on them (with more than a bit of truth to it). Spall provides contrast as the corporate-minded Mills, backed by the palpable menace of Wheatley. Sermon delivers a sophisticated, mature performance as Maisie that invites comparison to the very best young actresses—she is definitely someone to watch.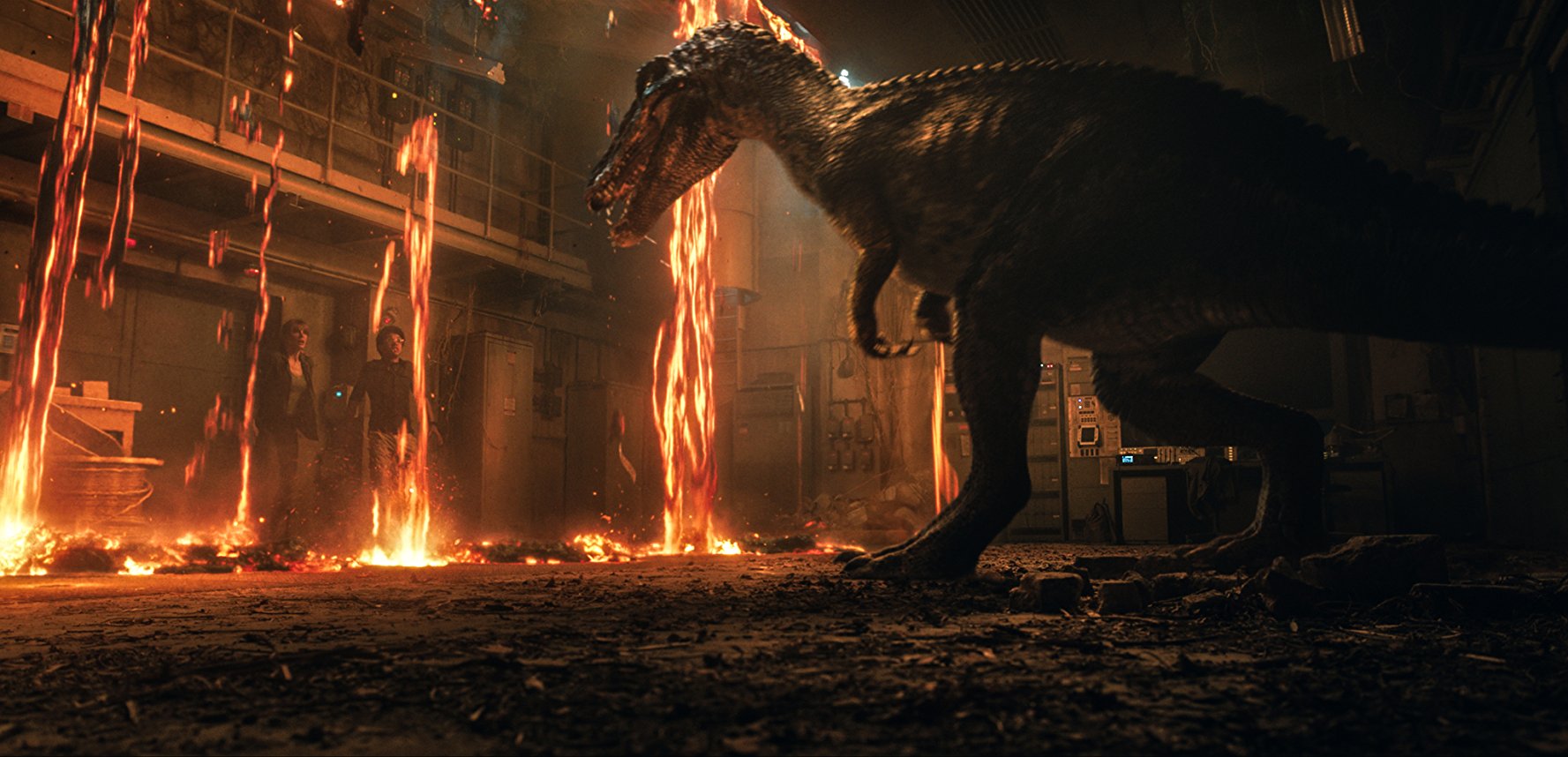 Photo: Universal Pictures
The movie's biggest problem is that nothing is really a surprise. We've seen pieces of the narrative crop up before; this is perhaps the first time all of these plotlines come together but astute viewers will be pretty confident they've figured out a lot in advance. That's not necessarily a bad thing—most moviegoers don't go to see Jurassic World to solve a puzzle worthy of Agatha Christie—but it does invite some knowing looks and a whispered "I told you so!" in the theater.
What Fallen Kingdom really does is put an end to the island as a setting once and for all. The genie is out of the bottle, as Ian Malcolm warns, and as for what that means? Nobody really knows…yet.
In the end: It's an enjoyable movie but doesn't approach the "gosh wow" groundbreaking level of the first one. (Then again, what could?)