by Kat Bittner
Basically: Cupid has missed its mark in Isn't It Romantic.
Isn't It Romantic wants to do for romantic comedies what Scary Movie did for horror movies. Innovate a satisfying satire that manages to invert the genre and produce a worthy addition to canon. Unfortunately, while it starts off like most romances—heroine lives a quiet life until an extraordinary moment happens and romance ensues—but Isn't It Romantic does not fully allow itself to be engaged in the rom-com world.
Natalie (Rebel Wilson) is an architect who is more likely to be asked to get the coffee than make the big presentation. She has the support  of her best friend Josh (Adam Devine) and assistant Whitney (Betty Gilpin) to help her through the drudgery of work. One day while on the subway platform Natalie hits a pole, knocking her into a coma. When she wakes up, New York City is clean. Fresh flower bouquets are everywhere. An inordinate amount of people are wearing pastels. I half expected Meg Ryan and Tom Hanks to come around the corner with Brinkley.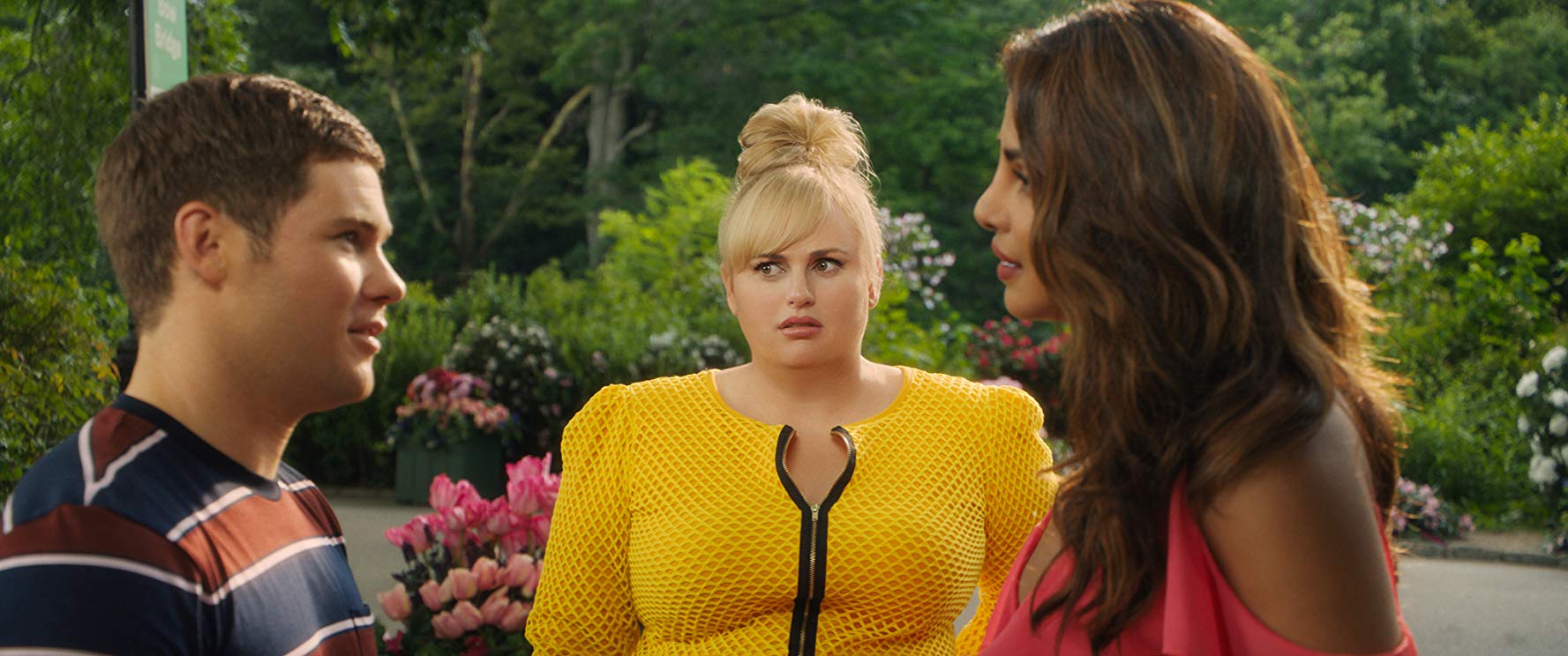 Photo by Michael Parmelee - © 2017 Warner Bros. Entertainment Inc. 
Natalie is in a romantic comedy. Not only does her apartment now look like Carrie Bradshaw's blue oasis pad, but her workplace has also gotten the romantic comedy treatment. There's sunlight, open spaces, and a female coworker/frenemy. Her arrogant client (Liam Hemsworth), who mistook her for the office assistant, is now head over heels for her. Josh finds love too, with Isabella (Priyanka Chopra), a yoga ambassador/swimsuit model. Natalie should be thrilled. She has the dream apartment, dream guy, and the dream job. Why doesn't it feel like she's living her best rom-com life? Could it be because she's (queue Cher's fountain epiphany from Clueless) looking for love in all the wrong…ways?
Although Isn't It Romantic addresses the tropes of romantic comedies it isn't smart enough to satirize the genre. When Natalie and Whitney run down the list of rom-com clichés (female frenemies, a world trapped in perpetual Spring, hot person and plain person couplings, et al.) instead of inverting these tropes the movie mocks them in a ham-fisted manner.
The movie is at its strongest when it drops its cynicism and allows its characters to have genuine emotionally vulnerable moments, like when a typically sidelined character tells their backstory or the plot revels in the ridiculousness of the genre—which is pretty much everytime Liam Hemsworth performs an over-the-top romantic gesture.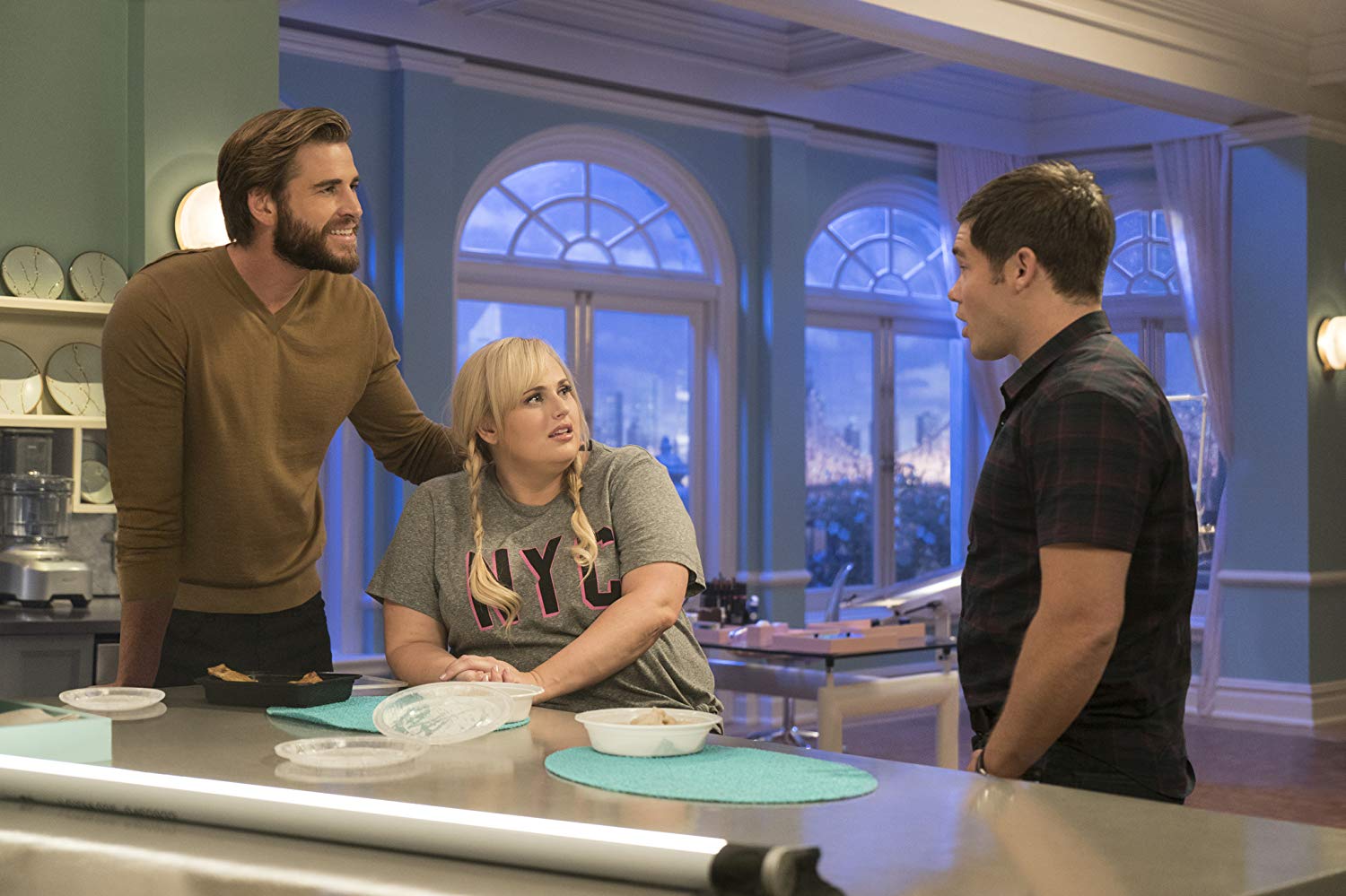 Photo by Michael Parmelee - © 2017 Warner Bros. Entertainment Inc. 
Unfortunately, Isn't It Romantic never allows the audience to fully surrender to the fantasy. It would rather make snide observations from the sidelines than participate in the fun or romance. The movie is so busy acting as if it's better than the genre it hopes to cash in on, that it misses the point of why people enjoy romantic comedies. Not only for little girls wishing for their Prince Charming to save them, it is the miracle of finding someone who likes you and you like them and the promise to be together.
After the movie, we met a couple who had a whirlwind romance. She's a wedding singer. He's a movie critic. They met while she was performing at a wedding and within a year of meeting are getting married. What Isn't It Romantic misses is that to truly fall in love is to take that same crazy leap of faith. To take a chance on someone in spite of all the obstacles and reservations. Unfortunately, for Natalie and the audience, the confidence to fully express the ridiculousness and the joys of a romantic comedy doesn't get the chance to blossom.
In the End: Isn't It Romantic is a cynical valentine to romantic comedies that vainly tries to satirize a genre it can't get to the heart of.