Actually: 8.5 / Grade B+
Basically: If we had to wait 14 years to get animation and feels this good then we'll see you in 2032 for Incredibles 3 x the pow!
The kids around me clapped themselves silly at the end of our screening. So did I. This new incredible adventure starts where it ended, or ended where it began– You know what I mean, Underminer (John Ratzenberger) is back! And the Parr family gets roughly two seconds to breathe before they rush back into the fray.
Incredibles 2 has all the good feels of the first one, except the animation is a lot prettier and the characters are even more real. Superheroes are outlawed and Mr. Incredible (Craig T. Nelson) is still a lovable bull demolishing every kind of shop possible. His equal but opposite life-partner, Elastigirl (Holly Hunter), is still much more savvy in fighting crime. Violet and Dash (Sarah Vowell, Huck Milner) still get their powers all tangled up in their emotions, and baby Jack-Jack is king (Eli Fucile). Don't forget about Uncle Lucius aka Frozone (Samuel L. Jackson), who skates in to chill the villains out. The property damage is thrillingly high in the opening, which means our gang of superheroes are in trouble with the law.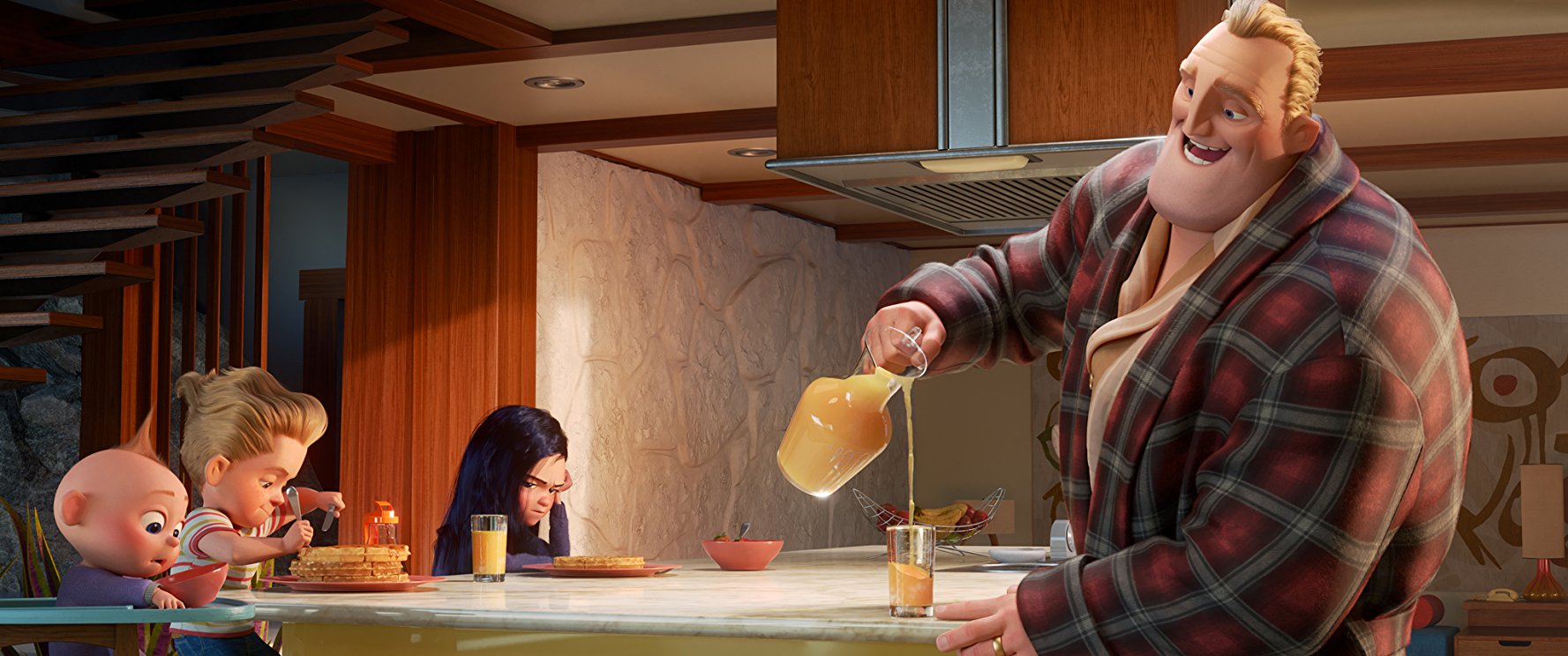 Photo by Pixar - © 2017 Disney/Pixar. All Rights Reserved.
Enter the sandman…what?…no, I mean enter the billionaire philanthropists in the shape of siblings Winston and Evelyn Deavor (Bob Odenkirk, Catherine Keener). The Deavors grew up as superfans. They want to bring back the good-old-save-the-days, and they've got the power of Winston's charm combined with Evelyn's brains to make it happen. But then, enter the dragon…what?…no, enter the new villain Screenslaver (Bill Wise) and all heck breaks open.
Pardon me while I jump around squealing. Writer/director Brad Bird has an uncanny way of merging family drama with superpowers to create stories we connect four…I mean two. His characters are vivid and petty and absolutely amazing. The themes from the first film remain: The past always returns to be dealt with and family is your greatest weakness/strength. Bird also gets clever in examining not-quite-toxic—let's go with icky—masculinity and gender dynamics. These issues come through with a gentle touch which works so much better than getting hit over the head like a supervillain. We do get a glorious punch in the face when Jack-Jack reveals his powers against a woodland villain in a domino mask. Wait for it. You're gonna love it. There's also a fight scene in a cube that will have you screaming it's so gorgeously done. The lighting, the choreography, the girl power. Oh, my heart.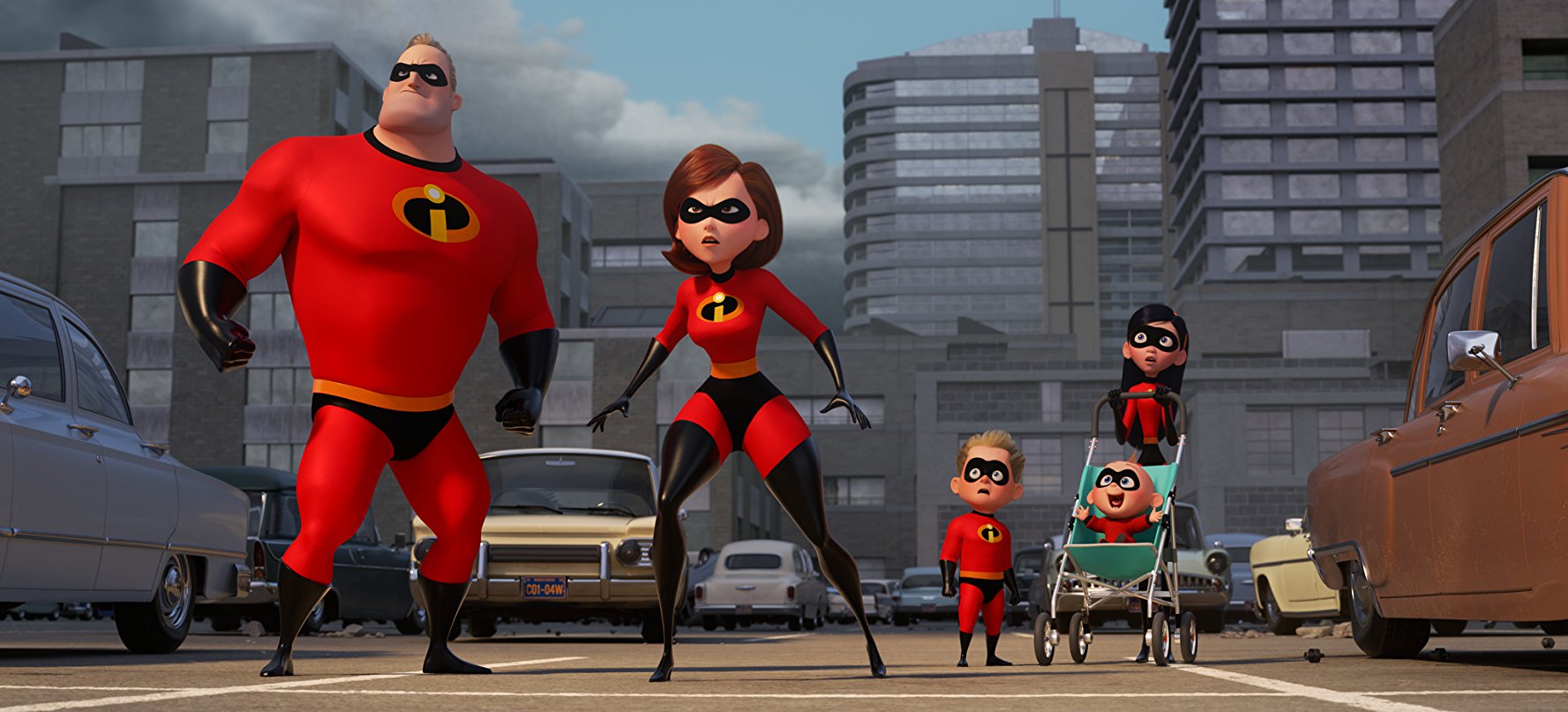 Photo by Pixar - © 2017 Disney/Pixar. All Rights Reserved.
It's stunning that we've had so many crap sequels and bad reboots while it took a decade and a half to get more Incredibles, but just like waiting in line for a show headlined by a rotating stage of Rihanna, Beyonce, and Barbra it's so worth the wait. It might be sensory overload but that jolt from the defibrillators will be totally gratifying. The second part to the Incredibles saga has just as much emotion as the first but the action and performances have powered up. Oh, and Edna Mode (Brad Bird) is still as tasty as pie with acerbic ice cream on top—just like the dessert named after her. What? Pie a la mode = Edna Mode, right? Get your spoons out and swing into action because Incredibles 2 is absolutely delicious, dahr-ling.
In the end: Run and see it immediately, darling, and take your familial units on the adventure with you!
P.S. We'll buy your tickets if you catch all the superhero allusions in this review.
Go see Incredibles 2 in theaters this Friday!