by Kat Bittner
Basically: Otherworldly lunacy with an odd ball heart.
Enn (charismatic Alex Sharp), AJ (Abraham Lewis), and John (Ethan Lawrence) are a trio of punks trying to break into the scene in late 70's England. After another uneventful attempt at a local club overseen by Queen Boadicea (Nicole Kidman doing her best impression of Vivienne Westwood) they try to salvage the night by going to the after party. When they arrive it is a whole other scene and dress code. Instead of punks in tattered clothes they find latex clad artists engaged in various avant-garde performances. Each of the boys find their own niche at the party. John throws himself into the bizarre "tribal" dancing. AJ has a polyamorous tryst with one of the hosts. Enn meets Zan (a luminous Elle Fanning). Zan is feeling constricted within her troop of fringe dwellers and it's not just the latex she's wearing. She takes a pair of scissors and slashes her skirt which impresses Enn. Just when Enn is about to oblige Zan to "do more punk" AJ interrupts their meet cute with the news they've crashed the wrong party and that these performance artists may not be from California. Enn does not want to leave Zan and Zan wants to explore the town with Enn—and she only has 48 hours left to do it.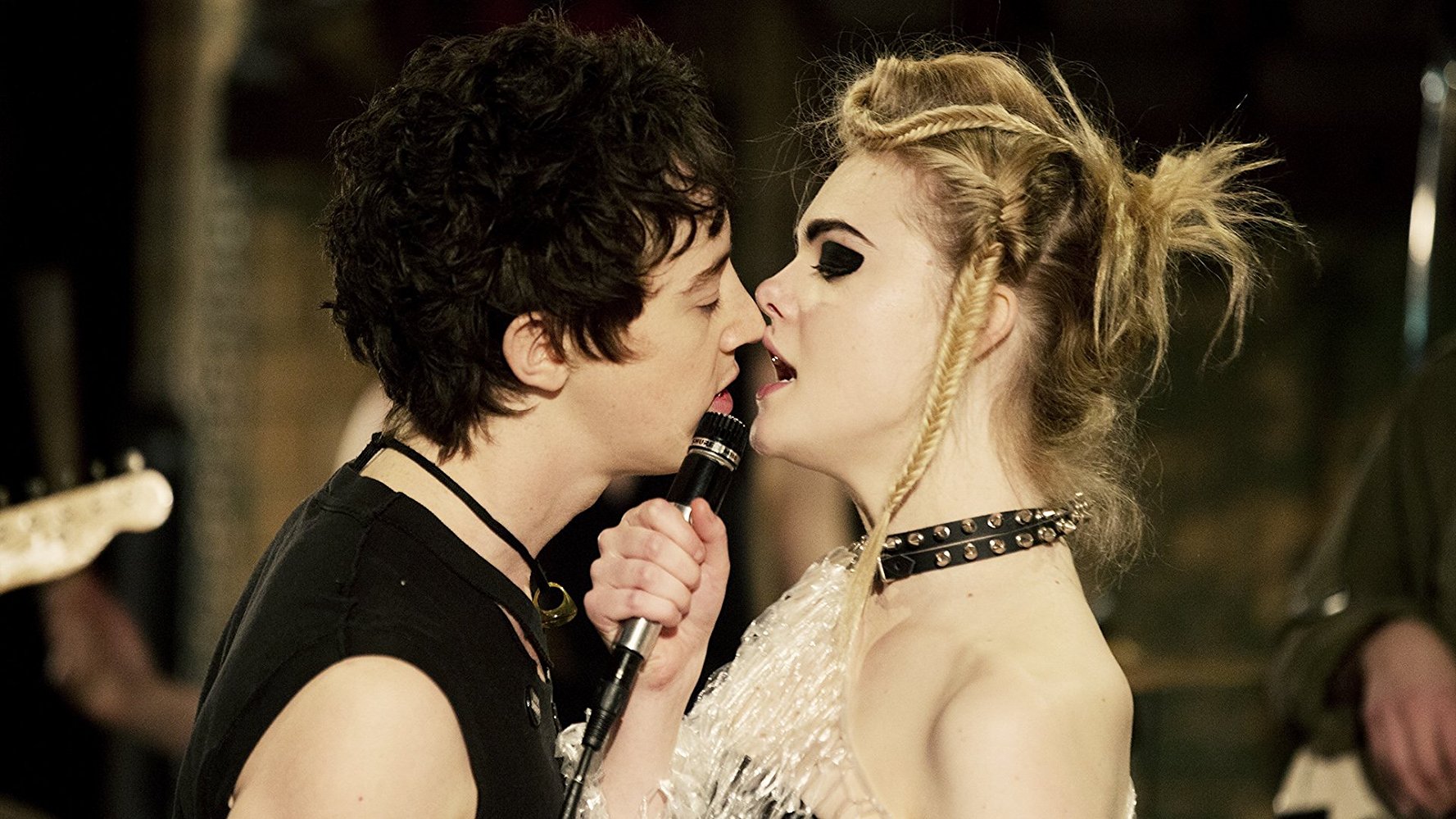 Photo: A24
We'll leave out the more bizarre plotlines (or as I like to call them the padded bits). The main point is, these are aliens who travel throughout the galaxies on a perpetual extraterrestrial version of Eat, Pray, Love. They observe the culture and customs then, well I'm not exactly sure what they do to their hosts but it's certainly not leave them a nice thank you card for their hospitality.
How to Talk to Girls at Parties is a tale of two disparate films that would have been better executed as an afternoon double feature rather than a scattered sci fi punk romance. The movie tries desperately to be an Alex Cox film yet it lacks the grit and bravado of Sid & Nancy. The original short story the movies is based on is a slice of life meditation: A very shy boy's attempt to find a connection with his dream manic pixie girl. The film tries to pad out the story with a plot of waning alien colonies and a polymorphic mating ritual that includes fisting and extra limbs. The philosophical ideas spouted by the punks and the traditions of the aliens get to be tiresome but the experience is alleviated by sarcastic one liners. It makes a valiant attempt to make sense before the movie completely dissolves into an "Evolve or Die!" climax. But hey, at least we get Nicole Kidman in a fantastic Siouxsie Sioux wig.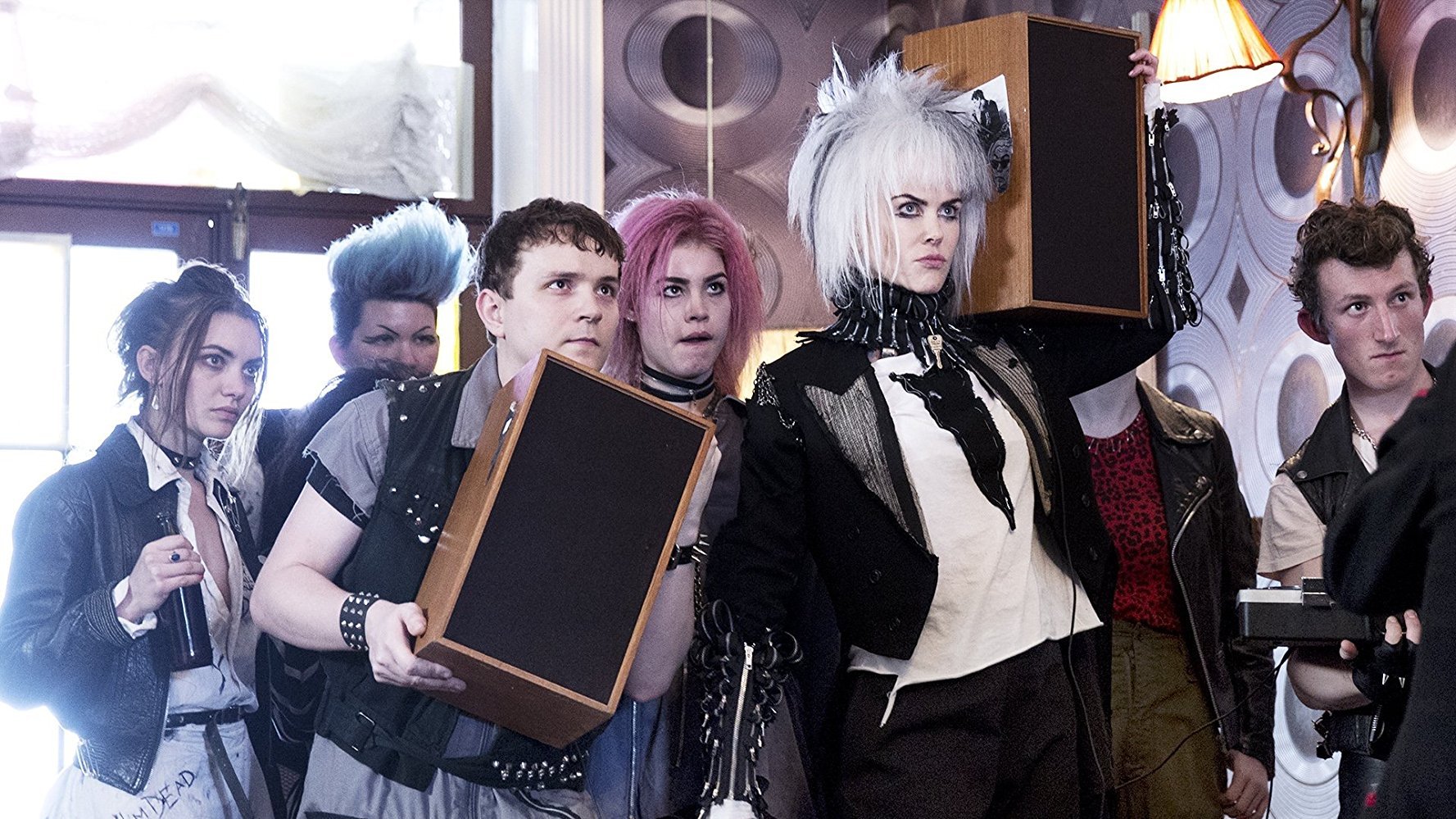 Photo: A24
What saves How to Talk to Girls at Parties is the chemistry between the leads, Sharp and Fanning. In spite of all the lunacy the movie does have an odd ball heart that beats earnestly about what it means to love, to live as an artist, and what you leave behind. And for fans of original writer Neil Gaiman there is a sweet Easter egg at the end that shows that even if relationships do not endure if we are lucky the stories we leave for people do.
In the end: How to Talk to Girls at Parties is a scattered, but ultimately sweet adaptation of Neil Gaiman's short story of the same name. You just have to walk through the frenetic curtain of latex clad sex parties and idealism to get there.