Grade: C-
Basically: It's kinda like George A. Romero wrote an action-thriller in John Wick's world. Only not that good.
You'll enjoy Hotel Artemis. It's hard not to when the cast is this good. Jodie Foster and Sterling K. Brown, Sofia Boutella and Dave Batista, Brian Tyree Henry and Zach Quinto, and to top it all off there's the secret sauce of all good genre movies: Jeff Goldblum. See what I'm saying? You can't help but lean forward to learn more.
The setup is the hotel itself. In the year 2028 clean water riots are consuming Los Angeles. In the middle of it all is the Hotel Artemis, a clandestine hospital for the criminal elite. Pay your dues and you'll get fixed up by Nurse (Foster). Try to get in without a membership and Everest the Orderly (Batista) will "heal the hell out of you."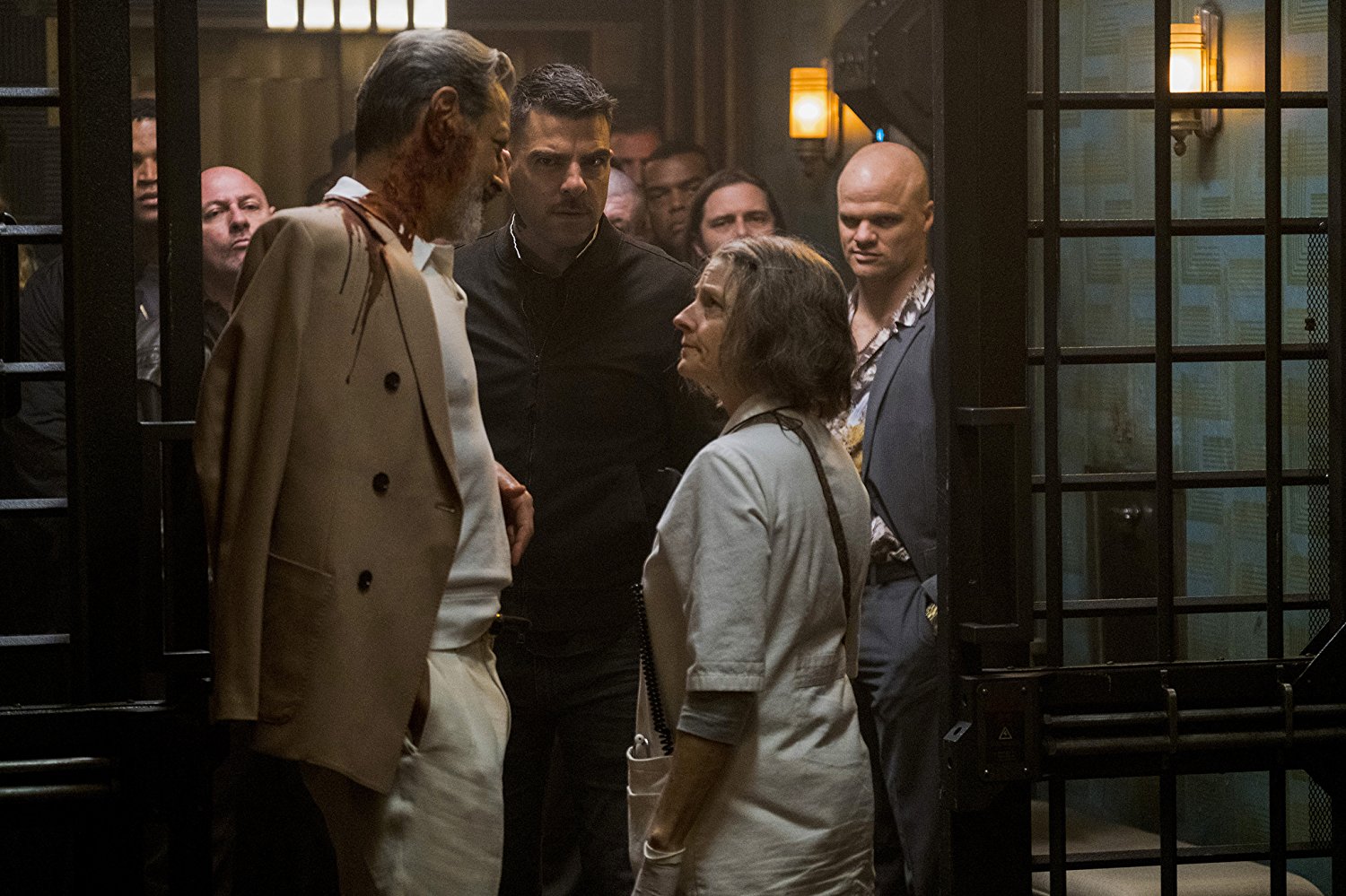 Photo by Matt Kennedy
After a bank robbery goes sideways, Sherman (Brown) and his screw-up brother Liev (Henry) are in desperate need of fixing up. They ring the bell, and the Artemis opens up to them. Already in residence is an assassin called Nice (as in the city) played to dagger-in-a-red-dress perfection by Boutella. Do we sense sparks between Nice and Sherman? Oh, hell yeah we do. There's also an arms dealer (Charlie Day) who is a complete dipshit. He deserves everything he gets… Anyway, as the riots intensify the crime lord who rules the city makes his way to the hotel and—as you might guess—things fall apart.
I'm a lover of assassin flicks and super stylized crime dramas that feature badass women. I should've loved Hotel Artemis but I didn't. I was entertained though. It's a puzzlement. It's not that the film is a slow boil. That's a nice change, watching the various wounded criminals dance around each other until personality conflicts and hidden motives heat up. The problem is the plot never boils over. It's all build up. Or perhaps it's that the movie lacks any real character development, other than a tragedy in Nurse's past and the fuego chemistry between Brown and Boutella's characters. Hot damn.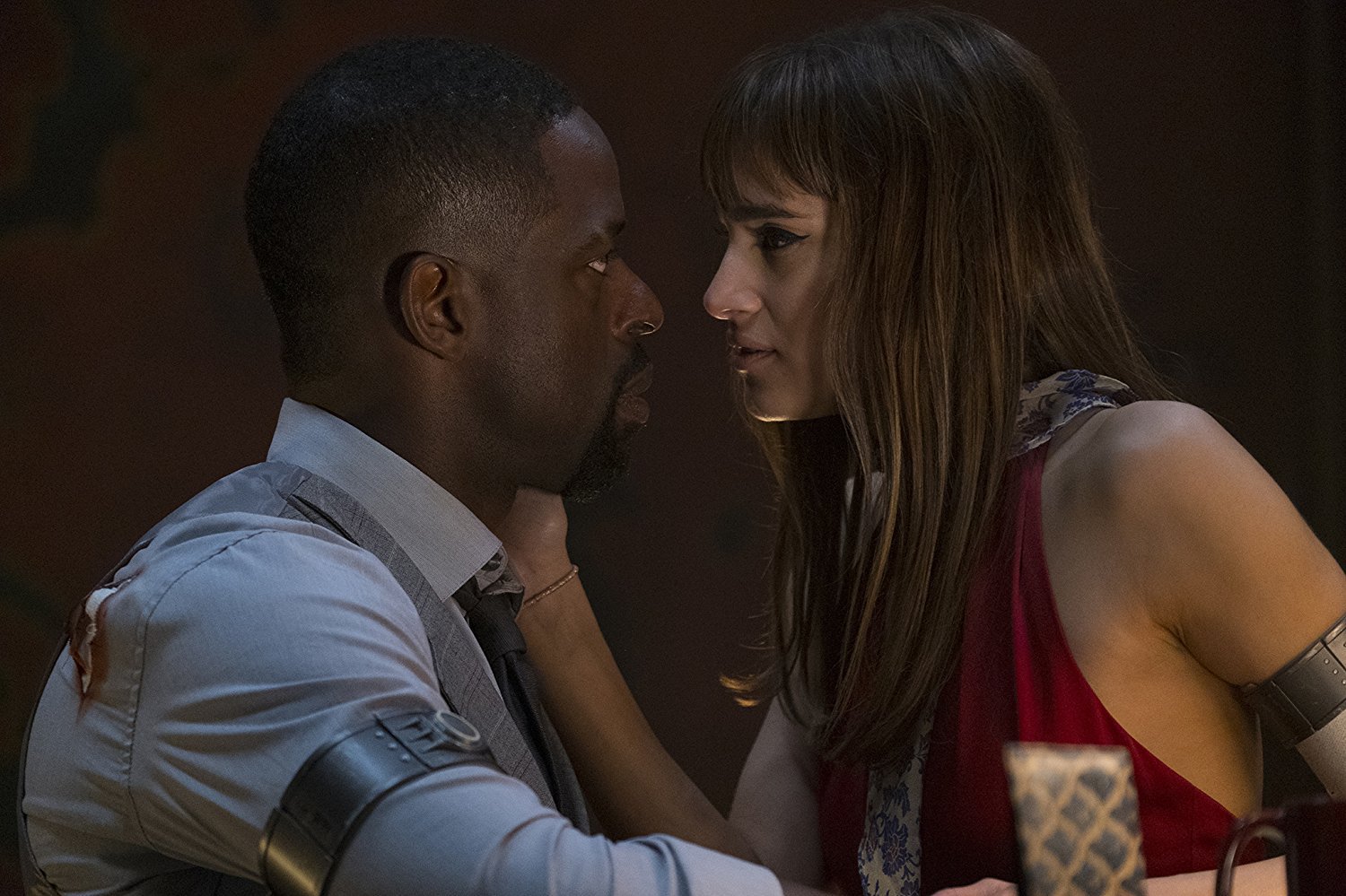 Photo by Matt Kennedy
I know I say this a lot but it's my own personal cliche because it's true: Hotel Artemis lacks charm. The actors have magnetism bursting off the screen and yet…sigh. The tension is there, the humor, the ticking clock, some fairly good fight scenes—it's all there and yet the movie is just alright. It needs something but I can't tell you what it is. I can tell you, the ending is wide open for a sequel and if they make it I'll be there.
In the end: Despite lacking that certain something special, if you're into action movies that play out like horror flicks and actors who could make safety instructions sound riveting then see Hotel Artemis. You'll be entertained.