Basically: Welcome back to the world of the undead sorceresses, creatures, and things that go bump in the night. And our boy returns to bump back.
For those who are not in the know, Hellboy is a classic tale of a baby demon brought to earth from hell by a Nazi trying to avoid losing World War II. However, as events would have it, the Allies interrupt the ritual and end up adopting the crimson demon-baby shaping him into a force for good—to fight the Corpus Monstrum (The MonsterMen) that plague our world. That being said, this is an excellent recipe for the weird and wild to happen. And ideally this world is where we should all want to play. Instead, what I saw was a world that looked similar but was a whipped cream-filled chocolate shell that, despite its valiant efforts, missed the mark (like Hellboy's aim).
If you, dear reader, believe I went into this feature biased against this series, don't. Hellboy is without a doubt one of the greatest comics of a generation—A G-E-N-E-R-A-T-I-O-N. It's not a superhero story, it's an adventure of shadows and weirdness. Created in the late 20th century by Mike Mignola, this "red ape" as Hellboy is affectionately known gave a comics world that OD'd on heroes, capes, tights, and boobs something new to see. Now please keep this in mind as I continue.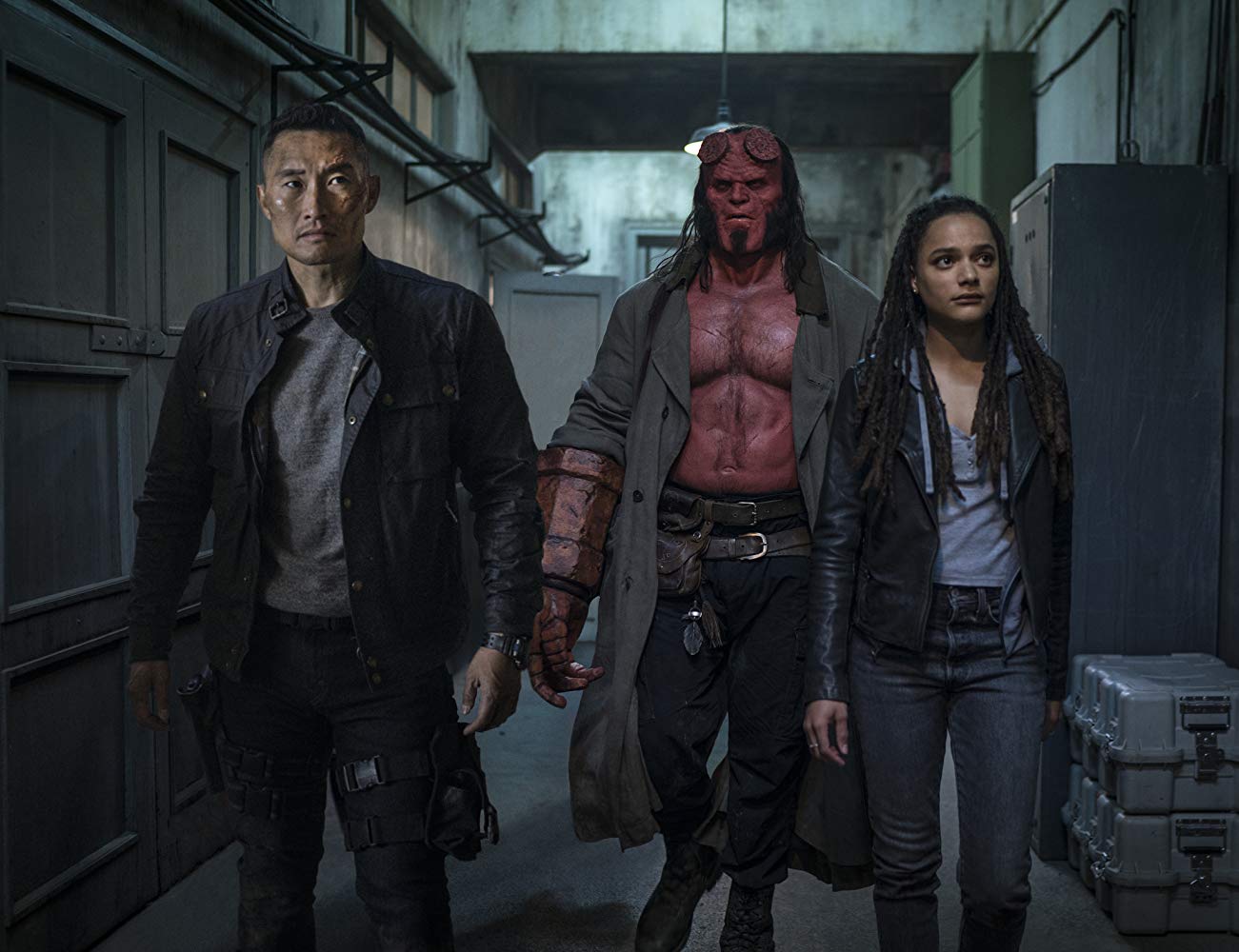 Photo by Mark Rogers / Lionsgate
Dear director Neil Marshall, this is not an MCU or DCEU movie. Zach Snyder, have a seat—you are still wrong. In an effort to update Hellboy, this movie falls flat with flaccid one-liners, ill-timed humor, and a cast that is barely able to gel, thanks to a script that allowed no room for growth beyond a snappy retort as part of its tension-building. This may in part be due to a story that lacks significant participation of the creator. Our titular character, Hellboy (David Harbour), comes off as more dude-bro than haunted figure, unsure of himself. Moments in the movie seem selected specifically to spotlight a joke or one-liner in efforts to endear a character to the audience. This was a dreary portent of what to expect from the story. Nimue / The Blood Queen (Milla Jovovich) who starts off as a blood-thirsty maven with dreams of human extermination evolves into being thirsty for Harbour's Hellboy. If I wanted to see that, I would watch my friend Steve obsess over his OKCupid profile.
Unfortunately for Alice Monaghan (Sasha Lane) and Major Ben Daimio (Daniel Dae Kim) very little development happens to their characters although they showed a fair amount of fun chemistry, which made the movie tolerable. The clear lack of development in both characters made their evolution clichéd, eventually reducing interest in them. However, there are scenes of Kim shirtless so, for relevant parties, there is that. Please note I am ignoring DDK's british accent—which sounded like a cockney accent had drunken sex with a Scottish accent and produced a baby with a lisp. I really have no idea why they would make him try that. His accent dropped more times than a Stephen Curry three-pointer.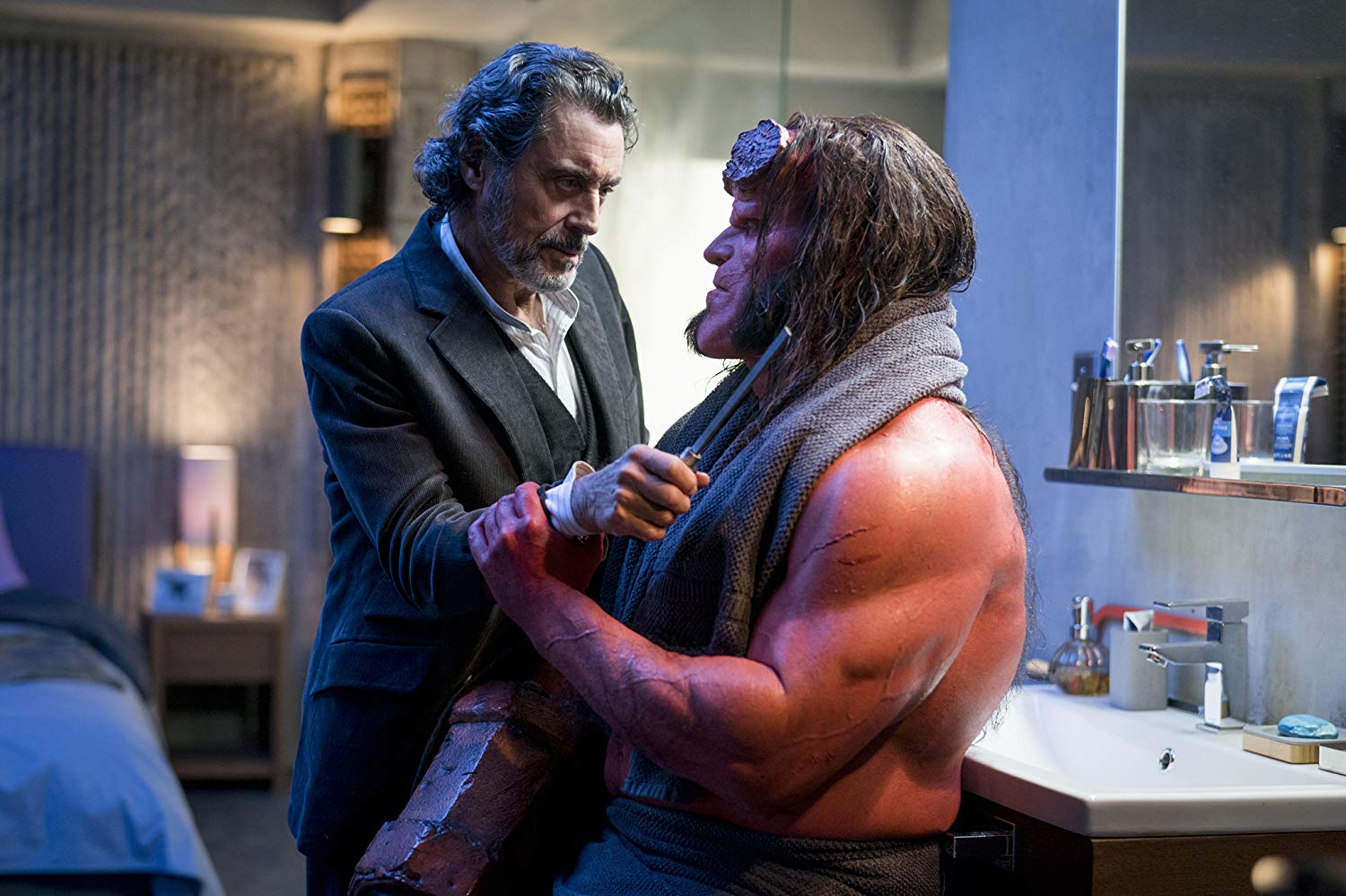 Photo by Mark Rogers / Lionsgate
Despite the one hundred years of solitude I felt while watching this movie there is/was/were high points. The creature design would do Stan Winston and Ray Harryhausen proud. The imagination that started in the Hellboy books and carried through to the Del Toro movies survived the update and are a sight to behold. The classic question of WTF was that thing? comes up often in the story. Unfortunately you never really find out, just flashes of potential draining back into the netherworld sewers.
The second standout is Professor Broom ([email protected]#Kin Ian McShane). When you refer to him, expletives are required. Mr. McShane plays an acerbic no-nonsense scrap of a human whose sole purpose for living is to ensure Hellboy does not go medieval on our world. Albeit an archetype, we are all familiar with from McShane, his portrayal stood out as a fun and humorously dark. For the record, in the comics, the professor's real name is Trevor Bruttenholm, his last name is pronounced 'broom'. When you run a super-secret paranormal fighting organization even the letters in your name are secret.
In the End: In an effort to bring a fresh look to Hellboy, the story forgets its core and strives to be modern, gritty and relevant. It just tries too hard and, sadly, it's not hard enough.