Basically: One part Groundhog Day, one part Scream with alternate universe sprinkles.
I never saw Happy Death Day and I don't think I was the only one. A movie where a girl has to relive her birthday over and over, until she figures out who killed her, probably got some horror fans excited but it didn't pique my interest. Now it's 2019 and I don't know how but I ended up giving it a chance. How in the world can they make this young woman go through this again? Is it not explained? Is it magic? Is it time travel?
It seems the purpose of Happy Death Day 2U is to explain how our heroine Tree (Jessica Rothe) got into the mess of the first movie by introducing us to a new character called Ryan (Phi Vu). He starts Happy Death Day 2U in a similar situation to Tree but we learn early on—after a nice recap of the first movie—that Ryan is the cause of these crazy happenings. He's created an amazing science project that's all electric pulse and crackling energy straight out of Weird Science. Through some unfortunate situations, involving alternate earth doubles and angry college administrators, Tree is back in a new death day loop on her birthday. Except now she's also thrown into an alternate reality where she needs to figure out a way home while once again dealing with a baby face masked killer stalking the campus.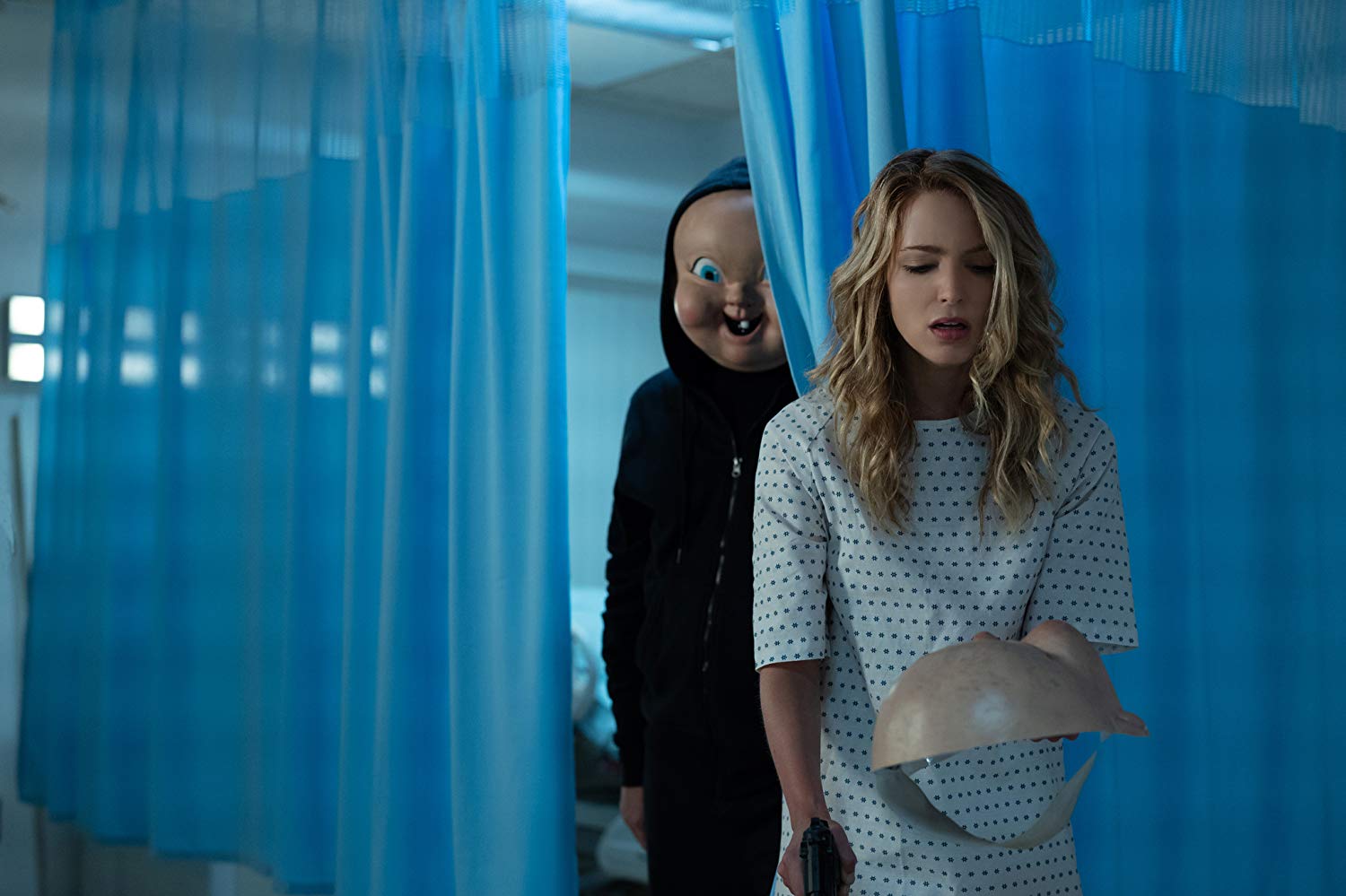 Photo by Michele K. Short - © Universal Pictures
Happy Death Day 2U is a surprisingly entertaining genre-bending movie. The stakes for Tree are clear and, while the movie doesn't take itself too seriously, the characters take what's going on with the right amount of seriousness. Since Rothe is new to me in this role I was delighted with what I saw from her. She totally sold the frustration of going through a crazy cycle of dying and then reliving the same day over and over. She's so over it and it's great. This allows you to get into the movie more easily because the main character thinks the situation is kinda corny.
Carter (Israel Broussard), the love interest for Tree and an all-round super goody two shoes guy, plays the role with an air of a late 80s movie character. Happy Death Day 2U is very funny and seems to use that 80s movie feeling throughout—from a montage in the middle to how the film wraps up the killer plot—there's a good use of tone without being a copy of a bunch of old movies. Blumhouse has another surprising little winner here that can easily be made into a long-standing and fun franchise.
In The End: Happy Death Day 2U is easily the most fun movie experience I've had in the early part of the 2019 movie year. It has a little bit of something for everyone and is a good Valentine's Day date movie.