by Philip Jean-Pierre and Sherin Nicole
DISCLAIMER (Post Oscars 2019):
Back when we first saw it, this movie didn't bother us that much…back when we first saw it. Perhaps because we came out of the theater with our attention firmly focused on Dr. Don Shirley and Mahershala Ali's performance. Perhaps because we loved learning about this musical genius, who was lauded in his time, and queer, and black, and who chose to do something to transform the world when he could've remained comfortable. This was a character and a man we hadn't seen on film before.
The things that bothered us most came after: The revelation only one family was consulted; director Peter Farrelly's refusal to listen when a large part of a populace told him his film had hurt them, his blithe and defensive speeches, his assertion that "this" was all because of Viggo (Mortensen). And for the Oscars to gaslight our community with THAT UNEARNED BEST PICTURE WIN. Nah. None for us.
Green Book didn't bother us, at first, but it is a glorified after school special. A Best Picture it is not. Hurtful it is, because so many people felt hurt by it and voiced their pain. Peter Farrelly might refuse to listen but we do. So THIS REVIEW IS CANCELLED.
Let's stop talking about this movie and START TALKING ABOUT If Beale Street Could Talk. Barry Jenkins and that entire production were mugged on the street in from of the Dolby Theater, while we kept this average film (except for Mahershala Ali's performance) trending.
Please go no further.
---
Basically: Two men walk a mile in each other's shoes and learn it is not the roads we travel but who we travel them with.
The hardest thing about breaking down movies that caused your heart to swoon is: Where to begin? Like most love affairs, even the beginning doesn't feel like the right place. For this particular effort by director Peter Farrelly, the beginning is merely one of the stops on the brilliant experience that is Green Book. Despite the limited imagination of some folks, this is not an attempt to rehash the fervor brought about by Morgan Freeman and Jessica Tandy in Driving Miss Daisy. This is an effort—in the post Black Panther era—to develop a deeper narrative of the African-American experience in the US beyond trite and tired tropes of gangsterism, slavery, and urban blight. And it's affecting because it's true.
Green Book begins with Donald "Don" Walbridge Shirley (Mahershala Ali) a virtuoso whose career in music began at age three, when he studied music at the Leningrad Conservatory of Music. From there his career took him all over the world performing for celebrities and dignitaries. I could go on but the film does a spectacular job of showing his world. After working with his friend Duke Ellington, Shirley embarks on a tour of the 1962 South. As in Mordor, for a black man in 1962, one does not simply walk into South. Enter Frank "Tony Lip" Vallelonga (Viggo Mortensen) a shady hustler, bent-nose goon, and loving family man. Vallelonga is hired as Shirley's driver—whose job it is to make sure the virtuoso makes it to and through all his stops on tour…safely.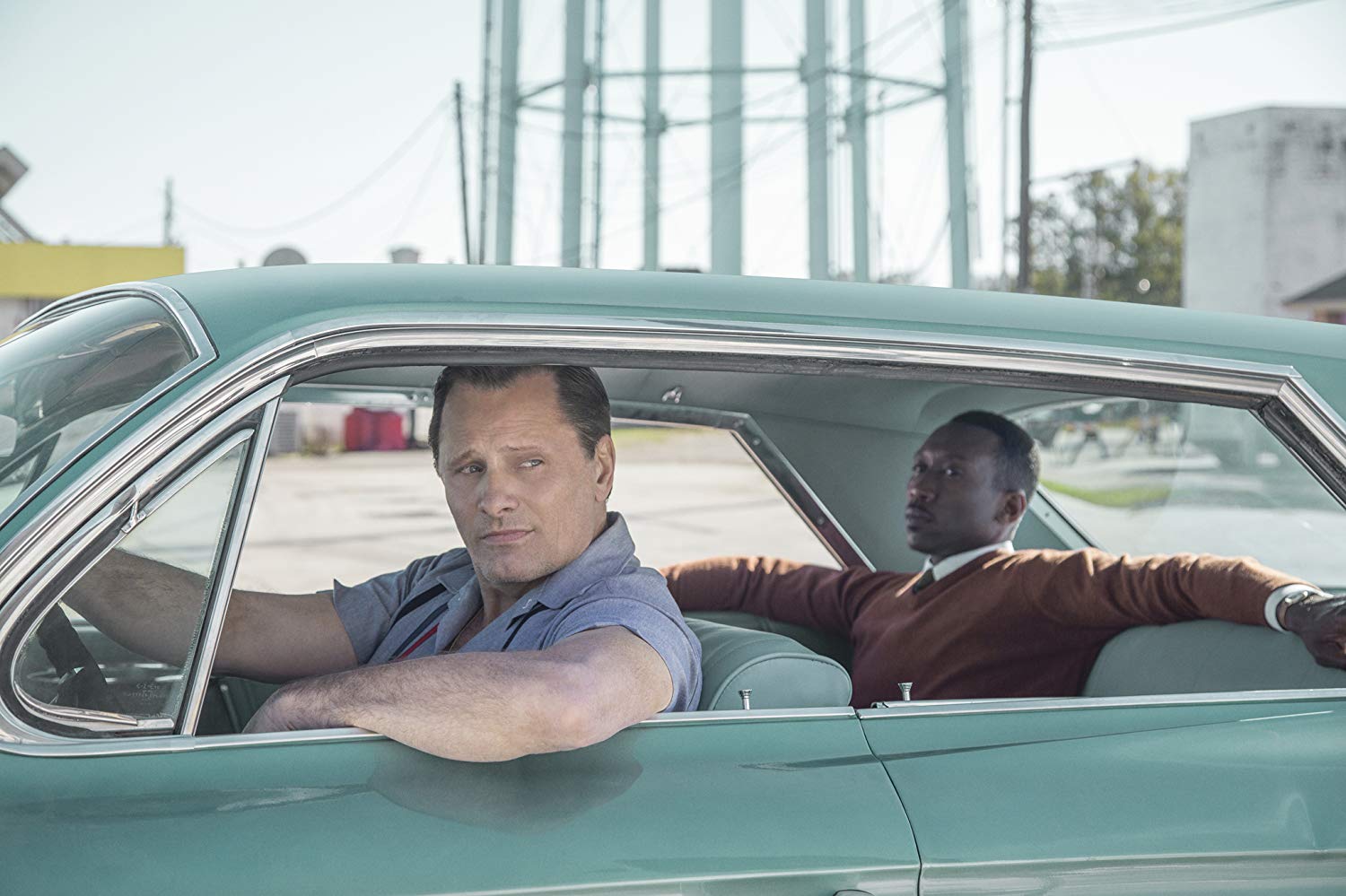 Photo credit: Patti Perret - © 2018 Universal Studios.
At this point the parallels to Driving Miss Daisy must seem glaring but that's where they stop. The strength and challenges of Green Book fall squarely on the shoulders on Ali and Mortensen. An effort in which they over-achieve thanks to flawless chemistry. Through the lens of two very different men we see an America that not only shines a light on the overt racism of The South but also on the casual racism of the rest of the country. The working class, some would say the heart of America, is represented by Mortensen's Tony Lip, who learns the gap between his world and Dr. Shirley's is not as wide as he believed.
This is deftly done by Farrelly, as the combination of epistle storytelling and road-trip allows him and writer Nick Vallelonga (son of Tony Lip) to take their leads on a journey that feels like a southern version of The Odyssey. Each stop along the way allows Dr. Shirley and Lip to compare notes on class, race, love, identity…in ways that feel fresh for a historical film. Farrelly takes the complicated discussions of "Am I a man or am I a black man?" and "Am I black enough?" into a space where the answer is not the goal but the struggle becomes a revelation. There's also an exploration of prejudice through the role reversal of an elegant, cultured black man versus a rough, uncouth New York Italian. Some of the most memorable scenes use stereotypes to erase that "versus" and turn it into a plus. For example, the conversation that ensues when Tony Lip steals something, or Dr. Shirley's introduction to fried chicken. Oh, and there's a stunning scene at a local YMCA where the wall around Dr. Shirley breaks and he becomes Don for the rest of the film. The bond between these two men is hard won and that's what makes it beautiful.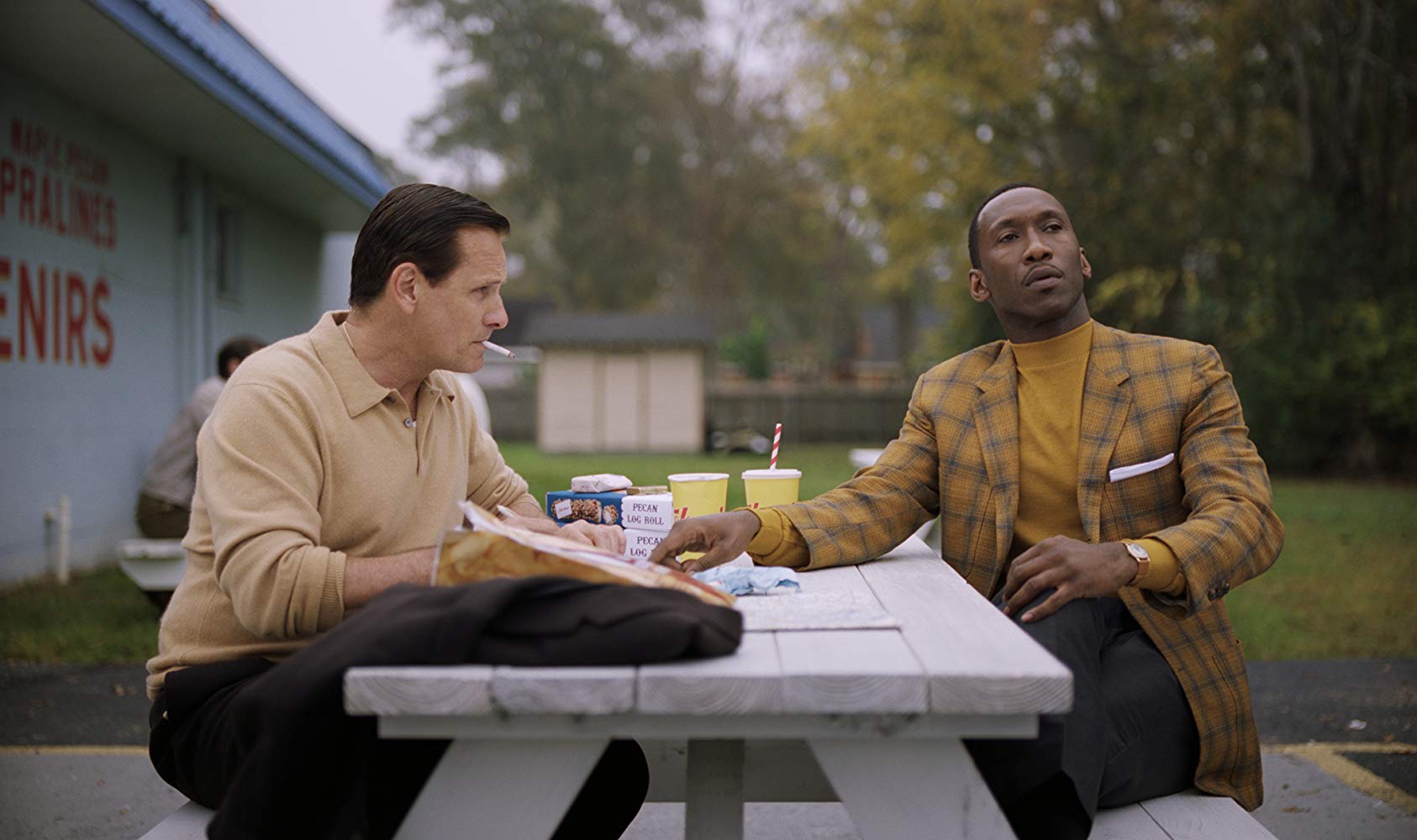 Photo by Universal Pictures
With any attempt at these head-y topics, some missteps can happen. The story explores the outward perspective of Don and Lip but, at times, it could've had more depth when depicting their internal conflicts. This is only a fault because once you're sucked into the story, you want to see more.
The real Dr. Shirley could've stayed in the safety of his loft above Carnegie Hall, being adored by the elites of NYC. Instead he asked for that storied tour of the Jim Crow South. He said, "In order to change minds, you have to show people better." In that goal, and in honoring two men whose brotherhood lasted until they died months apart, Green Book is an achievement unlocked.
In the End: This movie has such grace—if you don't see it you've made a mistake.