Basically: The story is better but the music isn't quite as good…still #sisterhood and #findingyourself.
You're probably going to be shocked when I say I liked the follow up to Frozen better than the original movie—storywise. Don't worry, because that worries me too. Let me take you back to the day I saw Frozen the First, in a theater in Bethesda, MD, with two of my goddaughters. They loved it. And I loved experiencing it with them. We danced, we shrank away from the Abominable Snow Creature, and we held hands in solidarity with Anna and Elsa's sisterhood. It was a good time but when I watched the movie on my own it wasn't so good. For me, the story didn't hold together and I didn't have that sensawonder I usually get from a great animated film. AAAAND as much as I adore Idina Menzel, I will snatch out throats if I ever have to listen to "Let It Go" again. You have been prepped.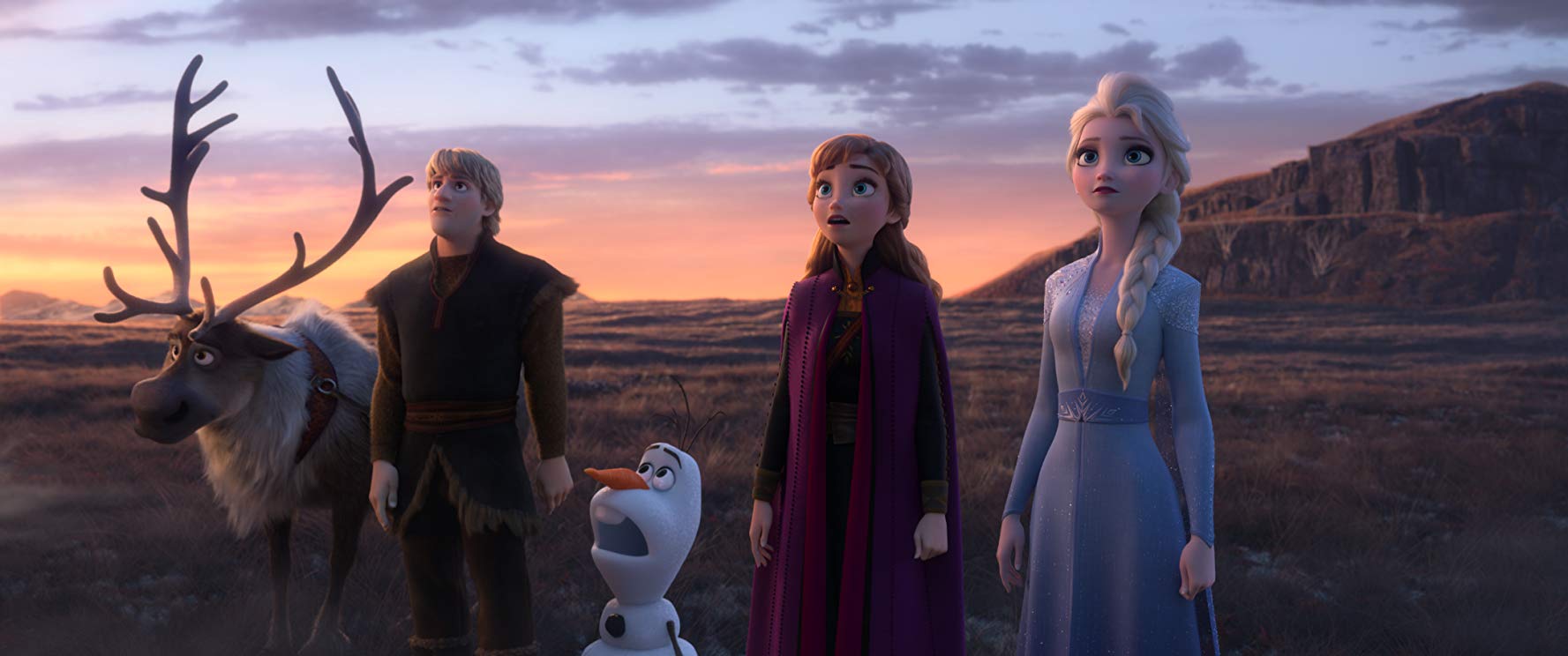 Photo © 2019 Disney
Therefore, going into Frozen II—without the secondhand glee that helped me enjoy the first one—worried me a little. The film takes us back to Annandale, kicking off with a "we'll always be together & I will always love you" happy song that screams:  EVERYTHING AND EVERY RELATIONSHIP IS ABOUT TO FALL APART (you have been warned). At any rate, Elsa's powers have a backstory. Which…tell me more. Thus a flashback to Elsa and Anna's parents and a long ago bedtime story about the time their grandfather made a peace treaty with a group of—I'm going to say Inuits—called the Northuldra. 
Sidebar: If you're thinking somebody is about to find out their G'pa was "a colonizer" then your flimic IQ is high. Seriously that ain't a spoiler—it's regular old classic 'oooh, a group of nature-loving-spiritual-people' filmmaking. 
Once her memories are stirred, a beautiful voice begins calling out to Elsa. This soon awakens elemental powers that threaten to destroy Annandale and the ties that bind Elsa, Anna, Olaf (the beloved), Sven, and Kristoff together.
So yeah, stakes.
Photo © 2019 Disney
Frozen II is soooo pretty. But you knew that. The voice acting is stellar as well because Kristen Bell, Idina Menzel, Josh Gad, and Sterling K. Brown. As an aside: Why are they all so ridiculously amazing? They just are and they work well together. There's also a musical number in which Kristoff (Jonathan Groff) goes into full 80s mode, with a song that might make the band Journey and their frontman, Steve Perry, check their catalogue to see if Disney owes them money. They don't, but that whole production and all the visual flourishes that go along with it will give you the giggles (if you recognize what they're doing…which I just told you…so go watch some Journey videos, babe). Trust me, it'll make your movie going experience that much sweeter.
Here's the thing, the story is more in depth in Frozen II and IMO it's better written BUT the music feels oddly placed, almost as though it's structured for Broadway which makes it seem slightly fabricated. That's why I'm worried. The original storyline was easier to parse and the music got into your bones a lot more. So, um, will my goddaughters and the other kids like this Frozen as much as they did the first one? I'm not sure. And as much as I found the time pass enjoyable I don't need to see it again and I didn't go looking for the soundtrack either. 
In the End: It's Frozen. You're going to see it anyway and that's okay by me…let it flow.