Basically: A film based on a true story about best friends who want to make and drive really fast cars.
Since the beginning of cinema, films about fast cars have been a staple and so have stories of men driven to reach seemingly unreachable goals. Ford v Ferrari is about both of these things. While it's titled Ford v Ferrari, the leaders of both companies are only distant side characters—the focus is on Carroll Shelby (Matt Damon) and Ken Miles (Christian Bale). For some, myself included, the only part of the story I knew walking in was the amazing (and beautiful) Ford GT40, a car as legendary for its looks as it is for speed. I never knew the backstory, which is shown in this film. 
Shelby, a former championship driver in his own right, retired from racing so he went into car design. He now has a racing team which includes the genius driver Ken Miles, who is unbeatable on the track…but he does not have the most endearing personality. The connection between the two men is based on the recognition of the genius they both have. Ford executive Lee Iacocca (Jon Bernthal) has an idea to compete in international races like Le Mans to raise the profile of Ford and increase sales with the younger demographic. He first tries to purchase Ferrari from Enzo Ferrari (Remo Girone). When that falls through, he's able to appeal to Henry Ford II's (Tracy Letts) ego and they aim to beat Ferrari at their own game. Together they must get the best team to win against the insurmountable Ferrari at Le Mans.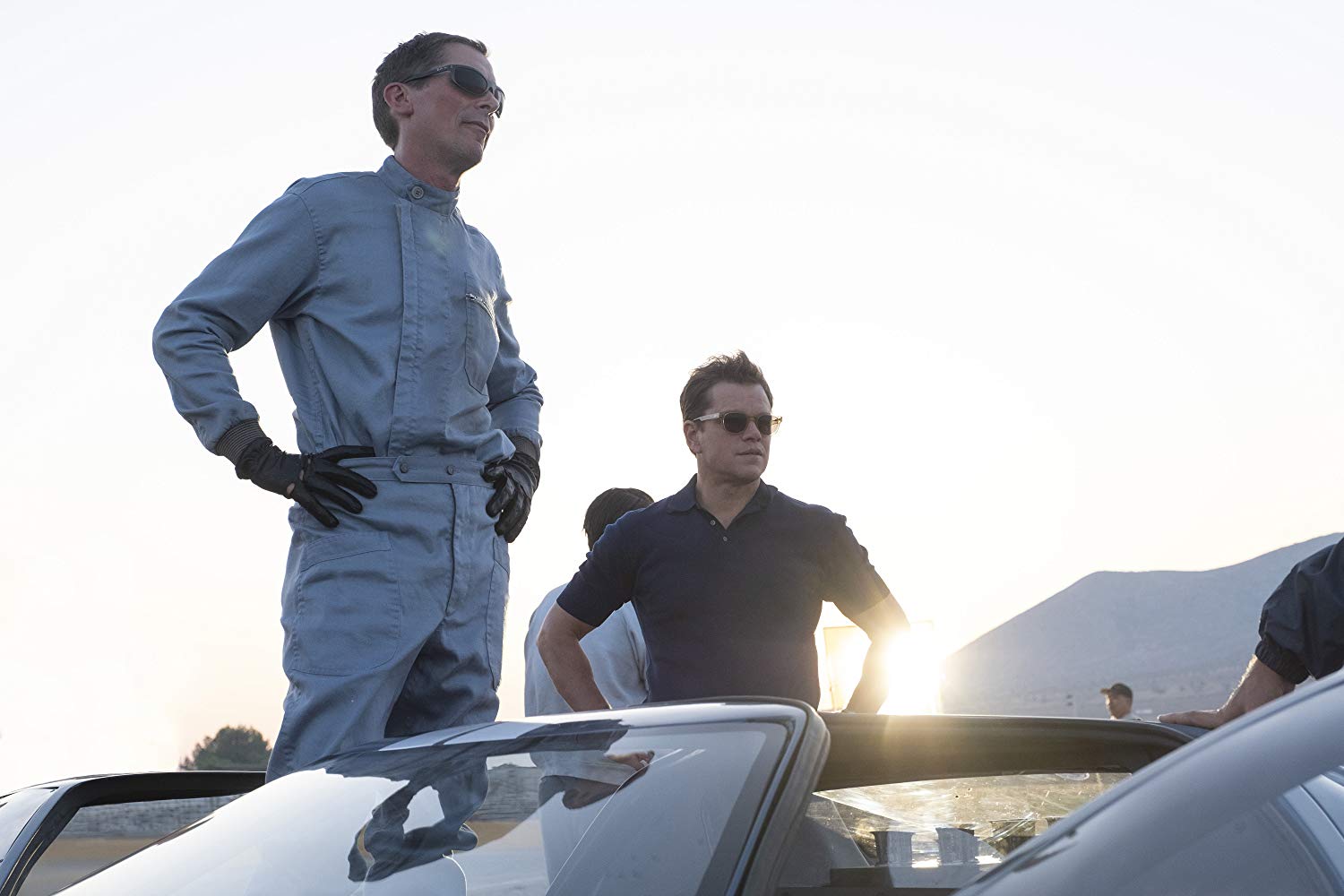 Photo by Merrick Morton - © 20th Century Fox
Ford v Ferrari balances its two protagonists' individual arcs well and shows what drives them. Damon and Bale both give great performances, with Bale getting to chew more of the scenery as the passionate Miles. For me, the dynamic between the two feels like a shonen manga or anime, as these two equals constantly push themselves further and further to beat their rivals, with a great cathartic pay off as they reach their goals. Jon Bernthal brings a ton of charm to his role, I could see him playing Iacocca in a film just about him. Josh Lucas portrays marketing executive Leo Beebe who is a true antagonist in this story. He plays it so well you might feel a certain type of way about seeing Lucas later in something else. 
The film achieves an early 60s feel with solid costuming and nice touches of color in all the scenes and set design. It also does well at showing the cars racing and the speed they are going. This is a pretty hard feat considering we've seen almost all the ways a car can be shown racing and going fast. The last movie that impressed me in this sense was Rush in 2013—Ford v Ferrari is different in how it shows that but it also does a great job of putting you right on the track. 
In the End: Ford v Ferrari is a fantastic film lead by great performances and direction. It might make you want to drive cars fast.