by Kat Bittner
Basically: Five feet won't keep them apart…
"I never understood the importance of touch until I couldn't have it."
The yearning for human connection is at the beating heart of Five Feet Apart. Stella (Haley Lu Richardson) has been living with cystic fibrosis her whole life but she has her family, friends, and her treatments under control until her routine is shattered by the rebellious Will (Cole Sprouse).
The movie begins with Stella and her friends packing for a trip. Her room is filled with all the colorful teenage ephemera of artwork, posters, and photos. Everyone is excited and her friends implore Stella to come with them too. After all she's the planner and she has gone before but, as the camera pans out, we see Stella is [back] in the hospital.
Photo: Lionsgate
We learn her routine as she chronicles her experiences on YouTube, catching up with the hospital staff and other patients (aka fellow CFer's) like her best friend Poe (Moises Arias). Her life is going as it usually does until she meets Will who is undergoing an experimental treatment. He introduces himself to her in her happy place at the hospital (the maternity ward/baby room). There's witty banter. She follows the rules. He does not. Standard romantic movie clichés.  
However, what sets Five Feet Apart apart from typical terminal romance movies is its representation of living with cystic fibrosis: the chest port, the fabulous Vogmask fashions, bags to carry their ventilator. Claire Wineland was a consultant for the movie and posted about her own experiences living with cystic fibrosis online as early as 14. "As I grew up with CF, I started to realize that the way in which sick people are actually represented and talked about in society…is degrading. People don't see them as full, complex beings with wide ranges of emotions, life experience and valid things to share with the world," Wineland told Jeff Ayers in the blog Death Wish Coffee in April 2018.
The use of technology as both an extension of self-expression and as a tool for creating intimacy where physical contact is impossible is a great update—found in the latest crop of terminal romance YA movies (think Everything, Everything). Stella uses YouTube as a way to cope and share with the world about the ups and downs of living with cystic fibrosis. Will is able to get to know Stella and further falls in love with her through watching her YouTube channel. He sees her optimism and persistence in her daily life with her family and friends whether it is in the hospital or outside it. When Will begrudgingly lets Stella badger him into a regimen and sticking to it they use [insert name of whatever messenger app my child is using] as way to do their treatments together, while still maintaining the 5' apart rule.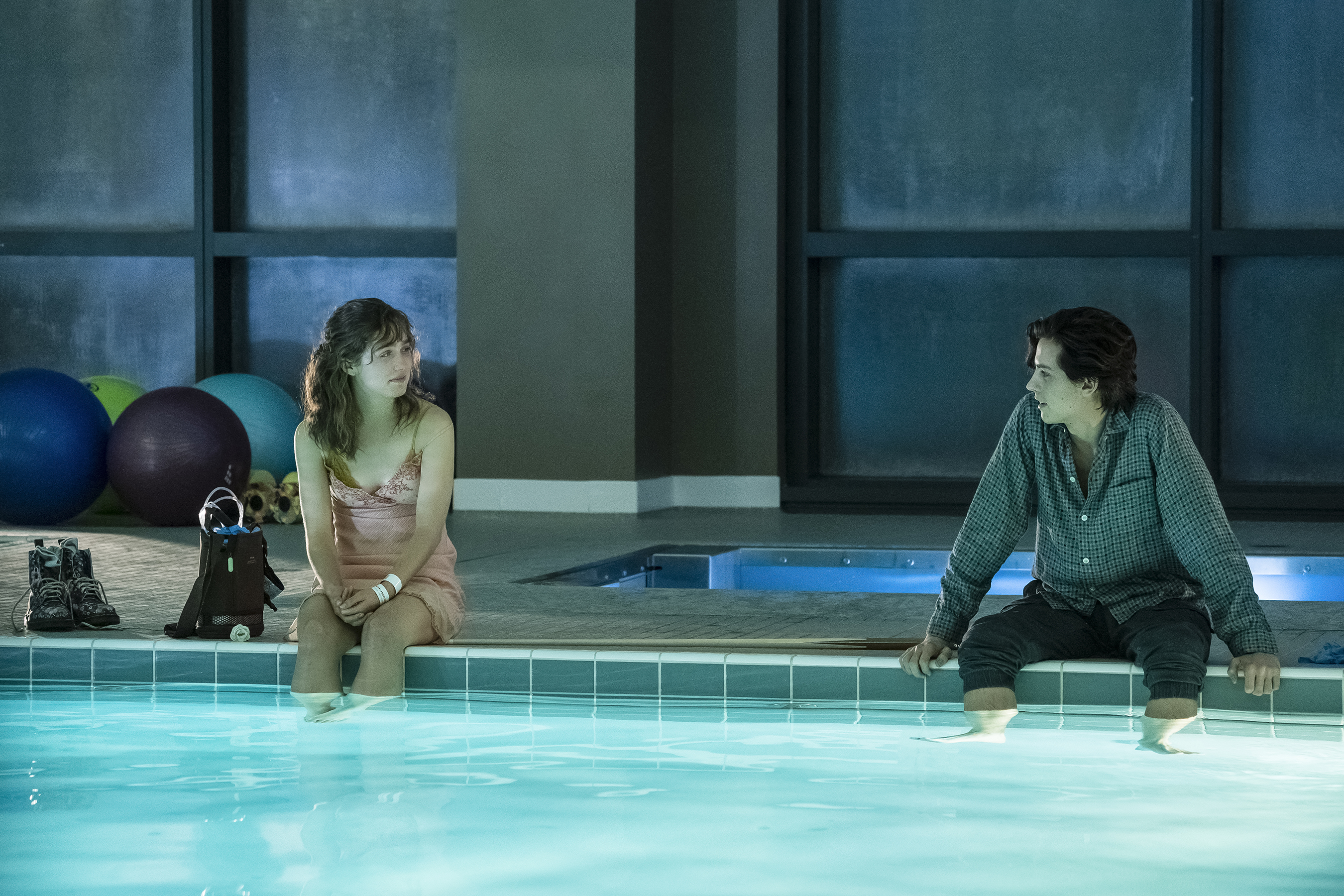 Photo: Lionsgate
I also appreciate how the hospital staff like Nurse Barb (Kimberly Herbert Gregory) and Dr. Hamid (Parminder Nagra) become a second family to their patients, especially the nurses who serve as both the maternal and authority figures more than the kids' parents do.
My favorite scene in the movie is where Stella and Will are at a moment of physical and emotional vulnerability, when they (and the audience) see each other's treatment scars. It's presented in such an honest and intimate way, that shows the scars they carry are not something to be ashamed of. It reminded me of when my mom first showed me her dialysis shunt as a child. That scars were not something to be scared of but are a new part of the map of her body, to help her heal and live.
That's where Five Feet Apart is at its best, when it doesn't overly romanticize living with a disease. It brings another point of view of people who we don't usually see onscreen, who are fully realized individuals searching for that connection with
each other.
Note: There's a great YouTube video by vlogger Cystik1, who posted his reaction to the trailer.
In the End: Five Feet Apart is a typical romantic movie that will pull at your heartstrings (evident by the intermittent sniffling at the screening I was at) and make you yearn and appreciate our connection with others especially with the ones we love.