Actually: 7.5
Basically: The story of a young woman becoming a WWE superstar.
Professional wrestling movies are a really hard sell mostly because of the belief that the sport is fake. Hardcore fans can break down how it all works—using terms like kayfabe, face, heel, taking a bump—but most feel it's silly because it portrays person-on-person battle with a predetermined outcome…and it can be hella cheesy. Plus, Hollywood hasn't always been the best at portraying it—you'd either get a No Holds Barred (low key trash) or Ready to Rumble (high key trash) which don't show what pro wrestling all about. The only outlier is the sobering and great The Wrestler by Darren Aronofsky.
Now we have the WWE and their greatest star ever Dwayne "The Rock" Johnson giving us a film based on one their most popular stars: Paige. Fighting With My Family is based on a documentary of the same title on Paige's life and how she got to the WWE. Directed by Stephen Merchant, who also appears in the film, Fighting With My Family starts with a young Saraya (Tori Ellen Ross)—Paige's real name—as she gets pulled into the family business of promoting the World Association of Wrestling to fill in for a no-show wrestler. Fast-forward a few years: Paige (Florence Pugh) is now an experienced performer and she and her brother Zak (Jack Lowden) are trying out for WWE. Paige's life changes from there.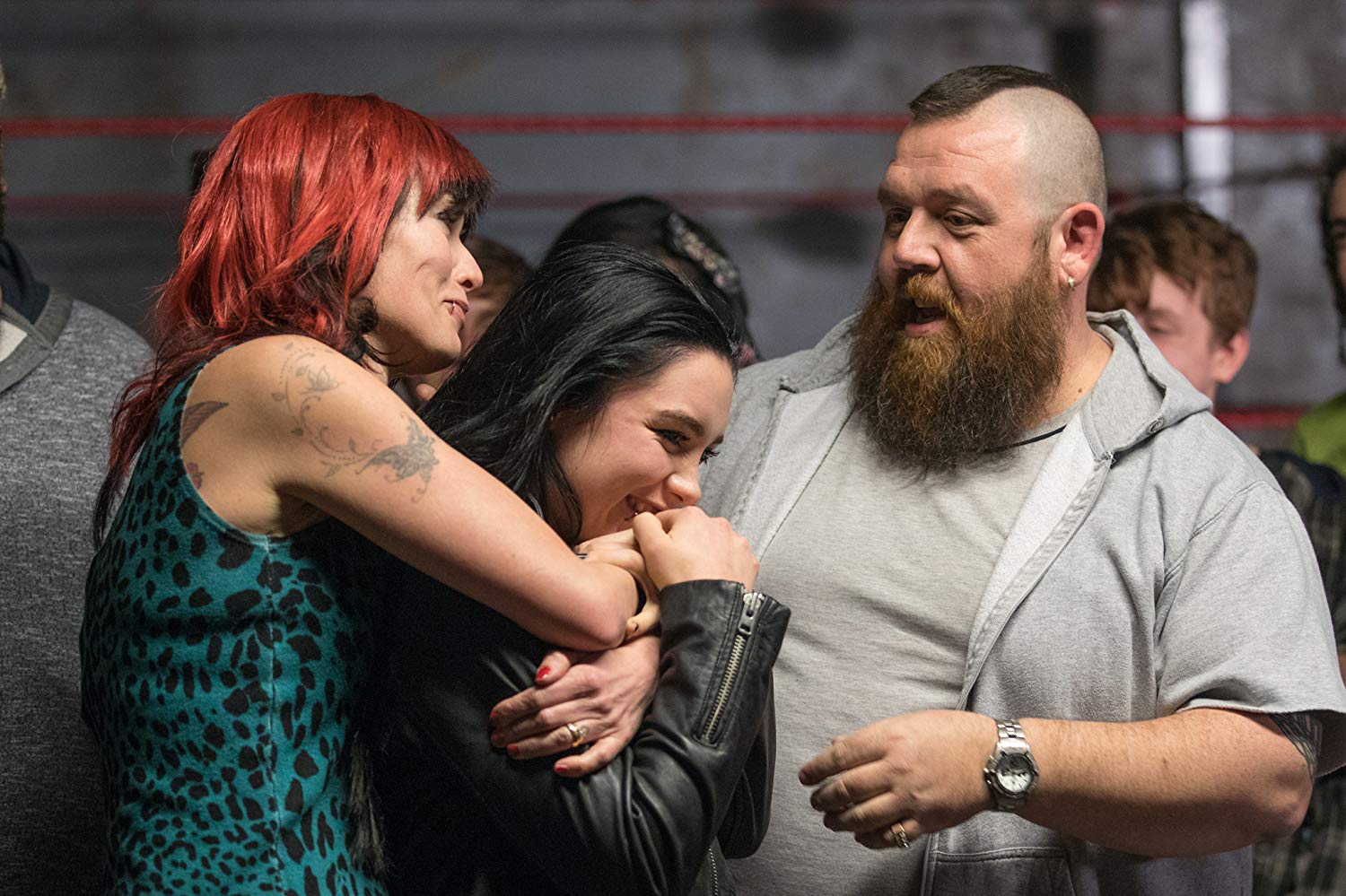 Photo by Robert Viglasky - © 2018 Metro-Goldwyn-Mayer Pictures Inc.
I was surprised by how down to earth this movie is. Fighting With My Family really captures the life of a wrestler—the training, travel, the sadness. Pugh is able to bring a great level of likability to Paige, making her more human than an average WWE fan might expect. In a lot of ways, this movie is just as much about Zak and his trials of not making it in the WWE as it is her journey. Lowden does well to show how much it hurt to lose his dream and how it affected his character and how he interacts with his family. Nick Frost and Lena Headey play their parents Patrick and Julia. The other big cast member is Vince Vaughn as Paige's trainer Hutch Morgan. He plays the kind of hard coach you see in sports movies, pushing our hero and asking if she really wants to be here.
This is the thing that might make it easier for the audience to get: Fighting With My Family is a sports movie—like Hoosiers or Coach Carter or Invincible. Anyone can sit down and root for Paige as she tries her damndest to achieve her dream while dealing with all her insecurities as a British woman in the US trying to fit in. Fighting with My Family may be the first wrestling movie where all the people involved got it right. It's totally worth going to see and it might make a fan out of you.
In The End: Stephen Merchant, The Rock, and the WWE kinda knocked it out of the park with this one. Fighting With My Family is a dope, heartfelt movie with all the bumps and excitement that's in pro wrestling.