Basically: Like 80s buddy action duos but ramped up to 15!
This weekend the heavens themselves are opening up and giving us a blessing. A blessing of action-adventure awesomeness that is a first spinoff of the Fast and the Furious franchise. We now have within our collective grasps: Hobbs & Shaw. For those who somehow don't know what I am talking about, Dwayne "The Rock" Johnson plays Luke Hobbs, a DSS agent that can and will find any fugitive he is tasked to go after. Jason Statham is Deckard Shaw, a smooth anti-hero that's very much like his past characters: The Transporter. Luke Hobbs first appeared in Fast Five and quickly became part of the family of heroes. Shaw was actually the villain of Furious 7 and ended up teaming up with the group to stop the big bad of Fast 8.
Now, in this movie, taking place shortly after that last one, our two heroes are brought together after a dangerous programmable bioweapon is let loose into the world. The weapon resides with disgraced MI6 agent Hattie Shaw (Vanessa Kirby), Deckard's sister, who is on the run from Brixton Lore (Idris Elba), a man who attacked her MI6 team to steal the virus. Brixton has the resources of the huge conglomerate Eteon and they have a private military force he'll use to find Hattie. With Hattie in danger and a need to keep the virus away from Brixton, Hobbs and Shaw have to team up—going against their feelings for each other—to save the world. (Did I mention Brixton calls himself Black Superman but he's more like Zod?) That's right, FAST AND FURIOUS IS NOW FINALLY A TRUE BLUE SUPERHERO FRANCHISE!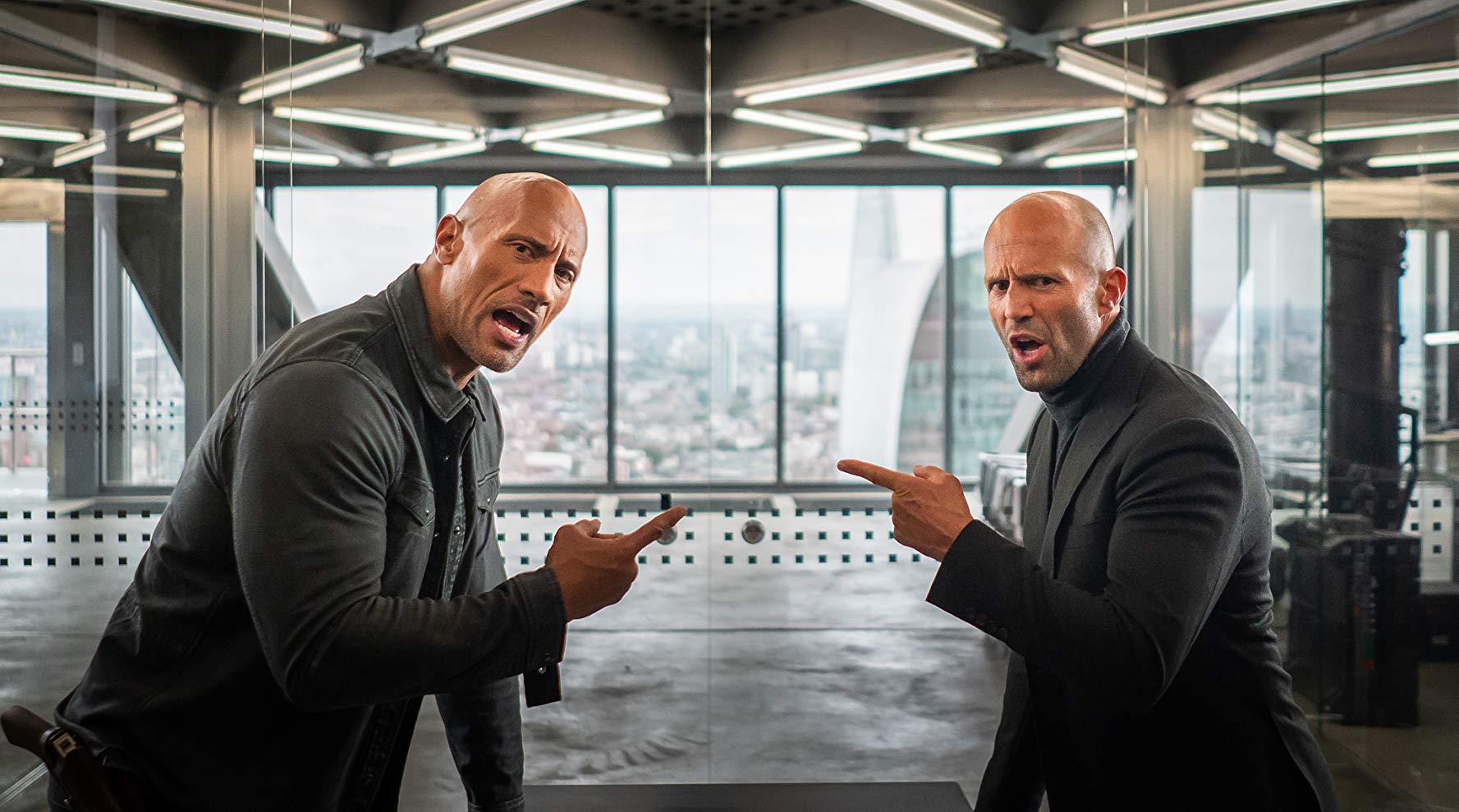 Photo © Universal Pictures
I'm biased here, readers, I love this franchise. We're 18 years in and it's still here getting bigger and bigger, around the world, and this movie is a great addition to the franchise. A big theme of the Fast and Furious franchise is family. With the first movie being about letting an outsider into a family, to 2's reconciliation of two brothers, 3's fathers and sons, 4's bringing the core family back together and on and on, this one is about two characters also dealing with a loss of connection to family. Deckard with his sister and Hobbs actually acknowledging his own origins that he's kept from his daughter. This is not done subtly, at all, not much is in this franchise, but I do think they sell it well with real heart. Johnson and Statham have great chemistry as a nitro-fueled odd couple. You can feel they took pleasure in just cracking on each other on-screen. Kirby also does well as basically the straight woman between these two huge egos and does so well with a good character who is no damsel. Then, Idris loves…and I mean loves…being the bad guy here. Not only a bad guy but one with actual factual superpowers which are the only way you can believe him knocking the heck out of the Rock on screen. He chews up the screen being this Black-Superman.

Photo © Universal Pictures
Each set piece is big and captivating and never leaves you bored. The movie has a great balance of wit and just pure fighting. There are scenes of exposition that slow up the movie for a few short moments but the pacing jumps right back into place. Another great thing is this movie does have a lot of cool driving in it, we see Shaw doing amazing things with four-wheeled vehicles to balance out Hobbs' feats of strength and tie it back to their fast and furious origins.
In the End: Hobbs & Shaw is one of the most fun action movies of the year and one of the best superhero movies as well. Go in and see a buddy action movie that's high on NOS and enjoy yourself.