Grade: B-
Basically: Three generations of gifted women live or die by the power they have within.
When I was a kid, I watched westerns with my godfather and science fiction with my father. I adored both—actually, all four—perhaps that's why Fast Color pulled me in. In it, Gugu Mbatha-Raw returns to the small town she grew up in. She's Ruth, a bit of a disaster. Literally. Ruth has seizures that cause earthquakes in areas that don't even have two tectonic plates to rub together. That makes her a superpower, so there's no doubt some form of shadowy organization is hunting her down. Ruth is a woman on the run, a twitchy outlaw, and the type of warrior woman Sarah Connor would buy a drink.
The thing is, the world has gone dry. We're talking an epic drought so bad water is the most precious commodity. When people start fearing for their future, they start looking for heroes. Ruth is doing the same. She comes home to her mother Bo (Lorraine Toussaint) and her daughter Lila (Saniyya Sidney). Their powers are quieter than Ruth's—more controlled—but their calm will be tested as the three stand against whatever troubles Ruth has dragged home behind her.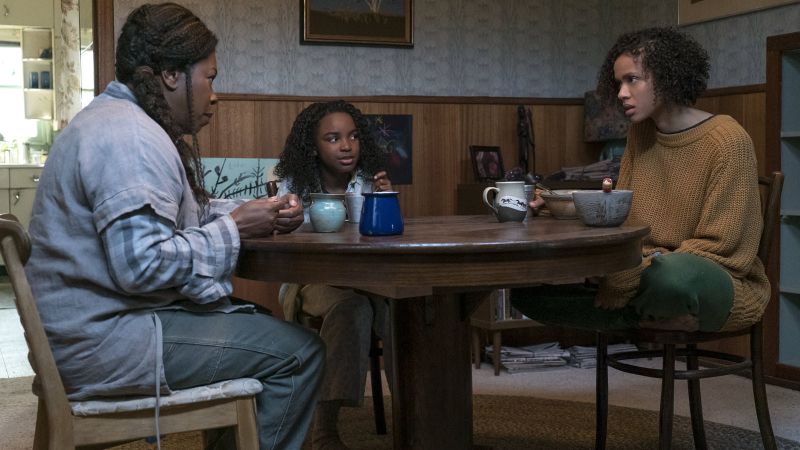 Photo: Jacob Yakob / Codeblack Films
Fast Color is character driven, exploring how women navigate a dystopian world and what the price of power is. It subtly dives into the weight of accountability women carry for society and how we balance that sacrifice with caring for our own families. Those themes are its draw. Particularly, the sense of strength in connecting with your roots or that repression is an emotional earthquake. But the movie is also engaging in funny little ways. Quirky characters at roadside pit stops, clandestine meetings, and the rebellion that comes from being raised by one very overprotective grandmother.
Mbatha-Raw, Toussaint, and Sidney weave an honest family bond. We get to know them as they get to know each other. Because they are awkward, or wounded, or afraid, the three of them are easy to relate to and to cheer for. To that point, the movie is structured very much like a western. We get an underdog in a barren landscape to root for and that always goes well with sci-fi. Still Fast Color is quiet, and indie, and dynamic. Even if it doesn't quite deliver a fantastic final showdown, there's still so many places it can go, and you'll want to follow.
In the End: See it, these three women have their own gravity and you'll be pulled in.