Basically: Willowdean is fat and loving it but when she decides to compete in a teen beauty pageant, she causes a mini revolution in Dumplin'.
Willowdean Dixon (Danielle Macdonald) has always been fat and she doesn't mind. Not after seeing how curvy and confident her Dolly Parton-loving aunt is, but after Aunt Lucy (Hilliary Begley) dies Willowdean struggles to learn how to live without her partner-in-crime. Her mother Rosie (Jennifer Aniston)—who nicknamed Willowdean "Dumplin'" as a kid—is a former beauty queen preoccupied with their small town's pageant. When Willowdean decides to enter the competition to shake things up, she doesn't expect others to follow her lead and it starts a revolution.
While Willowdean is initially in it just to prove a point, not everyone has the same reasons. Fellow fat girl Millie (Maddie Baillio) believes she can win, resident goth girl Hannah (Bex Taylor-Klaus) doesn't make any effort, mean girl Callie (Georgie Flores) is ruthlessly determined, and Willowdean's best friend Ellen (Odeya Rush) actually stands a chance at the crown. As an added distraction, Willowdean's cute co-worker Bo (Luke Benward) seems to be interested in her but, for the first time in her life, Willowdean is worried about what other people think of her…and her body.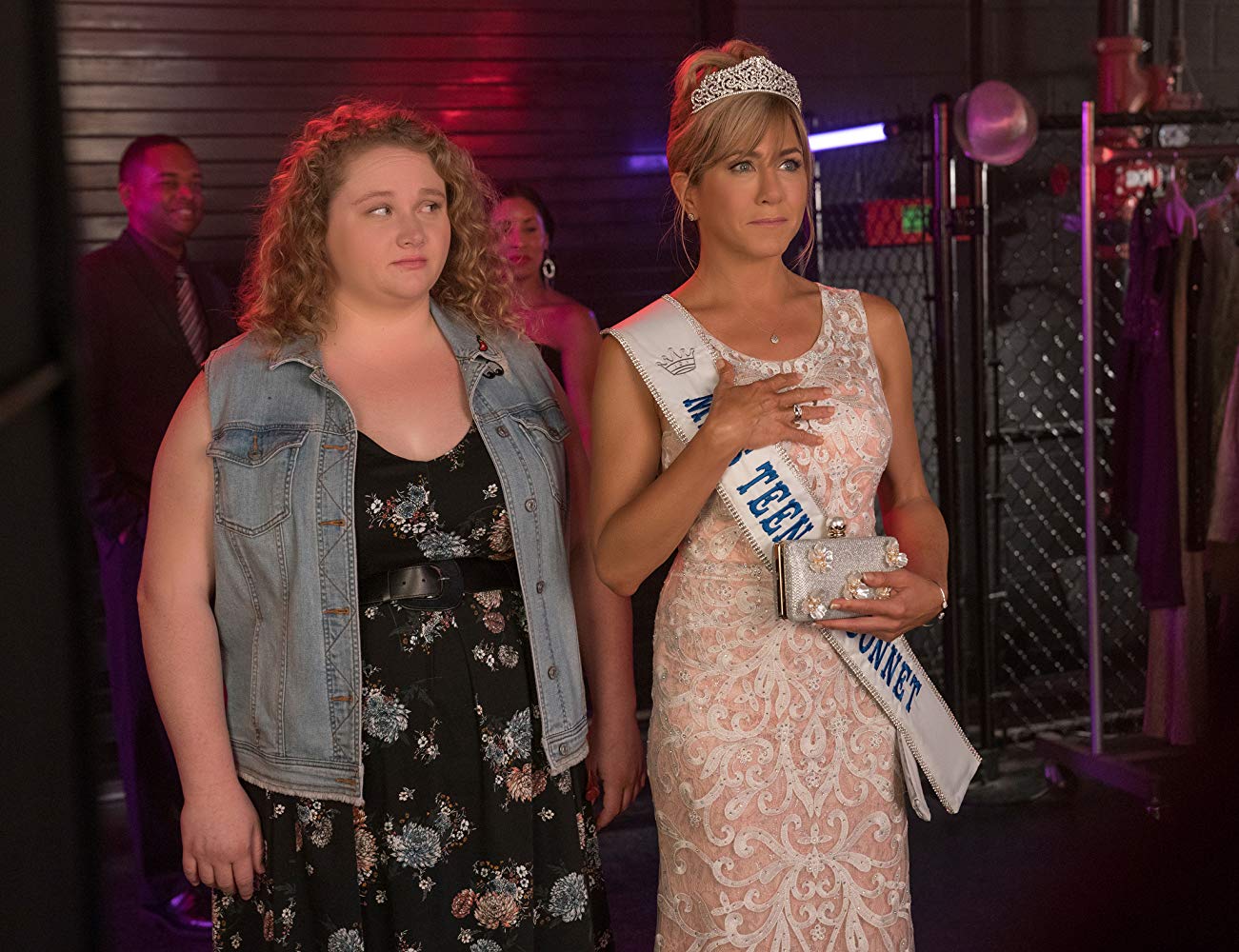 Photo: Bob Mahoney / Netflix
Because Dumplin' was written by a self-professed "fat girl" in author Julie Murphy—who makes a cameo appearance at the end of the movie—we don't get another story about a girl who needs to lose weight to be happy. Sure, Willowdean has some insecurities but when she finds her confidence faltering, she turns to a group of fabulous Dolly Parton-inspired drag queens—including former RuPaul contestant Ginger Minj. They teach her both how to dance and how not to give up.
Willowdean's relationship with her mother is very realistic. While Rosie never admits that she's embarrassed by her daughter's weight, Willowdean is understandably concerned that her mother isn't proud of her. But once they start bonding over the beauty pageant, and discussing their beloved Lucy, their relationship improves. Likewise, over the course of the pageant, Willowdean learns how to love and accept the other contestants regardless of their differences.
Dumplin' is the body positive story we've all been waiting for. This isn't a story about losing weight or changing everything about yourself to fit in, it's about self-acceptance. Overall, the movie is adorable, full of Texan charm and a sweet soundtrack including new music from Dolly Parton. I love the way female friendships are portrayed and how fierce Willowdean and the drag queens are. It did feel a little long but the surprising ending made the wait worth it.
In the End: Dumplin' is the body positive story we need (and deserve) with the ever-important message of being comfortable in your skin.