Grade: A
Basically: A dark satire about how much our society can't get its $#!+ together when imminent danger is upon us. 
Here we are with another Adam McKay film that has no Will Ferrell (and there probably won't ever be another one sadly). This time, instead of using humor to explain recent history, McKay decides to go the fictional route. Don't Look Up begins as Kate Dibiasky (Jennifer Lawerence), a doctoral candidate astronomer in Michigan State, finds a new comet in the sky. After showing it to her team and Dr. Randall Mindy (Leonardo DiCaprio), he does the calculations and figures out that this comet is headed toward the Earth. 
The team takes it upon themselves to tell the people who should know what's going on. From the different US government agencies to the national TV news all the way to the US President (Meryl Streep). The people in power don't take them seriously at all. Pop star relationships or approval ratings are more interesting. Slowly, big tech gets involved and greed drives intent. All the while our two lowly astronomers are sitting there begging people to just look up and do something before everyone dies.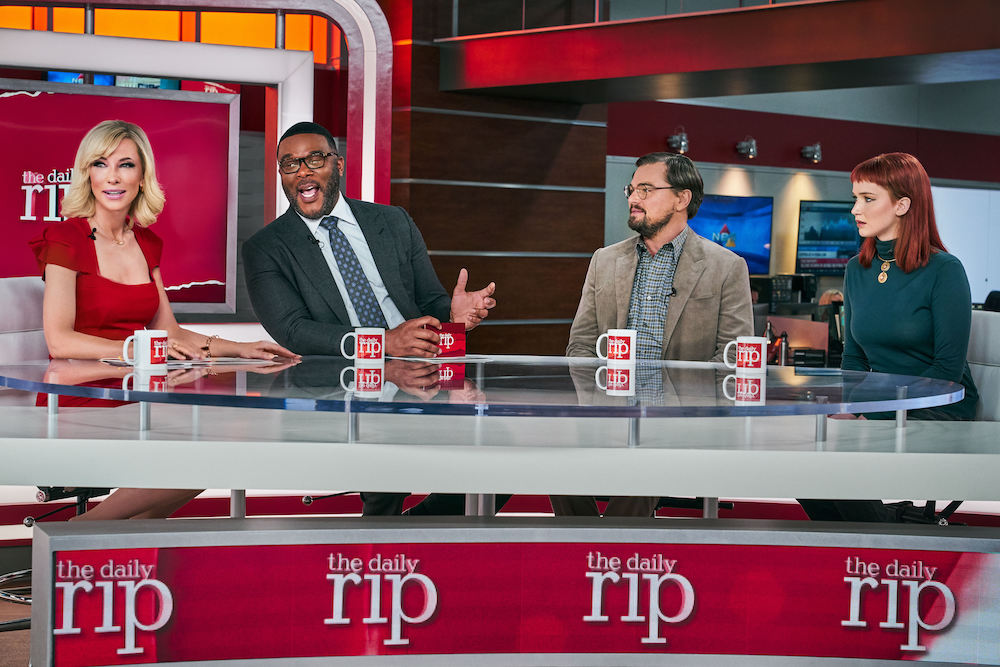 Photo: Niko Tavernise/Netflix
I don't think this film is for everyone. Some will find it smug and cynical. Some might find it pretentious and think it looks down on people. Yet you won't find that from me. Don't Look Up is flames. It's hilarious and something that is honestly a tad cathartic as we continue on in the pandemic. I think we all forget that Leo can be funny and, while the memes of him may have stopped that a bit, it's nice to see him once again get in his comedic bag. His Dr. Mindy is all nerves and anxieties yet when he gains a small touch of fame, Leo plays on his weakness hampering his ability to tell the needed message. It's good work. 
Lawrence is Leo's equal in every regard. Her facial expressions as the people straight up ignore them, along with her delivery as she snaps at people, earns every chuckle. Also her back and forth with Jonah Hill as Jason Orlean, the Chief of Staff, has the vibes from McKay's works from the 2000s. 
Photo: Niko Tavernise/Netflix
There are so many good, small, almost cameo-like performances. But two others were really fun to see. Netflix MVP Rob Morgan—who you see in so many of their productions—plays Dr. Clayton "Teddy" Oglethorpe, one of the few people who tries to help Dr. Mindy and Kate figure out how to stop the comet with no luck at all. Then of course, because she's always good, is Cate Blanchett as Brie Evantee who takes a real liking to Dr. Mindy and causes him to catch the vapors (if you don't know what the vapors are, listen to Biz Markie's classic song for an explanation). 
Don't Look Up is excellent. One criticism I do have is that it is narrowly focused on the United States but, honestly, most US films are. The only thing is, it's hard to believe that, if the world was ending, the US would be the one completely leading the charge especially with the way the people in power react. Yet that focus helps with its points. While some might want more or for it to lean even further into the silly or even more serious, I feel that might be missing the point. Honestly, that would be unrealistic with just how people and the world in real life really are. 
In the End: Don't Look Up is a funny and completely dark comedy. It will not make you feel good at the end but you might end up laughing the whole way through.