Grade: C-
Basically: No matter how awkward or strange you are, there's someone out there who'll love you (and talk your ear off).
It's fitting that Destination Wedding, the reunion of actors Keanu Reeves and Winona Ryder, is hitting the theaters this week. This oddball coupling, who find their way to each other, is a throwback to Neil Simon and his slice-of-life-while-it-unravels storytelling. Many of Simon's trademarks are clear influences on the film: the battle between two central personalities is here, the snappy banter that's part knife part tickle, and the leading man who makes weird noises in public to the giggling discomfort of the audience is also here. More than that, the film is a dumpster dive into two characters—Ryder's Lindsay and Reeves' Frank are garbage people who turn out to be shabby chic.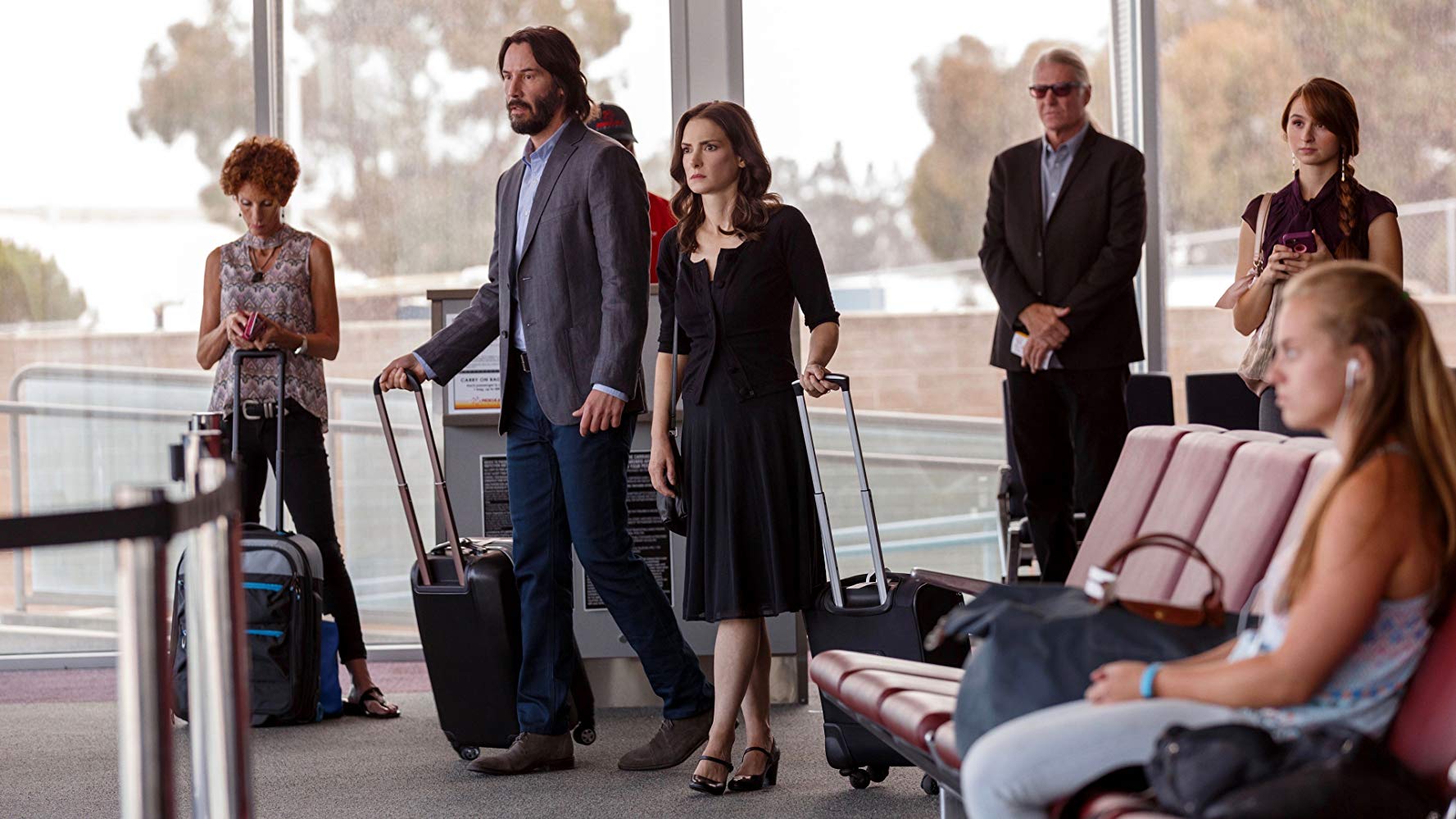 Photo by Robb Rosenfeld
The theater (stage) has a long history of plays performed solely by two actors, writer/director Victor Levin (Mad About You, Survivor's Remorse) translates this to the screen. From front to back, this story is all about Frank and Lindsay / Lindsay and Frank. No other character speaks and no other character matters beyond the angst they've caused our leading pair:
The meet-cute happens while Lindsay and Frank are in line at the airport. They're on their way to…a destination wedding…and they begin to work each other's nerves from moment #1. She's neurotic, he's cantankerous, their interactions are caustic (and also amusing). As the movie continues, from the tiny prop plane, to their carpool to the hotel, to their adjoining rooms and table assignments, Frank and Lindsay are constantly being forced together. Their uncontrollable need to tell the truth exactly as they see it, no matter who gets burned—including themselves—is the action of the movie. There are no big set pieces here…unless you count running pell-mell down a hill to avoid a mountain lion/jaguar/cheetah/lynx/ocelot. What this movie does do is explore the human condition (like it's a disease). Actually, Destination Wedding has a classic romance set up and romance does happen—a quirky, awkward, broken kind of love that we find when we're trying desperately not to. Frank and Lindsay are caught off guard by each other and their lifetimes of rejections (wait for them) are magnetic, pulling them toward each other, while everyone else repulses or is repulsed by them.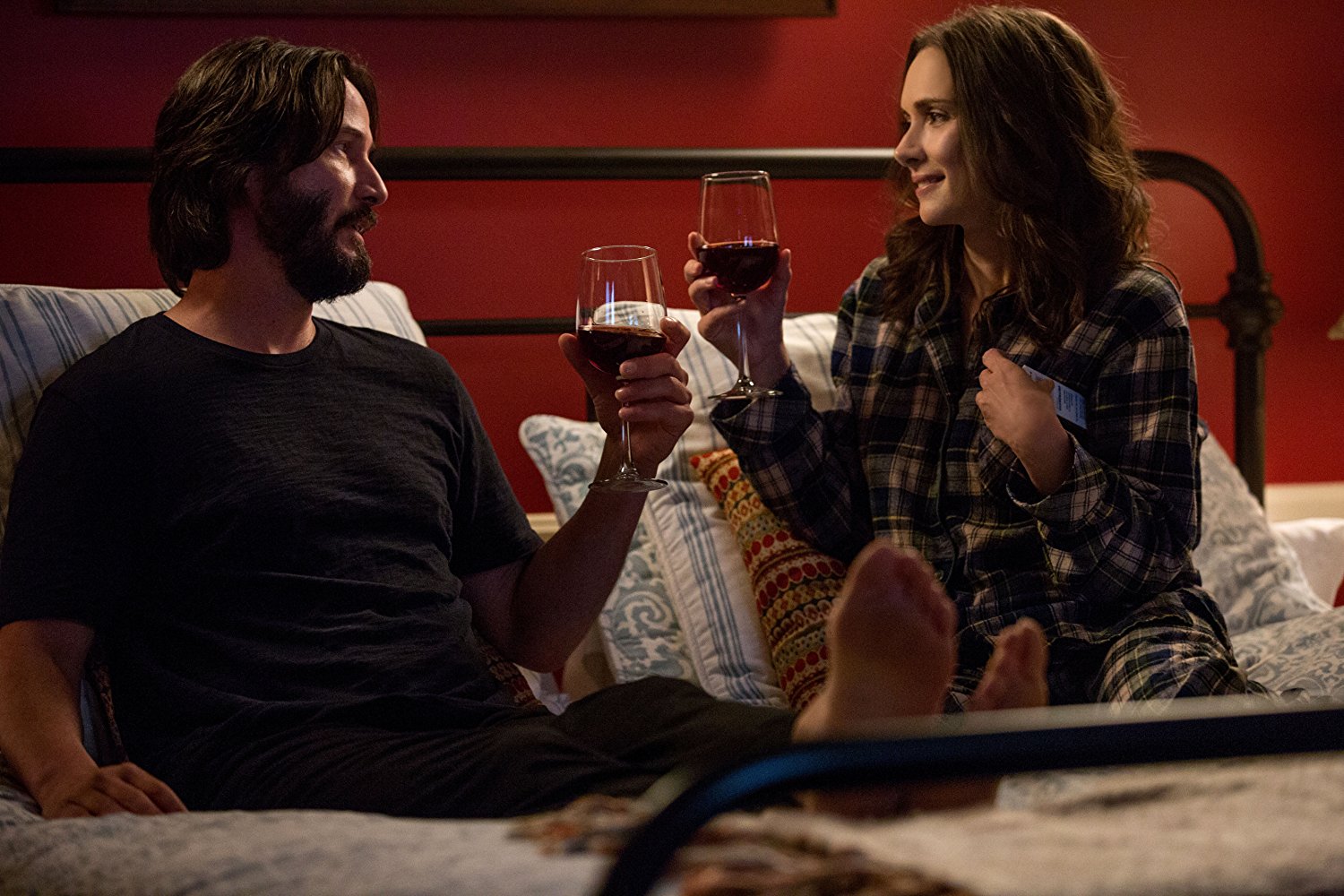 Photo by Robb Rosenfeld
You'd be tempted to think a simply story like this would lean too hard on its leading actors, and Reeves and Ryder are strong (surprise), but Levin's banter becomes a third lead. The dialogue is filled with bombshells, it is raw, and mean, and astute in a way that holds you. When these words are given to two actors like these—whose careers are based in their own quirks and wounds—something happens.
Destination Wedding isn't a great movie, it's a likeable one. My only issue with the film is in its use of insensitive language. The diaspora of sexuality and gender identity are dismissed through the usage of outdated terms like "hermaphrodite" and the idea of pointing out racism/discrimination is similarly dismissed through derision. These things are momentary but they do grate. At its core, Destination Wedding is a character study on how two broken people can somehow fit together. And I found myself humming along to the harmony of that.
In the end: If you're a fan of people-behaving-badly, acerbic humor, bad romance, or Reeves & Ryder then Destination Wedding will make you smile.