Basically: A classic teen rom-com, but this time it's girls' love.
Good news: Crush isn't focused on the struggle to come out or discrimination against queer kids; this movie is all about a GL love triangle and crushing hard on the cutest girl at school. Yay! On our show Geek Girl Riot, we've been asking for this for years—all of us, of every orientation—and Cub (of Kat & Cub) was recently sad-sighing over the lack of content like this. Of course, the past few months were pretty rewarding for mainstream gay love stories in the US and UK. We got Single All the Way for Christmas and the Heartstopper series is out here being as adorable as possible, BUT those primarily featured the boys as leads (mostly but not entirely). This time the girls take the spotlight and we're happy about it.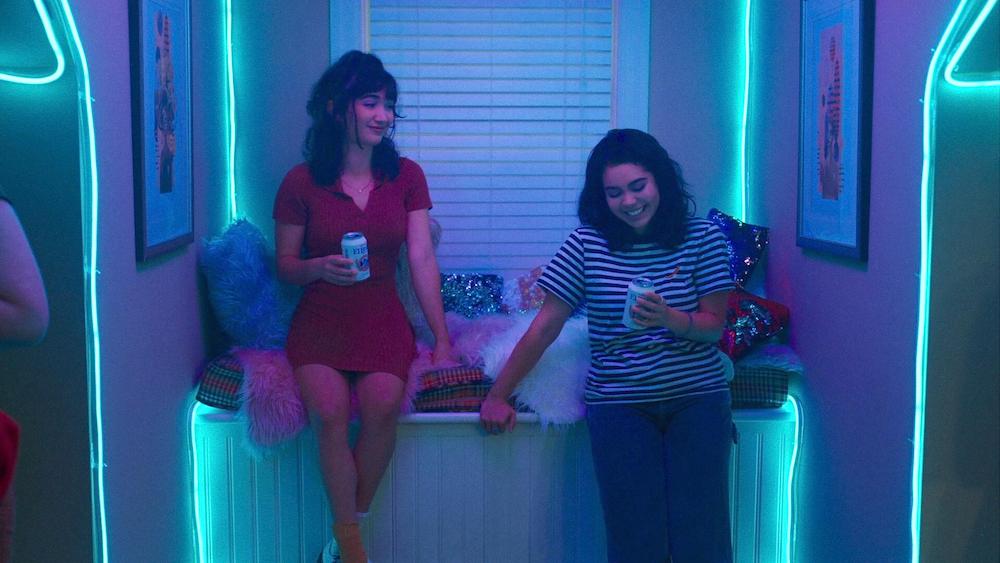 Paige (Rowan Blanchard) is the quintessential rom-com lead, she's basically fresh off the pages of your favorite YA. Here's the proof. This girl is full of offbeat observations, she's an artist with dreams of attending Cal Arts, she's socially awkward, and her mom is way too liberated and honest. (No one wants dental dam from their mama—no one—even if she is Megan Mullally.) Paige is also heart-over-head and seriously crushing on Gabriella (Isabella Ferreira). But Paige has never had the confidence to confess to the other girl. Which, once you meet Gabriella, is completely understandable. Gabi is free, friendly, and walks in slow-mo whenever you see her. This Crush isn't misguided, it's validated.
Still, there must be difficulties to make the journey to love fulfilling, right? Definitely. So let's talk about King Pun. That's the nom de plume for the high school's covert artist, who specializes in graffiti and wordplay. Paige cannot figure out why anyone would think she's good enough to be The King and yet the whole school does, and they soon infect the faculty with their wrongness. Paige ends up on probation with a mission to find the real Pun or face expulsion. And that's how the awkward teen ends up "playing track." Which for anyone who has ever run track is hilarious.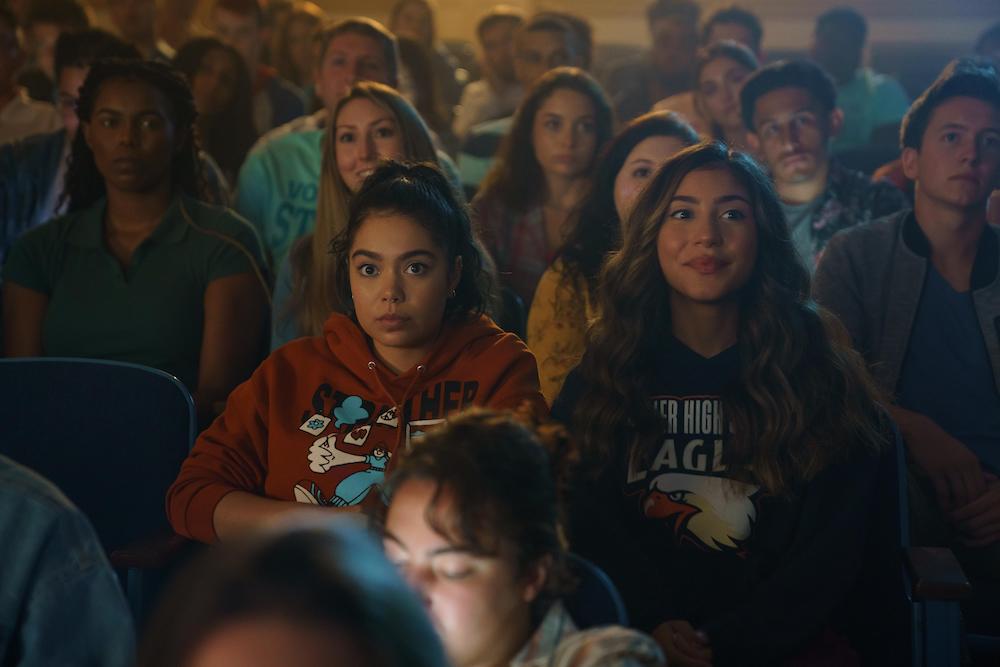 Now for the juice: Gabi has a sister named AJ (Auli'i Cravalho) who is also queer (no bi-erasure here, friends), runs track, and is equally great but way more chill. AJ gets assigned to help Paige be less trippy-and-fall-y so the track team might have a shot at a championship. AND that's pretty much how Crush becomes a relay for love. (No, I will not apologize for that wordplay.)
Maybe it's because I love "love" but Crush is delightful. There are no mean girls, no anti-gay sentiment, and no villains. Although the track coach, Mr. Murray (Aasif Mandvi), and the principal (Michelle Buteau) do dance around the antagonist zone. What we get instead is a super sweet, heartfelt, and quirky romance, featuring a trio of girls who anyone would be lucky to share their first kiss with.
And it'll keep you giggling too.
In the End: Let's watch it together! That's what Cub and I have planned.