Actually: 7.5
Basically: Creed is the new Rocky sequel for real this time.
Creed is an interesting franchise. It balances between not really being a reboot and kind of being a sequel to the previous Rocky franchise. The first Creed surprised many with its depth and amazing performances by stars Michael B. Jordan, Tessa Thompson, and Sylvester Stallone. Much like the first Rocky, Creed was championed as a breathtaking piece of filmmaking. Directed by Ryan Coogler, the film really put him and Michael B. Jordan on the map for everyone. Now comes the next chapter. Creed II has a lot of expectations to live up to, even more than the first one. It opens up fulfilling the promise from the end the first movie, Adonis Creed (Jordan) fights for the WBC Heavyweight Championship and finally achieves his goal. Once atop the mountain, a new challenger approaches from Rocky's (Stallone) and his father's past: Ivan Drago (Dolph Lundgren) and his son, boxer Viktor Drago (Florian Munteanu). This new test means Adonis has to figure out new directions in his life as more challenges appear. I'm being vague on purpose here so that those who don't want to be spoiled won't.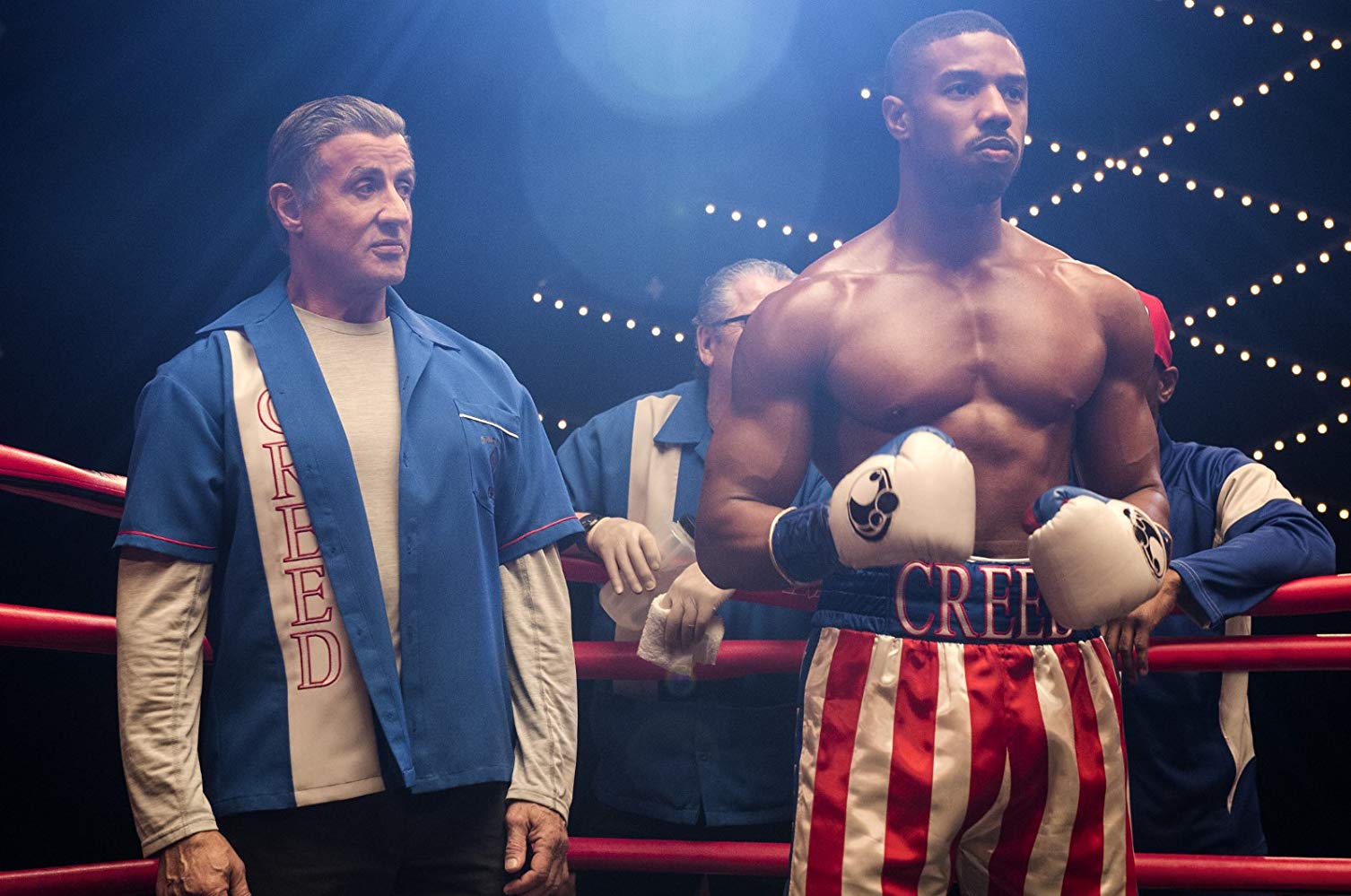 Photo by Barry Wetcher - © 2018 Metro-Goldwyn-Mayer and Warner Bros. 
The biggest issue with this movie is, while it's good and could be considered very good, it's nowhere close to the impact of Creed. You see this in the script, this time by Stallone and co-writer Juel Taylor. The change of writers (from Coogler and Aaron Covington) puts the story more in line with older Rocky films than what Creed did as an offshoot. This movie, more than the first, deals with the ramifications of Rocky 4. At times you feel you're missing plot points if you haven't seen the previous franchise. That might be off-putting to fans who only care about Adonis's story and aren't die-hard Rocky fans.
Dolph Lundgren comes off as the true villain here, menacing and in search for revenge against Rocky. That leaves Adonis as an unwilling participant in a broad scheme to destroy Rocky more than anything else. Jordan and Thompson do great to come back to these characters. They have the same chemistry and we see the evolution of their relationship as they both mature—although Adonis matures slower than Thompson's Bianca. Phylicia Rashad gets a lot more screen time in this movie than she did in the first so that's a plus.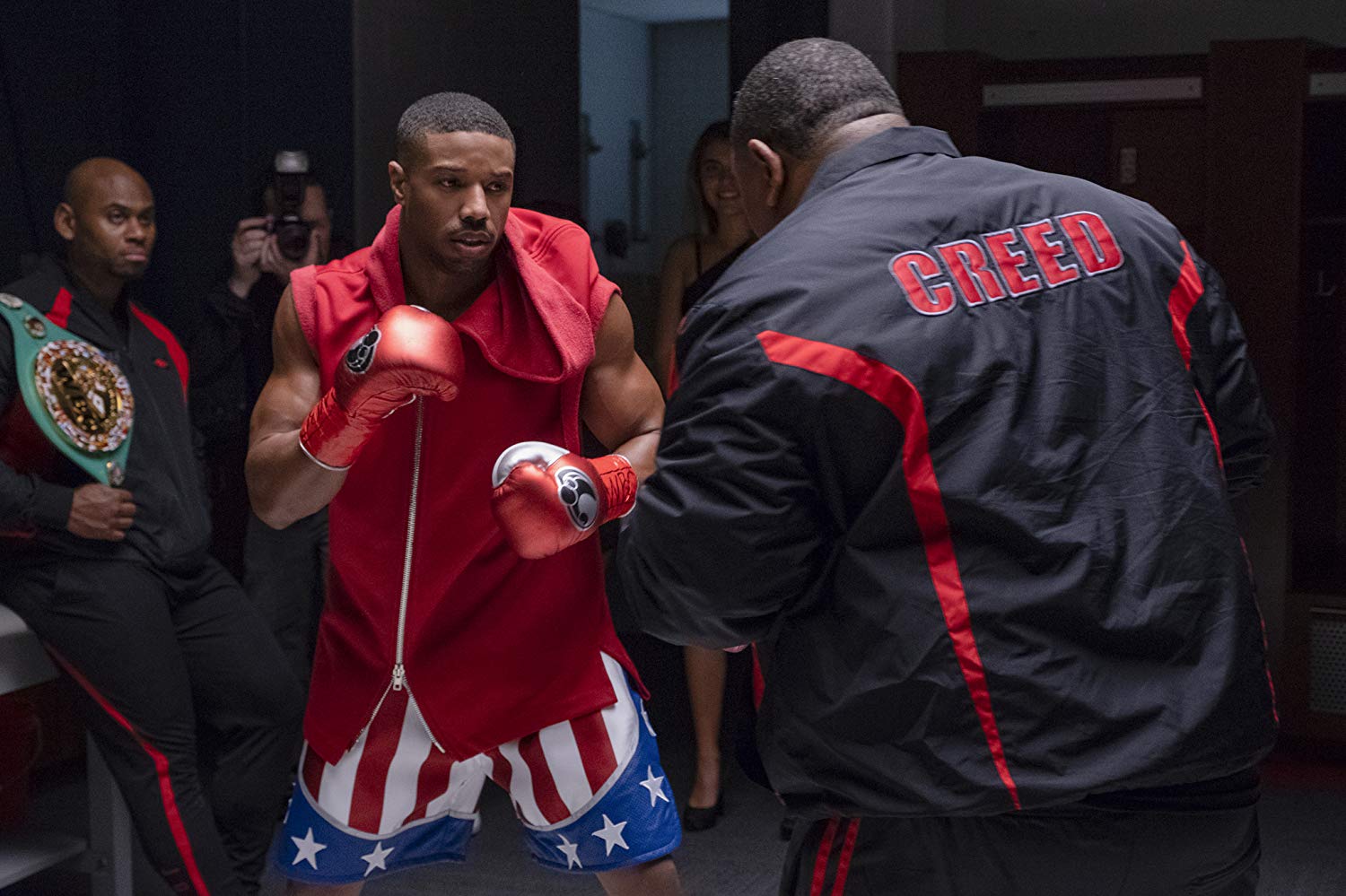 Photo by Barry Wetcher - © 2018 Metro-Goldwyn-Mayer and Warner Bros.
The look of Creed II isn't as good as the first either, you can tell there's some video compositing in this movie compared to the original. The little flourishes that Coogler put in like the fighter name cards are gone but this director, Steven Caple Jr., does a good job of trying to keep the camera angles and shots consistent with the previous film, so that the world feels familiar to the audience. While he doesn't move the camera as much in perspective to the fighters he does play with the frame speed to sell the impact of the blows on screen very well. The audience feels every blow in this movie, it sells the pain of boxing. Overall Caple Jr. did well though coming after Coogler's standout effort is tough. Much like the Rocky Sequels, this movie is a good movie, it pulls you in and you really do care about Adonis, Bianca, and Rocky and all those who surround them, as well as their antagonists. The characters keep you invested throughout the whole film. You'll be satisfied and won't mind if they continue in this world or even if they don't.
In The End: Creed II is Jordan's Rocky 2 or maybe his Rocky 3. It's a satisfying continuation of the Creed/Rocky story for die hard fans and regular audience goers.