Basically: Christopher Robin has grown up and lost himself but some old friends remind him of who he really is.
Let's begin by saying this is NOT the story of Christopher Robin Milne, the real-life inspiration and namesake for the movie's protagonist. This is the story of the fictional boy who adventured in the Hundred Acre Wood with his friends: Pooh, Piglet, Tigger, and all the rest. Sent off to boarding school after a farewell party in his honor, young Christopher Robin is forced to grow up quickly. In the blink of an eye he grows from schoolboy to war veteran and then into a put-upon efficiency expert for a luggage company. Christopher (Ewan McGregor) is married to Evelyn (Hayley Atwell) and is a father to Madeline (Bronte Carmichael), a girl who is desperately lonely for attention from her overworked absentee dad. Christopher works for Giles Winslow (Mark Gatiss), a lazy oaf who knows nothing of the business except that he expects to see costs cut by twenty percent. Which means Christopher cannot venture off to his Sussex boyhood home with his family as promised.
Meanwhile in the Hundred Acre Wood, Pooh (Jim Cummings) is restless and unhappy. He goes searching for Christopher Robin and finds himself at a door he has never opened…until now. Squeezing through, Pooh finds his way to a whole new world of strange adventures where (for once) maybe it's his turn to save Christopher Robin.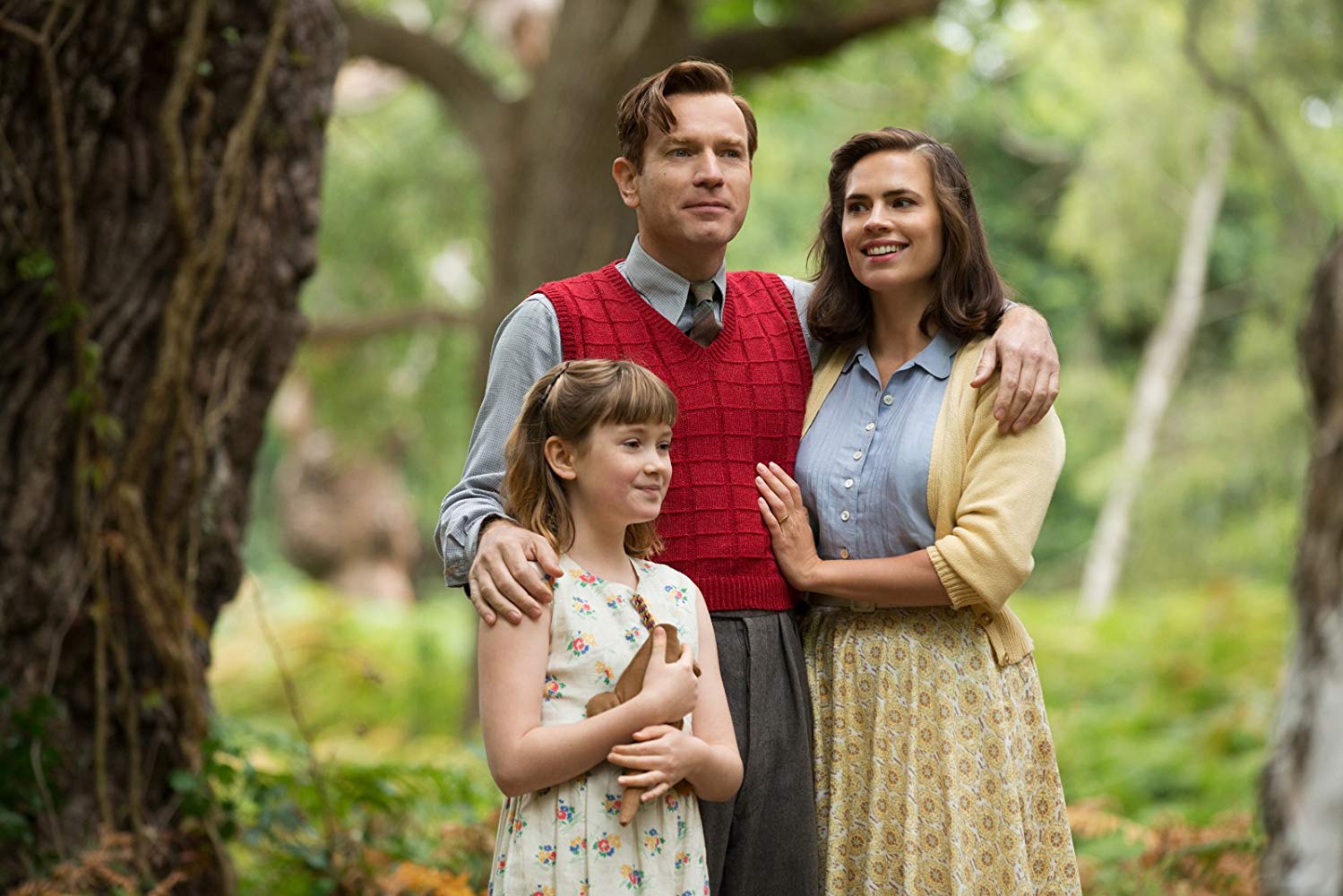 © 2018 Disney Enterprises, Inc. 
Christopher Robin harks back to movies Disney once made such as Mary Poppins and Bedknobs and Broomsticks. The early parts in particular have a real emotional wallop but so do other bits later in the story. Suffice it to say, Christopher Robin is under extraordinary stress and having his stuffed companions return doesn't exactly help…at first. But as Christopher rediscovers himself the clouds (literal and figurative) begin to lift and the words of his younger self carry entirely new meaning and resonance.
McGregor does superlative work, giving us a portrayal of a man whose fanciful childhood is long forgotten and whose current life is gray, fraying, and more precarious than he knows. Stepping back into the Hundred Acre Wood, he finds the beating heart of the story, sharing the screen with some of the most famous characters in all of children's literature. And share it he does, as Jim Cummings provides the voice of Winnie the Pooh and Tigger both. This bit of casting works brilliantly, as Cummings has long voiced both characters in animation. Rarely has he had the chance to deliver lines quite like these, though, as Pooh struggles to understand why Christopher Robin isn't the same. If you want to shed a tear, Cummings gives you plenty of opportunity.
Atwell's Evelyn is a loving and supportive wife who's beyond the end of her endurance. Struggling to pierce her husband's cloud of worries, she has to look ahead and consider what's best for herself and Madeline…and that may not include Christopher. When she comes to realize what's just happening in his life, though, Atwell's reactions to Pooh and the rest are brilliant.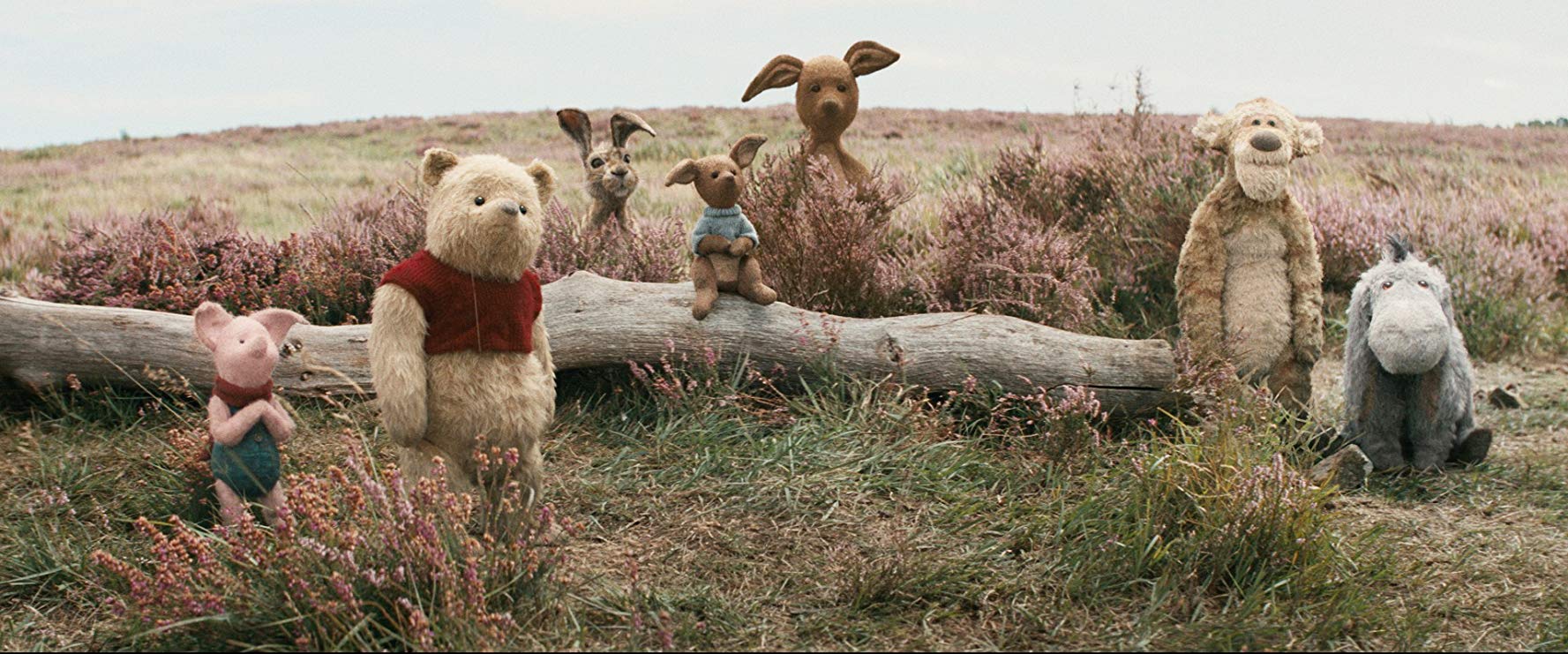 © 2018 Disney Enterprises, Inc. 
Carmichael has one of the most challenging roles as her Madeline is first unhappy and even angry at her father's neglect, then discovers a purpose among his old papers. She's terrific as her goals become clear and she is accompanied by some new friends on an "expedition".
Brad Garrett does a fine job as Eeyore, as does Nick Mohammed as Piglet, Peter Capaldi as Rabbit, Toby Jones as Owl, Sophie Okonedo as Kanga, and Sara Sheen as Roo. Collectively, they capture the very best of these characters and if some get less screen time than others, they make the most of the time they have.
In the end: By turns sad, bittersweet, and joyous, Christopher Robin is that rarity of a film for the whole family. Be prepared for tears but be prepared to leave the theater smiling as well.