Basically: A great coming of age set in the world of street bike culture in Baltimore.
Charm City Kings is about a young teen named Mouse (Jahi Di'Allo Winston) who is completely enamored with dirt bikes. His love comes from his older brother who passed away before the events of the story. Now, it's the start of summer and Mouse and his friends—Lamont (Donielle T. Hansley Jr.) and Sweartagawd (Kezii Curtis), which is lowkey one of the greatest nicknames ever—want to get into the Midnight Clique who are the main crew running the streets with the best riders. This is boosted by the return of the Clique's leader Blax (Meek Mill) who was just released from prison. Mouse's mother Terri (Teyonah Parris) is very strict and doesn't want her son involved with bikes. Mouse's mentor, local police detective Rivers (William Catlett), also tries to steer him in the right direction outside of the streets.
Charm City Kings has a careful eye for authenticity. The movie feels like it captures Baltimore in the summertime in a way that is palpable (although it might be a stretch to say this as I'm not from there). The actors take great care to seem like they're from Baltimore—the lazy comparison is to The Wire, in terms of the cast fitting into their city's setting. For those who saw the 2013 documentary 12 O'Clock Boys, a lot of Charm City Kings will feel familiar and almost like a fictional drama adaptation. I will note that especially during the 2000s and the early 2010s you could hear dirt bikes from the city of Baltimore all the way in DC and southern Maryland. Man oh man did this movie capture that.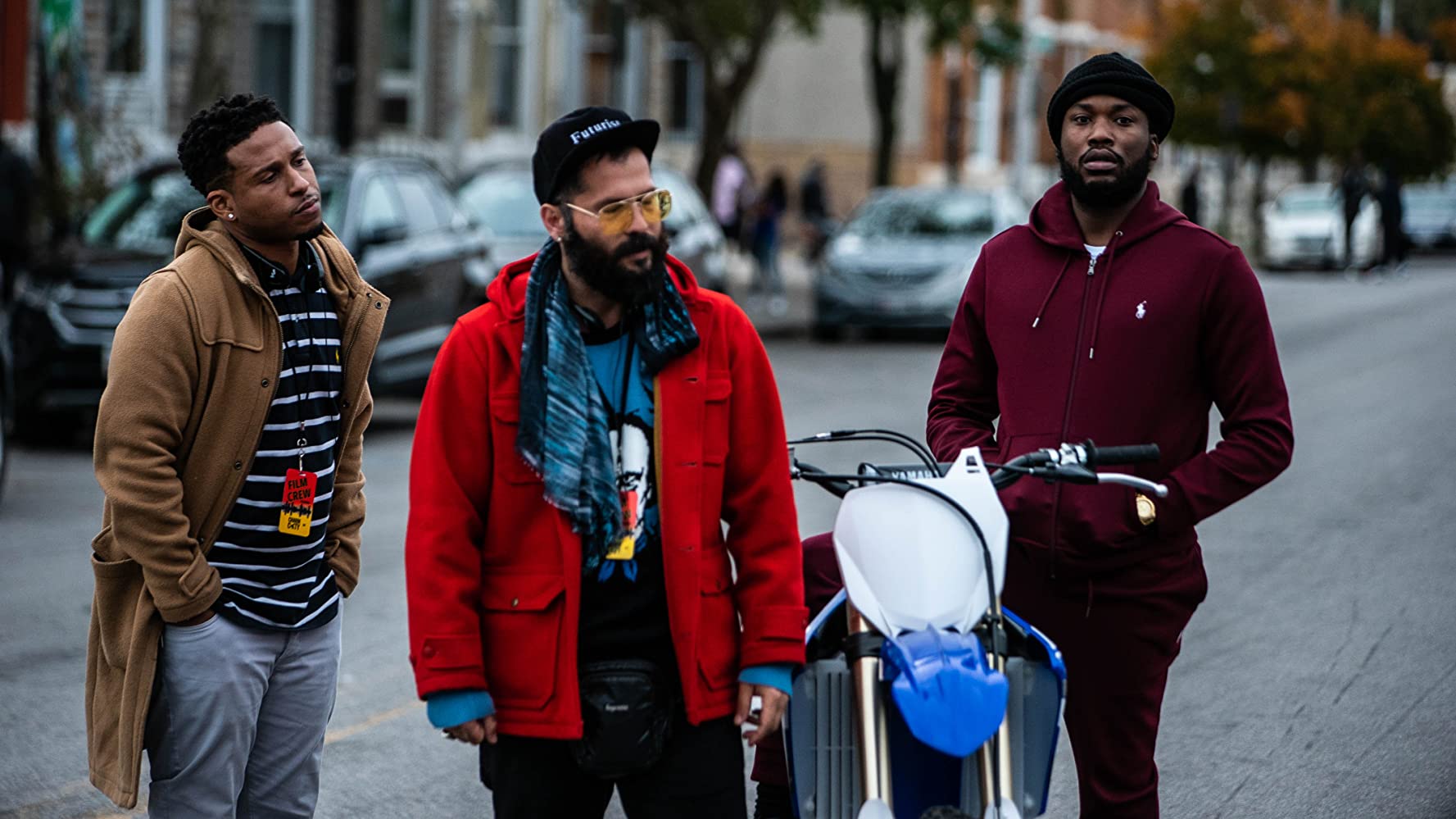 Photo courtesy of Sony Pictures Classics / HBO Max
Di'Allo—who was most recently Junior in Queen & Slim—really carries this film on his shoulders. You empathize with Mouse and understand his desires, while also seeing why all the adults want to protect him. He has a great rapport with Nicki (Chandler DuPont), a new girl who moves to Baltimore. She works well as Mouse's love interest and as a character who allows for exposition on how this world works, who the central figures are, and what is so enticing about the bikes and stunts. This exposition is never overdone and the actors have a cute chemistry that makes you feel warm even though the world they are in isn't really safe. 
Some light needs to be shined on the rapper Meek Mill who hasn't really acted before in any substantial way but gives a great performance as Blax. He's able to show vulnerability that you might not know he has from his music. If you've been following his personal issues offscreen, you can't help but think of the case that put him in jail from popping a wheelie on a dirtbike. The meta of Mill's real-life informs his character.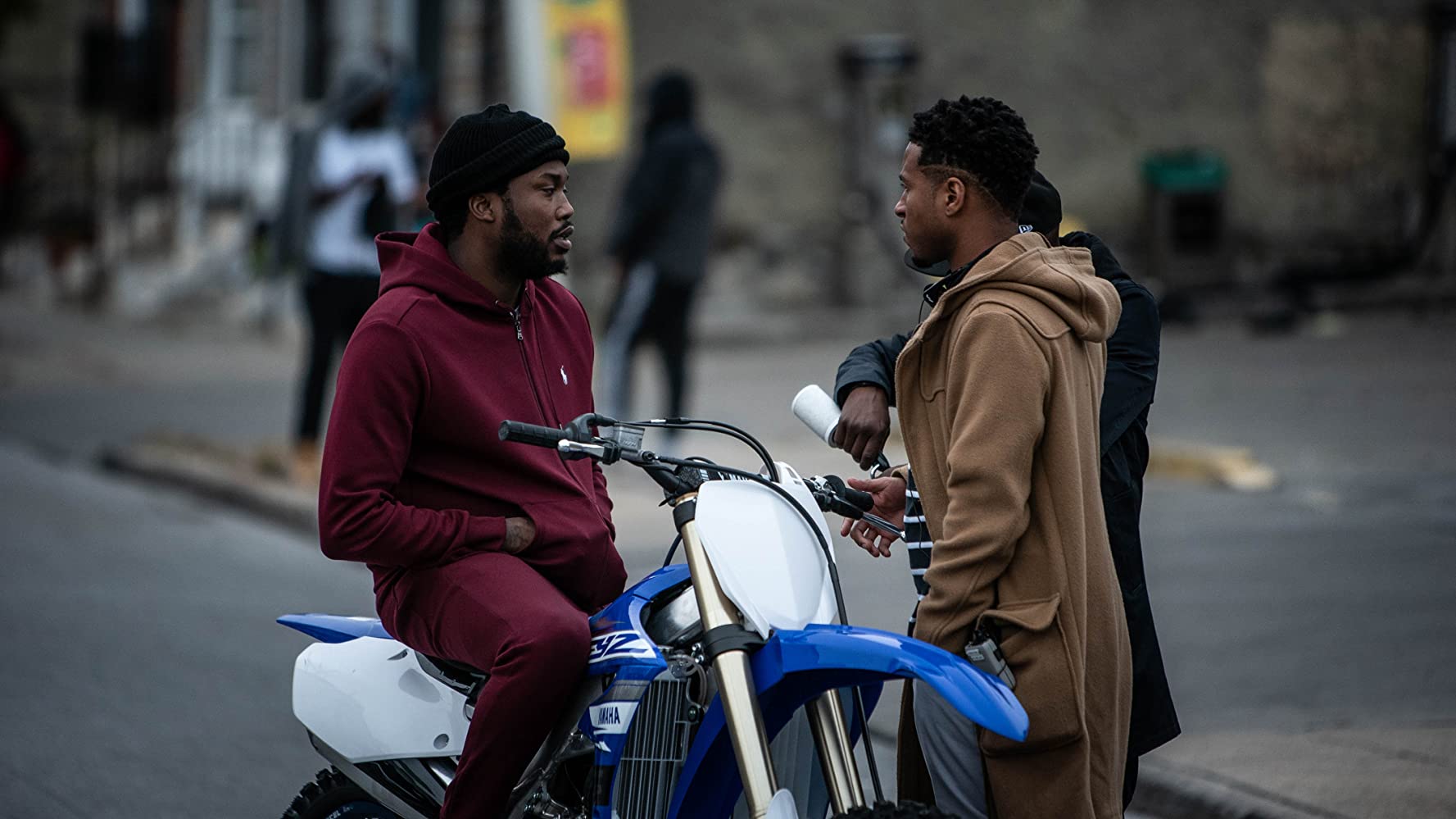 Photo courtesy of Sony Pictures Classics / HBO Max
Parris' Terri is another great acting outing from her. She's racking up so many great supporting acts that I hope one day she'll get the chance to shine as a lead character. Catlett—best known from The CW's Black Lightning or OWN's Love Is ___—is good here, even though he plays to the "good male figure" trope. Lastly, the person playing Mouse's older brother is Pug from 12 O'Clock Boys. This really wraps up and connects Charm City Kings to its inspiration. It's an Easter egg for those with
careful eyes. 
Charm City Kings is a fantastic film that will probably be one of the standouts of the year. This is a must-see and now that it's been scooped up by HBO Max, I hope everyone takes the time to watch it. 
In The End: Charm City Kings is a great urban teen film. It may feel like stories that came before it but the film has so much heart and such great craft that it easily rises to the top of the genre.