Actually: 7.5
Basically: A millennial update of the classic concept of women super spies with a modern pop music flair.
It seems like Charlie's Angels will become a generational thing. The last version debuted about twenty years ago with Drew Berrymore, Cameron Diaz, and Lucy Liu, imbued with all the early 2000's flair and gloss. This new one by Elizabeth Banks is a nice update full of pop trap sounds and Nylon magazine-like chic. 
Charlie's Angels (2019) is a reboot but it's still set in the same world as the show and the previous movies. A young woman named Elena (Naomi Scott) works as a software engineer for a company called Brok. She helped design a new power creation device called Calisto but it has a dangerous flaw that the higher-ups don't care about. Elena becomes a whistleblower which puts her in danger. Cue the Townsend Agency, created and run by Charlie (Robert Clotworthy) to save the day.
Photo by Merie Weismiller Wallace - © 2019 CTMG, Inc. / Sony Pictures Entertainment Inc.
One of three Bosleys, Edgar Bosley (Djimon Hounsou) builds a team with two Angels. One is Jane (Ella Balinska), a former MI6 agent who's by the book and stiff. The other is Sabina (Kristen Stewart), a wild and carefree Angel. Both must keep their new charge Elena safe as they try to figure out who is trying to kill her (and
who is constantly one step ahead of them). They enlist the help of former Angel turned Bosley: Bosley—just Bosley (Elizabeth Banks). Yeah, the Bosley thing is confusing. "Bosley" is now the rank for the mission operator for the Angels. It's a pretty cool concept. 
The movie is cute and I don't mean that in a demeaning way at all. I say that because they do a great job of making the relationship between Jane, Sabina, and Elena endearing and fun and authentic. These are three young women who know themselves and what they are capable of even though our POV character Elena is figuring out this whole new world. She doesn't want to be a damsel in the least, she wants to get in the field even if all she can do is hack. Elizabeth Banks is also quite good as the mentor, giving her character the right amount of mysteriousness as we start to question who's really on the Angels' side.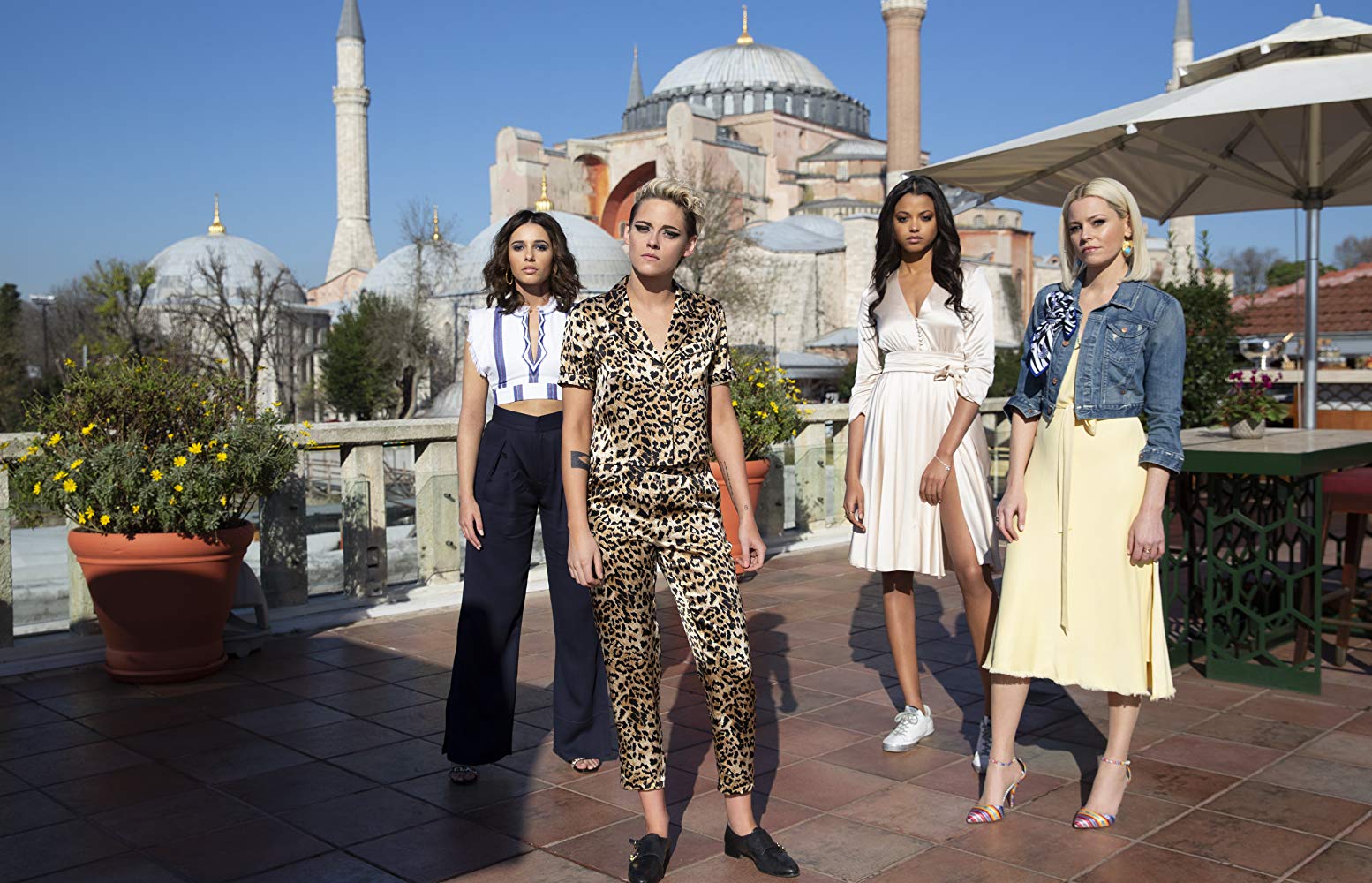 Photo by Chiabella James - © 2019 CTMG, Inc. / Sony Pictures Entertainment Inc.
The direction of the action is clean with good framing of the characters' fight scenes so that you're not confused. The comedy is kind of light in regards to some of the violence going on around them but it fits the world we're in. Earlier I stated that the film has a Nylon-like chic—it does have a very fashion magazine look to it and an Instagram-style aesthetic. The shot composition and scene settings are fantastically thought out. Everyone has such great outfits, it's ridiculous. The soundtrack is cool too; all the music feels like Ariana Grande's current wave of pop (she worked on the lead single and title track so it makes sense). Also, the film has a nice trap flip of the original theme that's pure **chef's kiss**. 
In the End: Charlie's Angels is a fun girl-powered action movie to start up a new run for the franchise with a whole new audience.