Grade: B+
An emotionally broken former mixed martial arts contender must overcome her fears while re-uniting with her long-lost son to fight her way back to contention in arguably the best performance of Halle Berry's career in her directorial debut, Bruised.
The film opens as undefeated fighter, Jackie Justice (Berry) is entering the Octagon for a title fight. Shot from the POV of her opponent, Justice is soundly defeated, sending her career into a tailspin. Years later, Jackie is still picking up the shattered pieces of her former life, dealing with the fallout and emotional trauma, cleaning houses, and entangled in a love/hate relationship with her abusive manager, Desi (Adan Canto) who still holds out hope that he can encourage her to fight again. 
After a random encounter watching some unsanctioned mixed martial arts fights, Justice has an awkward confrontation with a fighter simply known as the Werewolf. After she disrespects Justice and challenges her to a fight, her instincts kick in and she pummels the huge Russian Goliath. The bout draws the attention of MMA league owner, Immaculate (Shamier Anderson), who immediately sees dollar signs and invites Jackie to train in with his team with an eye toward offering her title match with Lady Killer (Valentina Shevchenko).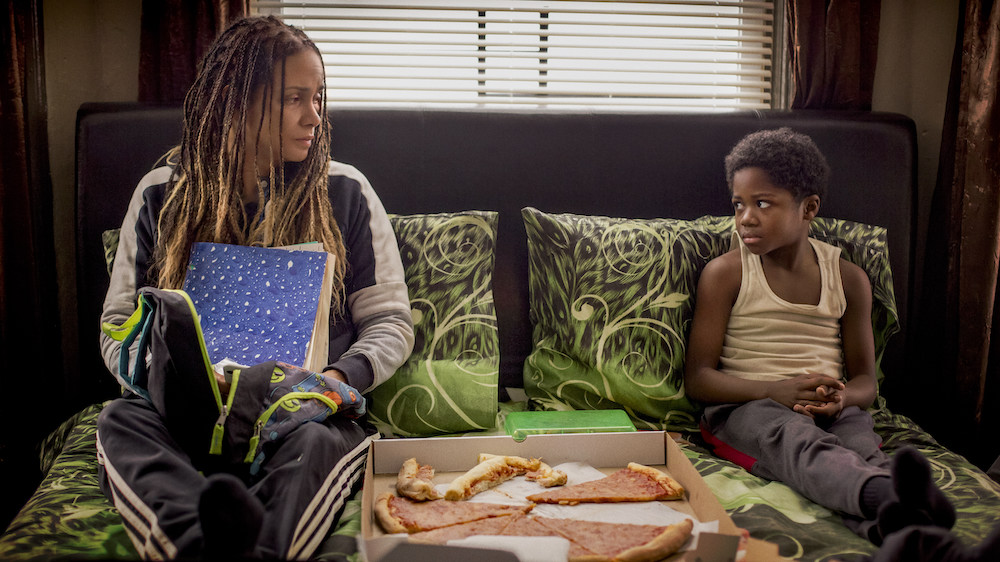 Photo: John Baer/Netflix © 2021
Before Justice can savor her opportunity, she is confronted with the return of her estranged young traumatized, non-verbal son, Manny (Danny Boyd, Jr.), who shows up on her doorstep after the murder of his father. Struggling to take care of herself, Jackie now finds herself with another person to be responsible for – a fact that is exasperated by her relationship with quick-tempered Desi. Battered and beaten and with nowhere to go but up, Jackie begins the long arduous journey to regain her dignity, passion, and the love of herself and son in the Rocky-esque tale.
The screenplay, written by Michelle Rosenfarb, was originally tailored for a woman half Berry's age and finds the Oscar-winning actress ditching her sexy and glamourous persona and totally immersing herself into the punishing, gritty world of this broken soul and the seedy underbelly of the MMA. Jackie is an alcoholic, whose life is low and her connection with her son is the impetus she needs to jumpstart her existence. Berry displays a vulnerability in this story that has been missing from her work since her performance in Monster's Ball.
As Jackie begins to emerge from her pit of darkness, she crosses paths with Immaculate's team, including veteran corner man, Pops (Stephen McKinley Henderson) and head trainer, Buddhakan (Sheila Atim). Slowly, but surely, the team rebuilds Jackie as they prepare for her title shot with Lady Killer as well as shot at redemption.
Photo: John Baer/Netflix © 2021
While the story will be most remembered for Berry's skills as a fighter, the real breakthrough is the poignant relationship with her son, Manny. In a year filled with amazing and memorable child performances, add young Boyd to the list. Despite having no lines in the film, his expressions convey so much of the heart and soul of this physically demanding drama.
Actors such as Michael B. Jordan (Creed, Creed 2), Hilary Swank (Million Dollar Baby), Jake Gyllenhaal (Southpaw) are recent examples of those who recreated the violent sport of boxing on film. Berry's portrayal is noteworthy not just because of the intense action displayed in mixed martial arts onscreen but her serving in the dual role of director/producer. While much of the film is focused on her performance, she proves very adept at keeping the action moving, getting the most of her initial foray in the director's chair. While her character may be battered and sometimes Bruised, this film shows that Berry possesses the acting heart of a champion. Well, done, Halle, well done!