by Day Al-Mohamed
Basically: A fun sassy romp in the classic romantic comedy style—but the actresses deserved more.
The premise of Book Club relatively simple. Four women-of-a-certain-age are part of a book club whose next book is the infamous erotic romance Fifty Shades of Grey. While reading it, they begin reassessing their own choices in life and love.
Candice Bergen plays Sharon, a surly judge who is 18-years divorced; Jane Fonda is Vivian, a hotel owner who will to give her body away to any sexy man but has never given her heart; Mary Steenburgen, as Carol, is working her way through her husband's retirement, and Diane Keaton, as recently widowed Diane, is trying to decide what to do with her life and whether or not to move in with her adult children. These women have been meeting regularly for decades as part of a book club. Their latest choice is the E. L. James runaway hit erotic novel.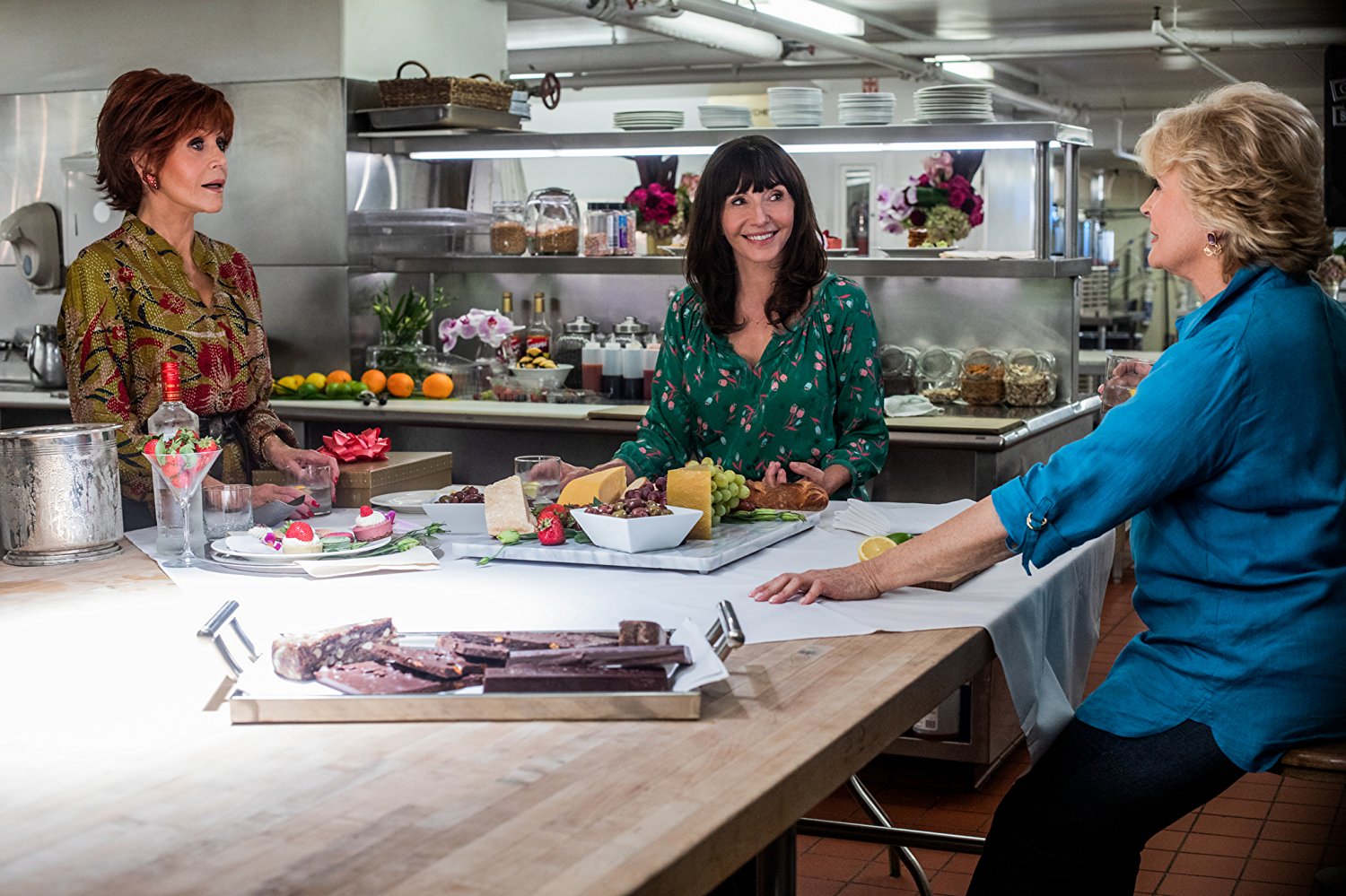 Photo credit: Peter Iovino - © 2018 Paramount Pictures
I love romantic comedies. I love romance. It is the largest-selling genre of fiction (say hello Harlequin) and there are multiple cable and streaming media channels solely focused on distributing these films (I'm looking at you Hallmark Channel and Lifetime). Anyone who reads/watches romance regularly knows there is a formula: Girl Meets Boy, Boy Loses Girl, Boy Gets Girl Back or some facsimile thereof (Girl Meets Girl is equally cool) and a Happily Ever After. But the very best romances and romantic comedies are those where you get lost in the story and forget the formula.
That is not the case with Book Club. All three of E.L. James' books make an appearance in the film (sometimes it feels a bit like product placement) and each is easily a marker for a turning point in the film. You are never fully unaware that you are watching a film. It is impossible to watch this movie and not make comparisons to pretty much ANY of Nancy Meyer's romantic comedies. In fact, almost everyone I know who has seen the film made some mention of that. But where it differs is that in Book Club the "bones" of rom-com are showing, something Meyer is very good at burying.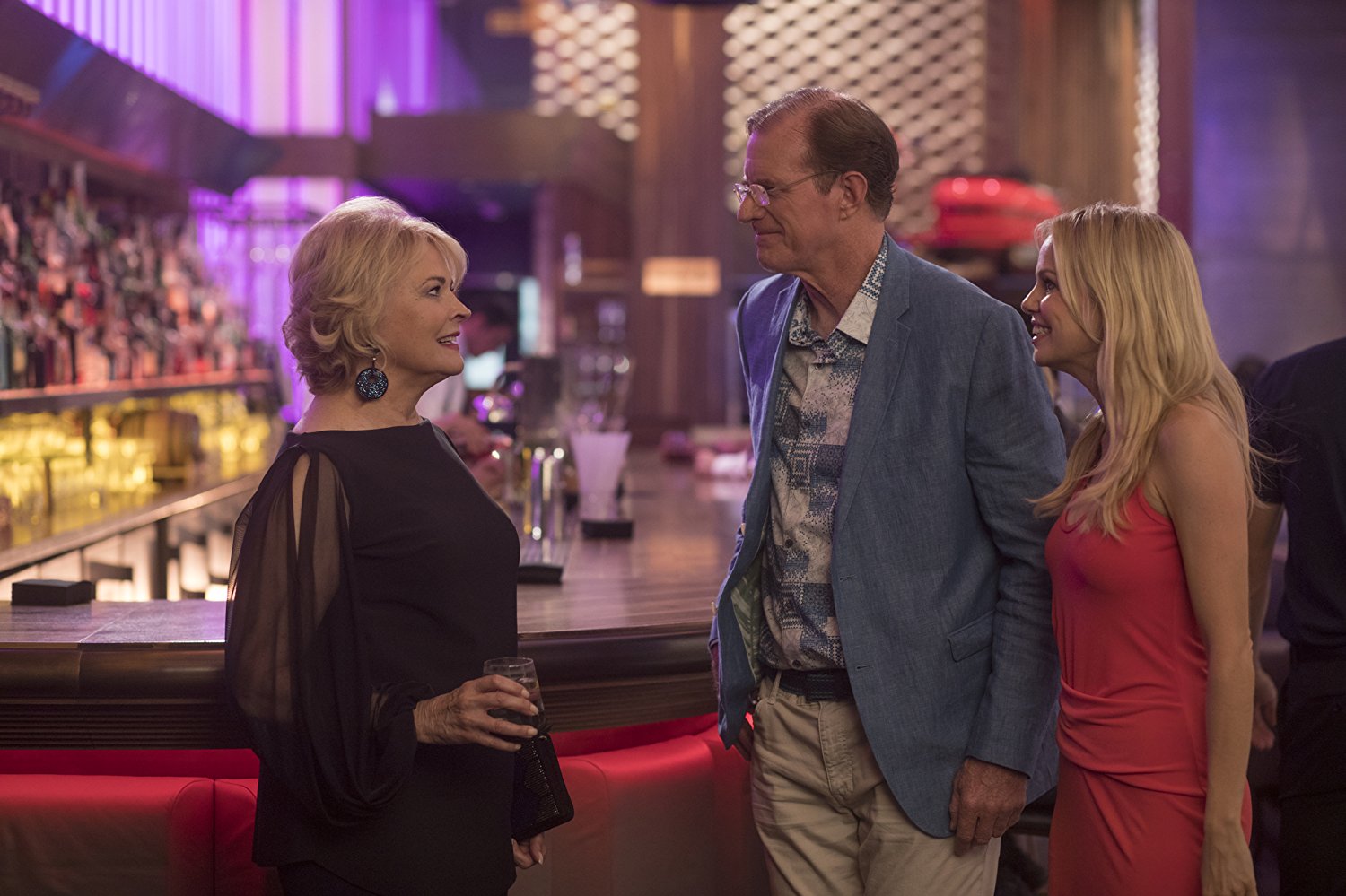 Photo credit: Peter Iovino - © 2018 Paramount Pictures
Sharon discovers online dating and takes some risks to let go of her past, Vivian allows herself be vulnerable with the irresistibly charming Don Johnson, Carol (whose storyline I enjoyed least because it was less about her and more about her husband's retirement) learns how to better connect, and Diane gets the opportunity to love again, with a very sexy Andy Garcia. Those aren't spoilers. Those are the expectations of a romantic comedy. We as viewers want to enjoy the journey; we want to connect emotionally with these women.
Book Club is director Bill Holderman's "first time" (yes, I get to use sex humor, this is a review of a film about a book club reading Fifty Shades of Grey) who is primarily a producer and it's also a "first time" for Erin Simms who many may know of as an actress rather than a writer. And it is solid work. Their script and directing is at its best in the scenes with all four actresses together. The snappy back-and-forth dialogue is truly entertaining and has most of the film's best laughs. But I also remember commenting in the theater that I thought it would make an amazing stage play. So perhaps my discontent is not necessarily with Book Club as content but that it would be stronger in a different medium.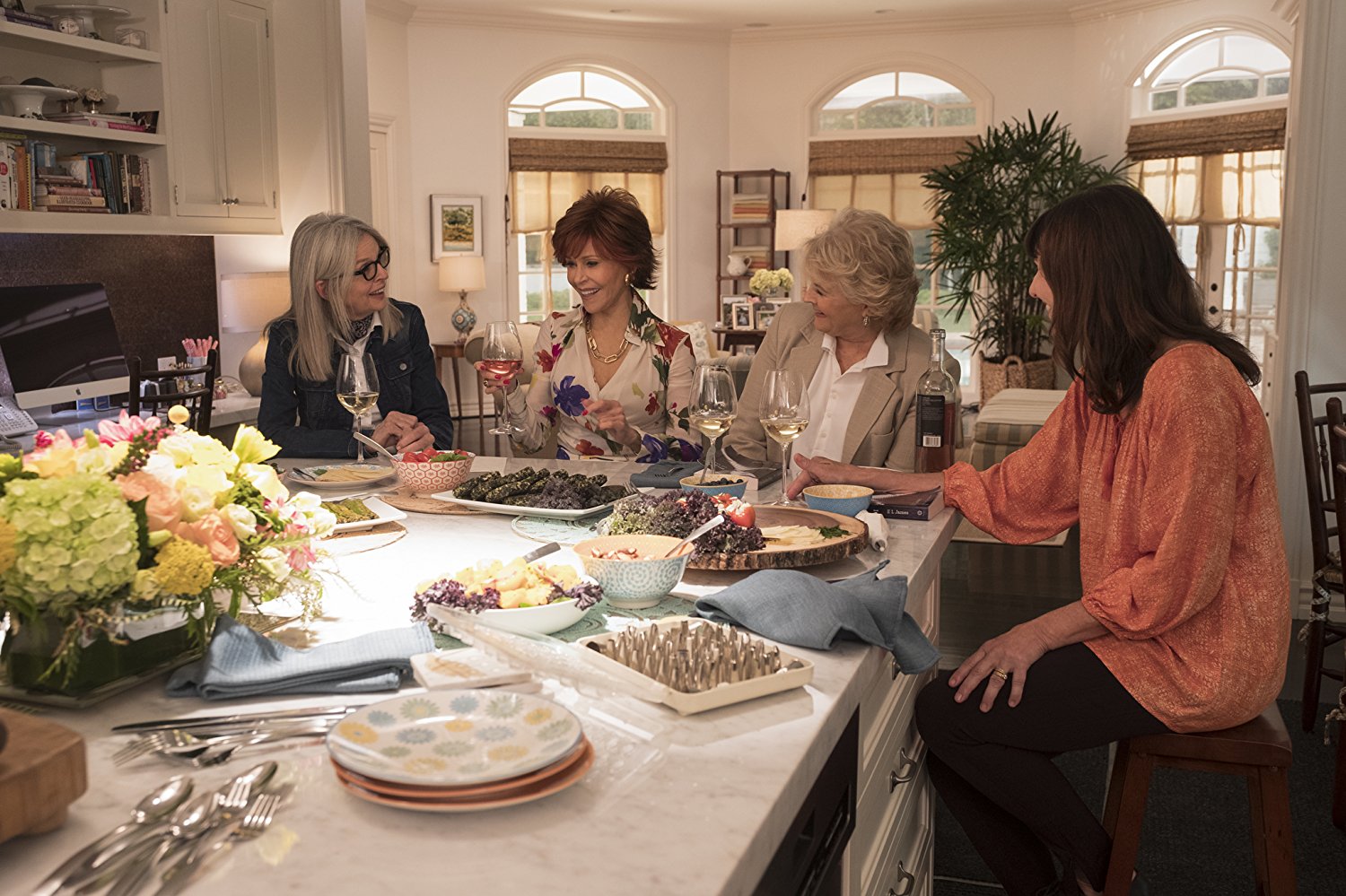 Photo credit: Melinda Sue Gordon - © 2018 Paramount Pictures
I had one other observation that I'm not sure where to include in this review. As a woman of color watching this film in Washington DC where at least 1/3 of the audience were minorities, it was somewhat disturbing to see almost no characters of color. Not even in the background (I was looking). While I would agree that not every film has to scream diversity romance, and romantic comedies in particular, have been very narrow in their design and focus. White upper-middle class career women are primarily the heroines with very little deviation. While this was something I noted in this film (which is a bit too formulaic on a variety of fronts), it is a much broader problem with the genre as a whole. I'd love to see more women who look like me in romantic comedies.
Book Club opens on Friday, May 18. And I dare you to count how many times someone sips from a glass of wine during this film. ☺
In the end: Book Club provides plenty of women-empowered camaraderie, sex jokes and snarky humor. Bergen, Fonda, Steenburgen, and Keaton are all powerhouse actresses who, over the years, have carried numerous films and television shows on their own. Their acting elevates a run-of-the-mill romantic comedy into something better; I just wanted a film that would do them justice.