Basically: A biopic of Marilyn Monroe from childhood until her untimely demise.
Honestly, it took me a while to reconcile all my thoughts and feelings on Blonde. This is one of the films that basically started this year's awards bait. It's another one of those very expensive Netflix movies aimed at catering to critical and Hollywood "art" legitimacy.
Blonde is written and directed by Andrew Dominik, starring Ana de Armas, and is based on the Joyce Carol Oates book of the same name. I've never read this book or even heard of it until after I saw the film. From what I can tell, it's a fictional version of Monroe's life, which you should keep in mind when watching the adaptation.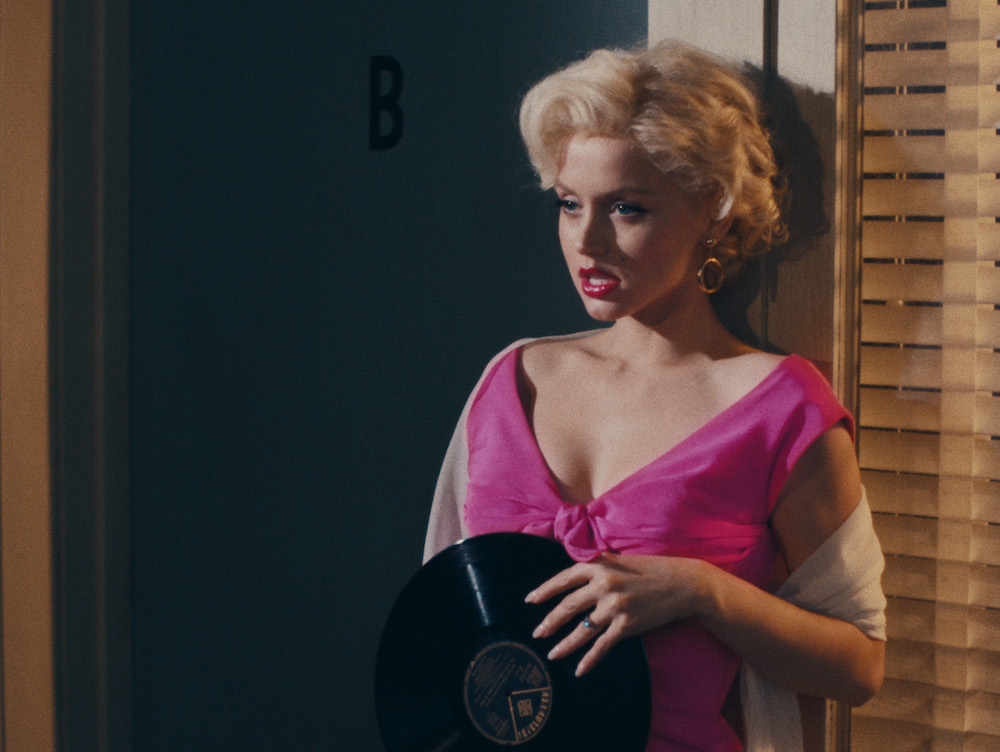 Blonde is much too big in scope. It starts with Norma Jean as a child (Monroe's real name for those who don't know). Our central character experiences an endless amount of abuse and tragedy, beginning with her mother lying to her about her father and then doing something to Norma Jean that causes her to be taken away. After growing up in an orphanage, we see an adult Norma Jean break into acting, sadly again, through abuse.
Let's get this out of the way: If anything is triggering to you as a viewer, then you should beware of watching Blonde. If there's a violent act against a woman or girl, there's a chance it's in this movie and happens to Monroe.
The bulk of this film shows that, as Monroe rises to stardom, her beauty and sex appeal make Hollywood use her as a commodity. She constantly looks for the unconditional love that builds up around her lack of a relationship with her father. I don't know if this is a fair assessment of this real person. It feels very simple and cartoonish at times.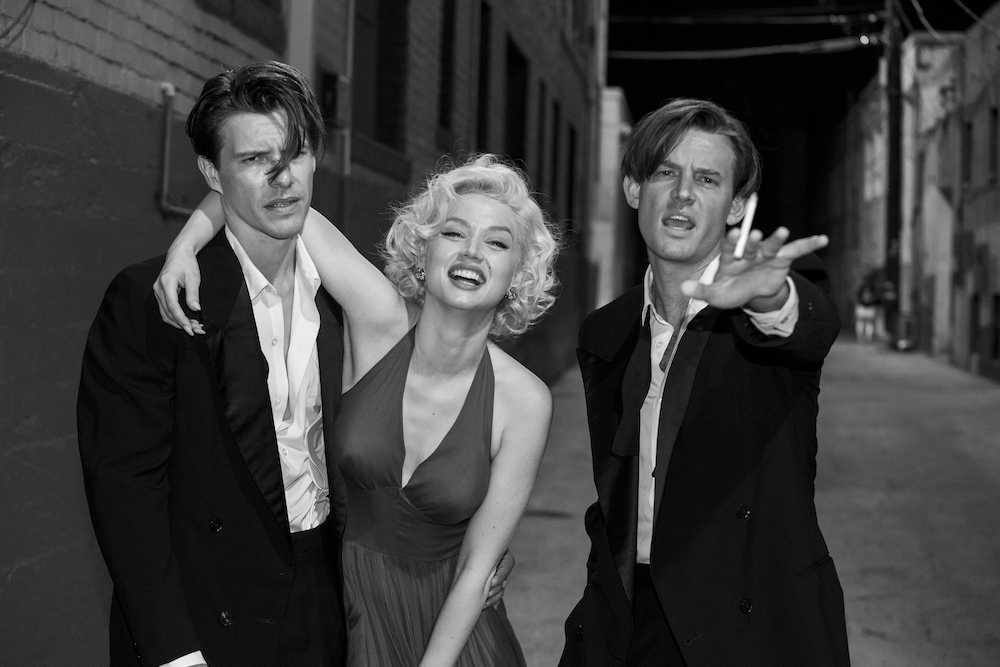 Most of the men are not for the benefit of Marilyn's betterment or peace. This is shown by her manager, who acts as a pimp of sorts, then by her relationship with Charlie Chaplin Jr. (Xavier Samuel) and Edward G. Robinson Jr. (Evan Williams), who are shown as a throuple of sorts. Still, both men are played like dirty cads. I guess the performances are okay but they don't have much to them other than shady, addicted men mad at their fathers.
Bobby Cannavale looks amazing as Joe DiMaggio, Marilyn's ex and legendary baseball player. Even though there's not a lot there for him, from his look and body language, Cannavale makes you think you're seeing DiMaggio on screen. Of course, he is a terrible monster of a person; as I've said, most males are in this film. Adrien Brody plays the playwright Arthur Miller, the only one who is not a complete and utter monster. He does a lot through his performance, especially with his face. De Armas' scenes with these two actors really show off her acting the best.
Speaking of de Armas, she acts her ass off. She's totally in and ultimately gives her all to portray Monroe. In this story, Monroe is always acting—she makes Marilyn into a protective identity to move through her life, do the things she doesn't like, and get through terrible stuff. As an actor, to be able to pull that off is fantastic.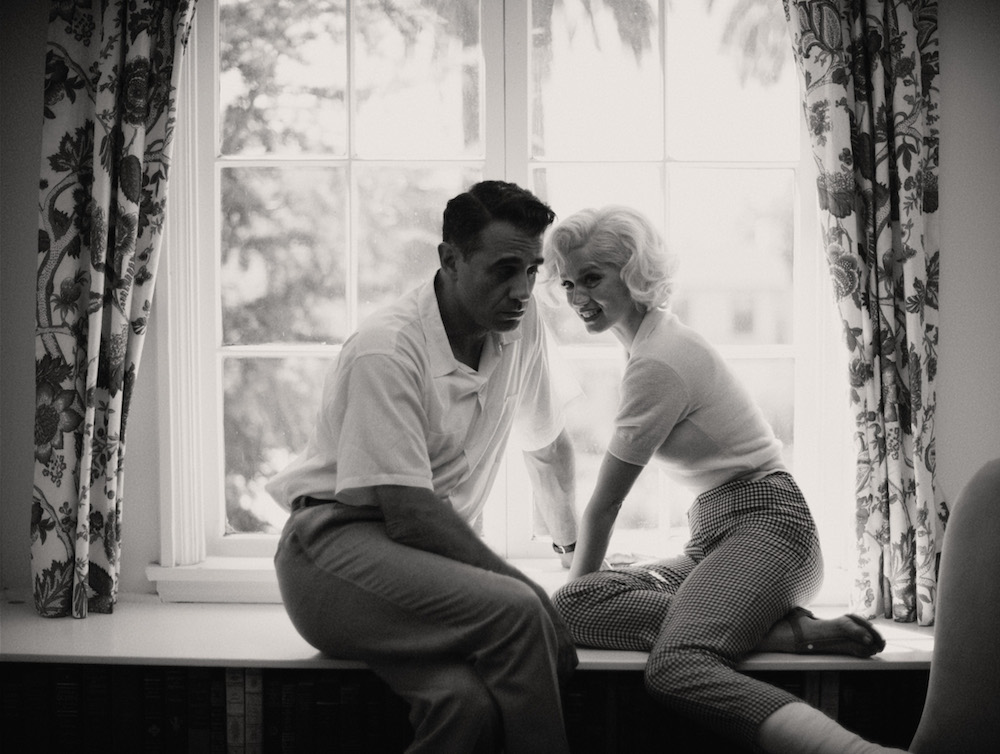 Also, Blonde looks terrific. It's like looking at the amazing fashion editorial spreads I saw in Vogue from the 90s and 2000s. The use of different aspect ratios is weird, though—I couldn't figure out the storytelling reason for it changing as much as it does. The same can be said of the use of black & white over color at times. I tried to figure it out but I was clearly failing; I just know some scenes are in color, while many are in black & white. There is some use of CGI, especially regarding Marilyn's imagination of her unborn children; these scenes are a bit unnerving with how much CGI is used and where it appears in the story. I know it's purposeful, along with other events that happen to Marilyn, but I sometimes felt they went a bit too far, which hurts its effectiveness in getting its points across.
Blonde is also very long, like very, very long. For those who are just going to stream it on Netflix, I can see viewers watching it in chunks versus all at one time. As much as the actors did a great job, I feel writer/director Dominik didn't really do right by the material he gave them to perform. It's a film that wants to be great but, in its reach, falls terribly short—becoming a bad film that its subject didn't deserve. 
In the End: Blonde does just as much of a disservice to Marilyn Monroe as the men in her life did.