Basically: Two friends in the Bay who are dripping in E40's energy and Broadway talent.
The plot of Blindspotting is this, Collin (Daveed Diggs) is a convicted felon on his final three days of probation. After hanging out with his childhood best friend Miles (Rafael Casal) he sees an Oakland Police officer kill a black male who was running away. This event haunts Collin for the next few days as he tries his best to stay out of trouble during the last of his probation. During this time he comes to terms with Miles' recklessness and realizes that attitude might land him back in jail or, worse, in a coffin. And the film really sells this conflict along with the cultural spirit of Oakland's streets. From the fandom of their sports teams to their style of dress to the bump of the music and, especially, the world-famous way they flip language to innovate some of the most important slang the world has ever heard.
Blindspotting is layered and simple. Diggs does well with Collin, an actor who exploded onto the global stage in Hamilton on Broadway. From the American forefathers to modern Oakland, Diggs gets to show a different side of his abilities. No one is shocked that this dude is talented, the real surprise is Diggs' co-star Rafael Casal. Man, oh man, this dude is fire on screen. He embodies the white dude who grew up in the hood. He talks, walks, and feels at all times: Super THUG. This mix of IDGAF and a need to prove he isn't fake or appropriating is the impetus for so much of the wild action that happens to his best friend, and our protagonist, Collin.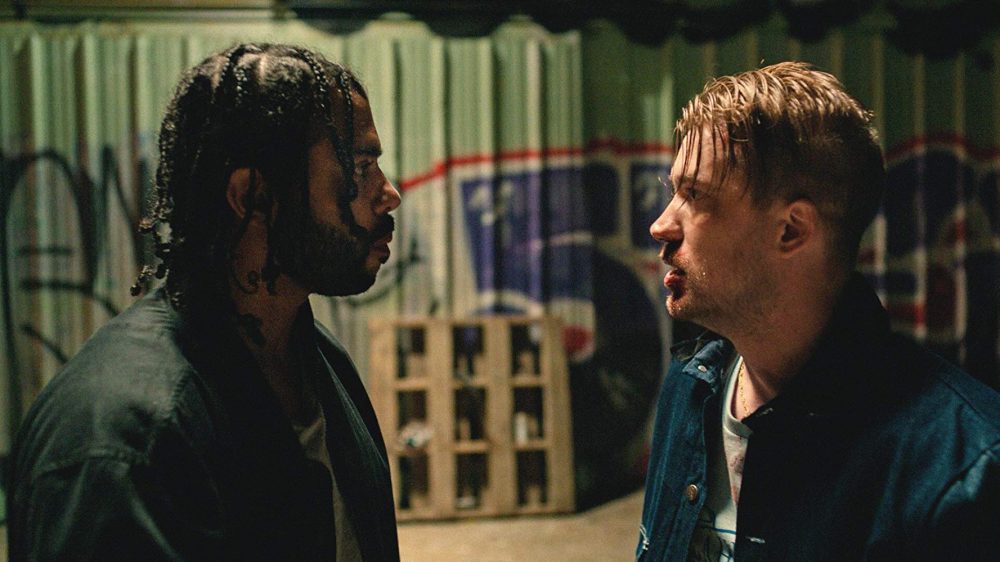 Photo: Sundance Institute
Rounding out the main characters are Janina Gavankar as Val, Collin's ex-girlfriend, who he's trying to have a good friendship with despite all that's unsaid between the two. The character can seem a bit one-note but there is a lot of subtlety in the relationship thanks to the way Diggs and Gavankar work on screen together. Jasmine Cephas Jones, a former Hamilton castmate, plays Ashley. As Miles' girlfriend and mother of his child, Jones does well with the little things in her lines that represent what the audience is thinking about the world and at times comes across as ratchet comic relief—that doesn't feel or look exploitive. Later in the film, she has some really good moments to flex her acting skills on with great drama.
This is a good moment for the Bay area with Blindspotting and Sorry to Bother You showing different sides, views, and stories from this historic area, especially from the perspective of black or urban culture. This film takes some interesting leaps. Having Collin rhyme on screen and weird dream sequences surprise you but those techniques work in regards to the tension of being a black guy in America—it's an understanding that will mirror a lot of the viewers' feelings. This film is doing a lot and while it's not perfect it is one of the most interesting films this reviewer has seen so far this year.
In The End: The issues of living in an American city circa 2018—from the justice system to gentrification—tied up with a little poetry, a little anxiety, and a whole lot of Oakland flavor.