Basically: This latest Spike Lee joint is full blaze. Welcome back, Spike.
Let's be honest here. Spike Lee—one of the great filmmakers of the late 20th century—has had a rough creative decade. Beside making great documentaries about Michael Jackson and Hurricane Katrina and more, his films have been disappointing. They range from the forgettable Red Hook Summer to the questionable Oldboy to the confusingly poor Da Sweet Blood of Jesus to the controversial Chi-Raq. Spike seemed to have sullied his name with these joints and lost the trust of the audience. It's been hard to tell what would help bring the feeling we got from his earlier films back. Luckily BlacKkKlansman is a return to form for Spike, with the help of producer Jordan Peele and actor John David Washington. BlacKkKlansman adapts the true story of Ron Stallworth (Washington), a black detective in Colorado Springs circa 1970s during the late stages of the Black Power Movement. He's the first black officer in the police department and, in looking to do more than file paperwork, Ron takes it upon himself to investigate/infiltrate the local Ku Klux Klan chapter. After being successful by phone he partners up with fellow detective Flip Zimmerman (Adam Driver), a white Jewish man, to portray the role of KKK sympathizer in person. The pair are so successful that even the Grand Wizard of the KKK David Duke (Topher Grace) develops a personal relationship with Stallworth.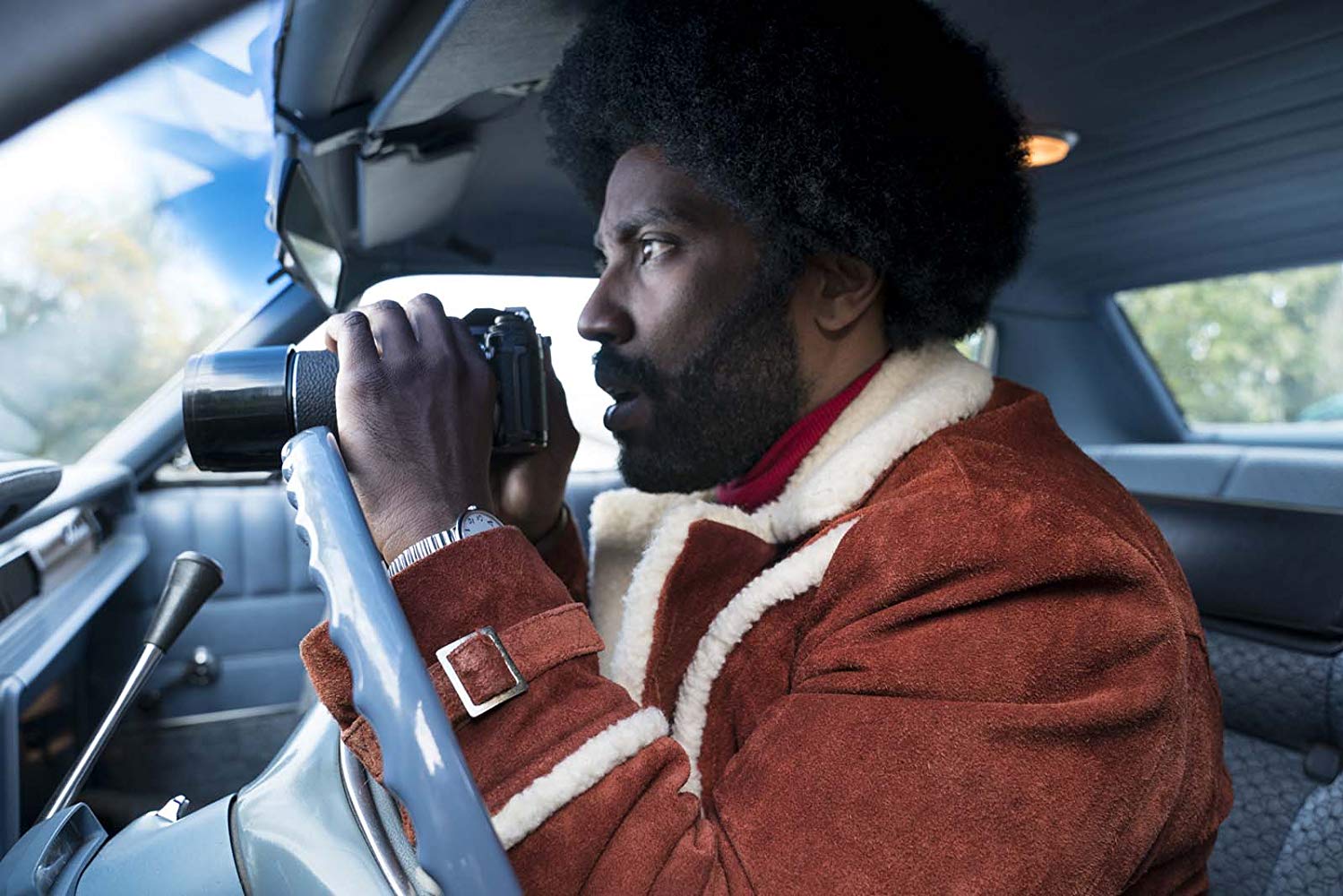 Photo: © 2018 Focus Features LLC
What's most surprising—because we know Lee's work—is just how measured his directing is visually in this film. His camerawork is focused, utilizing well-composed shots with very few Spike Lee brand surreal flourishes. This focus means John David Washington gets to shine here. He hasn't done a lot yet, with his most notable role on the HBO series Ballers, but in this he gets to stretch his wings. Washington feels perfect for this when you see his look: huge afro, dark skin, and soul brother number one swag on display. Yet what makes his performance work is the accent he takes on as Stallworth. It's really close to the real Stallworth's voice. In a subtle/not subtle symbolism, Stallworth would've been considered someone who "talks white" in the 70s, which helps us believe he's able to trick the KKK members on the phone.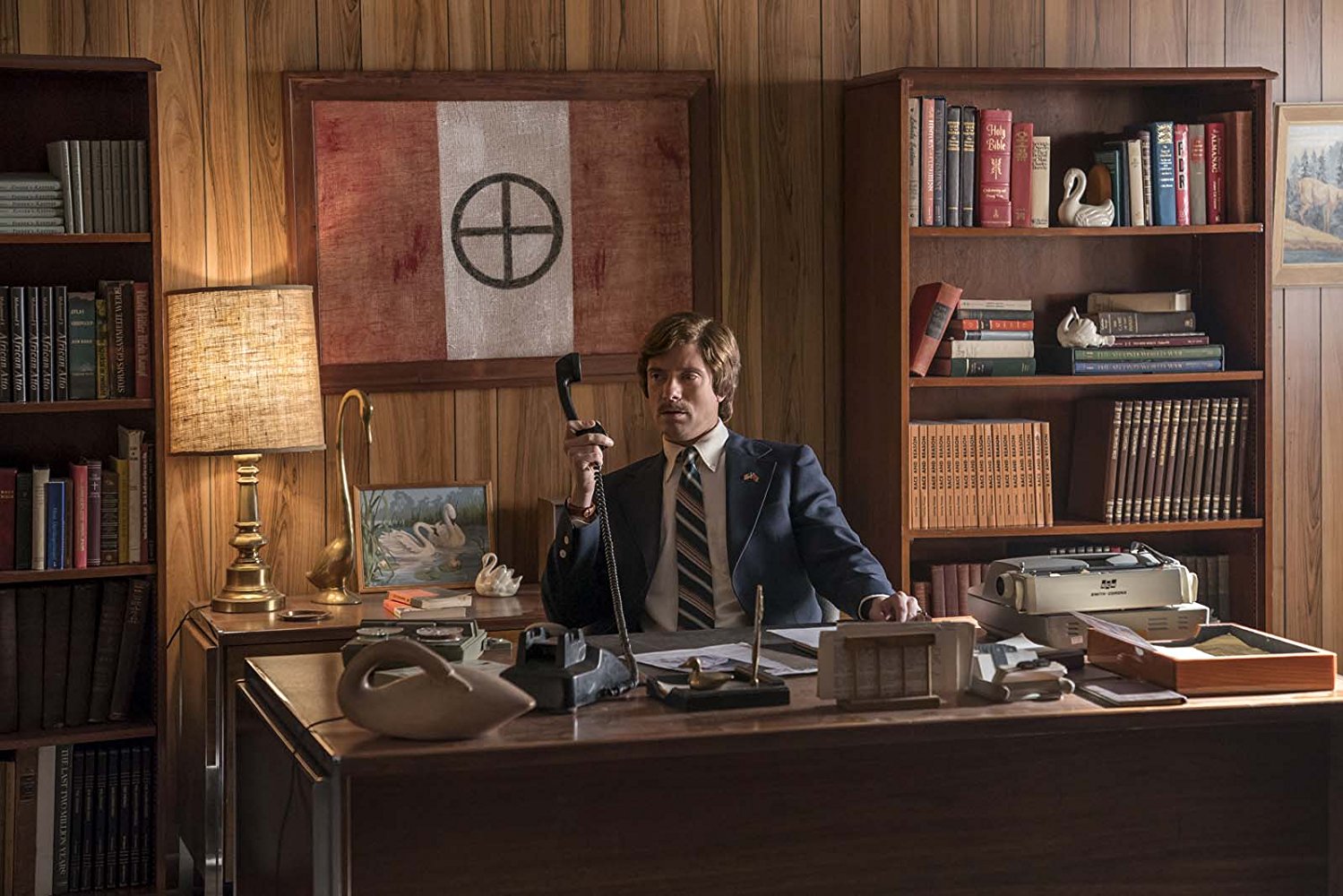 Photo: © 2018 Focus Features LLC
The character's main conflict is his idea of blackness while he battles against the Klan. This is represented in the character Patrice Dumas (Laura Harrier). As a member of the local Black Power Movement and a love interest for Stallworth, Patrice questions his views and through both actors performances we see how her stance influences his interacting with people in his life and his tactics in dealing with the Klan. Adam Driver also does very well in this, he's at his best in these films that aren't the huge spectacle of his most known role as Kylo Ren in Star Wars. Driver shows subtle range here as Flip Zimmerman, a white man who's Jewish heritage also creates conflicts in regards to Klan and going deep cover in their organization. And, man, Topher Grace is eerie as David Duke. When you see David Duke and hear him speak then compare him to Grace's portrayal it kind of shakes you.
Another surprising thing about this movie is the tone—you'd never expect a movie about infiltrating the KKK to be funny but it is. It's not over the top goofiness, it's workplace style humor and the awareness that this is a weird situation our heroes are in funny. It's good to see Lee bring that back because he seemed to have lost the laughs as he's gotten…honestly…more cranky (fighting gentrification will do that a brother). The honest to life humour in BlackkKlansman is a smart tactic in allowing us to step into the heavy topic being explored, especially during the current goings-on in the United States. Lee connects the past to right now at the end of the film, which is super duper sobering and heartbreaking for many of us.
In the end: Spike Lee is back and it's good to see him ride this new wave of black cinema, especially since he was responsible for the last one.