Actually: 8.5
Basically: Black Widow aims for spycraft action and doesn't miss.
Black Widow is a nice surprise for action fans. This new Marvel movie launches into the espionage and assassin genres with the unblinking verve of a Bourne or a Wick. It's an unexpected form for an Avengers offshoot to take. But that's what makes it work. The filmmaking is tailored to the Natasha Romanoff character, not to the wider cinematic universe. That's good decision making. Can you imagine Black Widow's story playing out without lethal women hopping from country to country, while they're hand-to-hand smack blasting their opponents, in order to stop an enemy who uses them like disposable combat dolls? Sorry, I meant "disposable action figures." I can't imagine it going any other way either. But I'm still surprised. Just because we're right doesn't always mean we're accurate.
Black Widow takes place in the in-between times, when Tony Stark pulled an ego trip (just like most reformed arms dealers) and decided everyone needed to be good little super soldiers for the government. The Sokovia Accords were broken. Steve Rogers (Chris Evans) and Natasha Romanoff (Scarlett Johansson), respectively known as Cap and Black Widow, went on the run. You call that movie Captain American: Civil War; I call it Avengers Disassemble. And as a callback to the first paragraph: I'm right.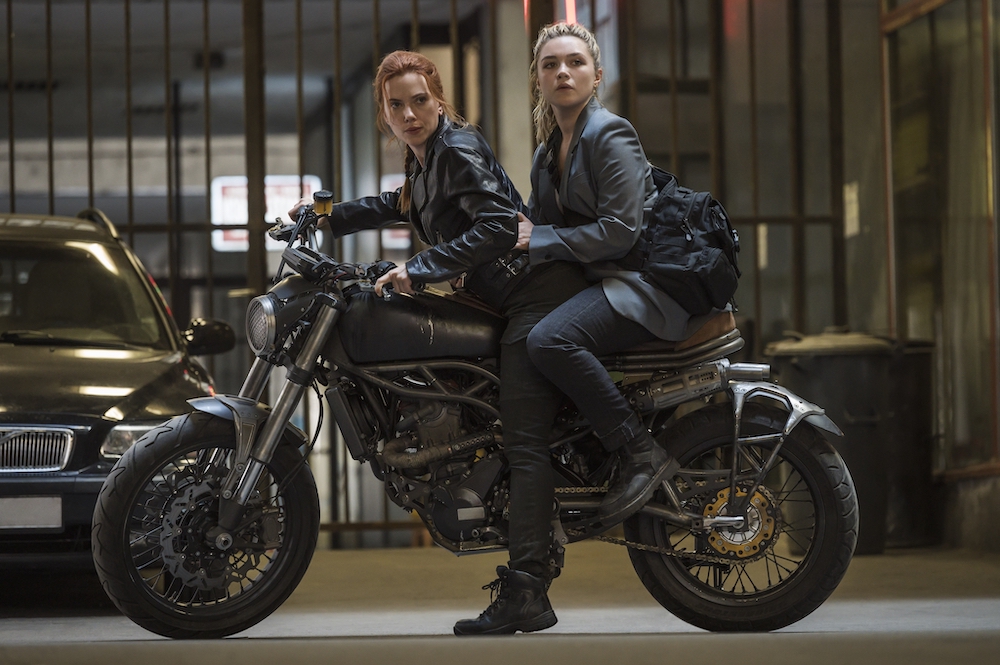 Photo by Jay Maidment © Marvel Studios 2021
The whole thing starts out with a creeptastic cover of "Smells Like Teen Spirit" by Nirvana, which is unnerving enough to set the stage. Young Natasha (Ever Anderson) is living in 1995 Ohio, in a pretty suburb with her baby sister, mama, and dad. That facade explodes faster than you can say "80s Russian spycraft" and the action begins. There's a General called Dreykov (Ray Winstone) from Russian Armed Forces. Dreykov is the puppetmaster for the Red Room, a twisted orphanage where kidnapped girls are trained into weapons. The Red Room is where Natasha and her undercover sister, Yelena Belova (Florence Pugh), were forged. It's known as the "Widow Network." But Dreykov is also pulling the strings of Taskmaster, another super soldier who "can mimic anyone he's ever seen—it's like fighting a mirror." Most importantly: Baby sister Yelena returns with a mission Natasha cannot refuse…
That's the set up. Now you're ready for the review.
Black Widow is strong. Not just the character but the ensemble; the storytelling and found family dynamics, framed by action set pieces and unexpected jolts of droll. Nothing here feels overblown but when the action sequences hit they have an epic feel within a semi-real world logic. The combat choreography has weight and impact, while each character fights with a style matched to who they are. This is a backstory I can lift my thumbs for. Director Cate Shortland gets it—the stakes continue to escalate, the espionage inspired twists keep coming—and Jac Schaeffer and Ned Benson (on the story) with Eric Pearson (on the scripting) are worthy accomplices. There may be a few too many Russian villain/anti-hero stereotypes but, you know, that's what we do in these here Americas.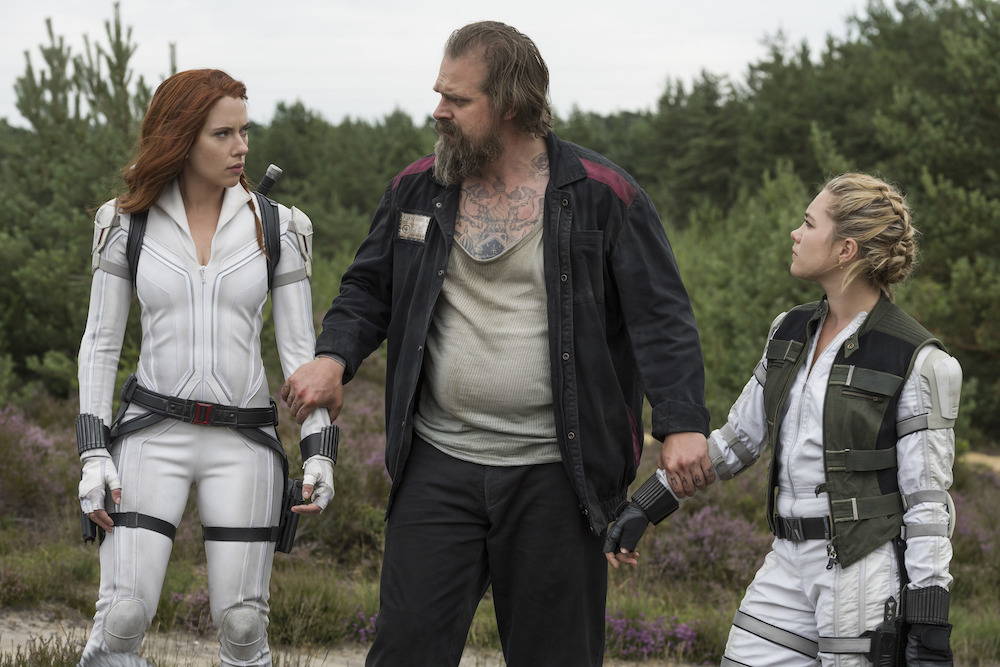 Photo by Jay Maidment © Marvel Studios 2021
David Harbour plays Alexei Shostakov / Red Guardian with quirk and misplaced values and, as his counterpart, Rachel Weisz's Melina Vostokoff is coolly efficient with a warm center. All good and yet, oooh girl, Florence Pugh is the champion of this movie. She's strong with her hands (the woman can fight). Even better, her dry humor is highly enjoyable as she flips the paradigm on the snarky little sister, turning the trope into something with both pathos and well landed zings.
The Marvel Cinematic Universe is evolving. It's evident on Disney+ and in Black Widow. This phase seems to be an expansion but also a correction of past wobbles. And therefore I'm very ready to see where it will go next. Plus, just like Deadpool, I'd like to see more "Black Black Widows." I mean more Widows who are Black and BIPOC too. Wouldn't you? See, right again.
Ooh and the surprises…I knew it! Well, not all of them. Let's see how you do.
In the End: See it. This is surprisingly good spy action in a movie that breaks the Marvel paradigm.