by Philip Jean-Pierre
Grade: 

A+
Basically: After his explosive debut in Captain America: Civil War, Black Panther follows T'Challa as he takes center stage as the newest Marvel superhero and new king of the African nation of Wakanda.
The next installment of the MCU (Marvel Cinematic Universe) takes us to Africa. With the death of King T'Chaka (John Kani), in Captain America: Civil War, his son T'Challa (Chadwick Boseman) assumes the role of king and spiritual protector: Black Panther. Our hero must navigate life as a monarch and a superhero, but also a changing world where his country's dictum of secrecy comes under fire. Forces from within and outside the nation force T'Challa to face hard truths about leadership, heroism, and the nature of Wakanda itself.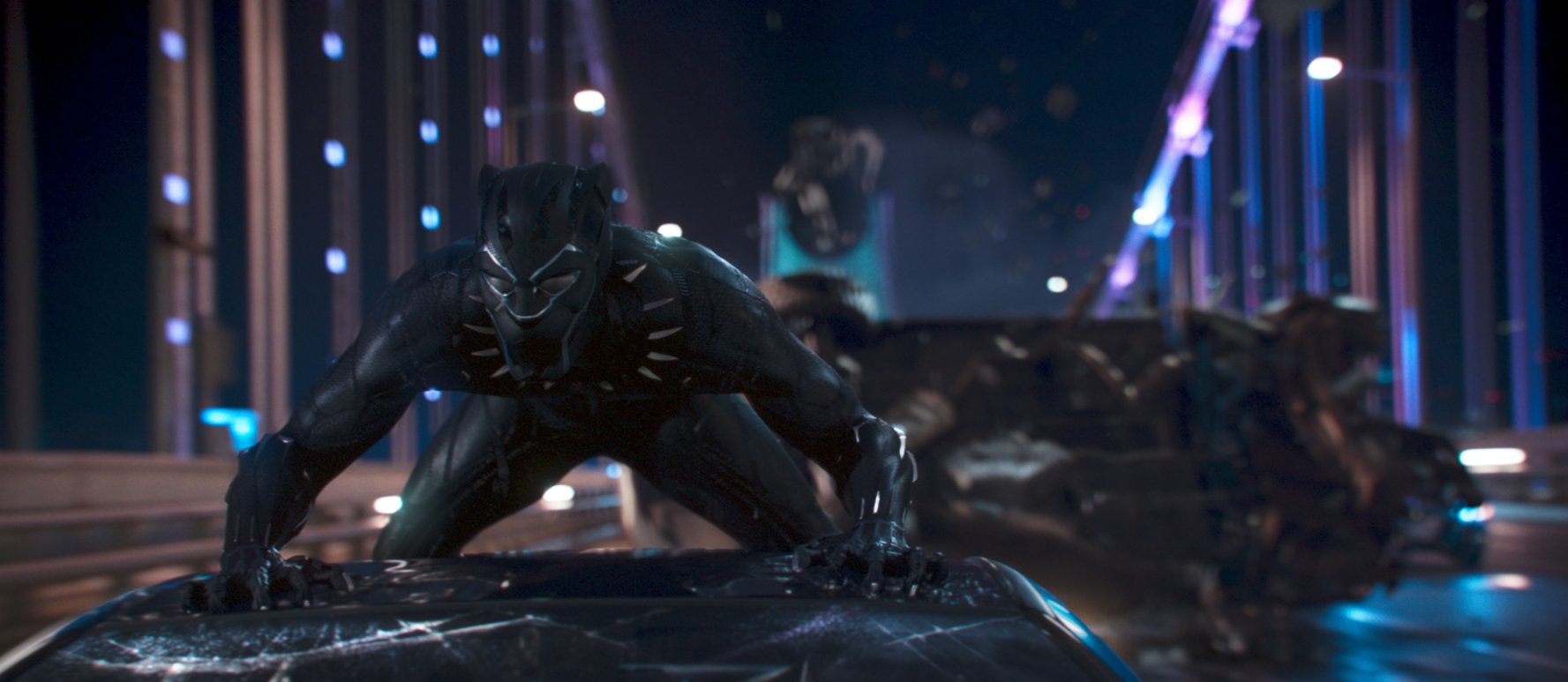 Photo: Disney/Marvel Studios
Before we begin, a history lesson, well, Marvel History. Wakanda an isolated African country hides behind the facade of a third-world society. In actuality, Wakanda is the most technologically advanced nation on the planet thanks to being the only source of a rare metal called vibranium.
Meanwhile, true believers, T'Challa stands as the new monarch of Wakanda, an untested royal who must find a way to be a good man and a good king. However, this is a Marvel movie and nothing is ever simple, EVER. From the shadows comes Ulysses Klaue (Andy Serkis), a merciless—questionably-sane—underworld arms dealer wanted for crimes against Wakanda, and Eric "Killmonger" Stevens (Michael B. Jordan), a driven man with a violent past and big plans, that not only threaten all that T'Challa's holds dear but also the very future of the world itself.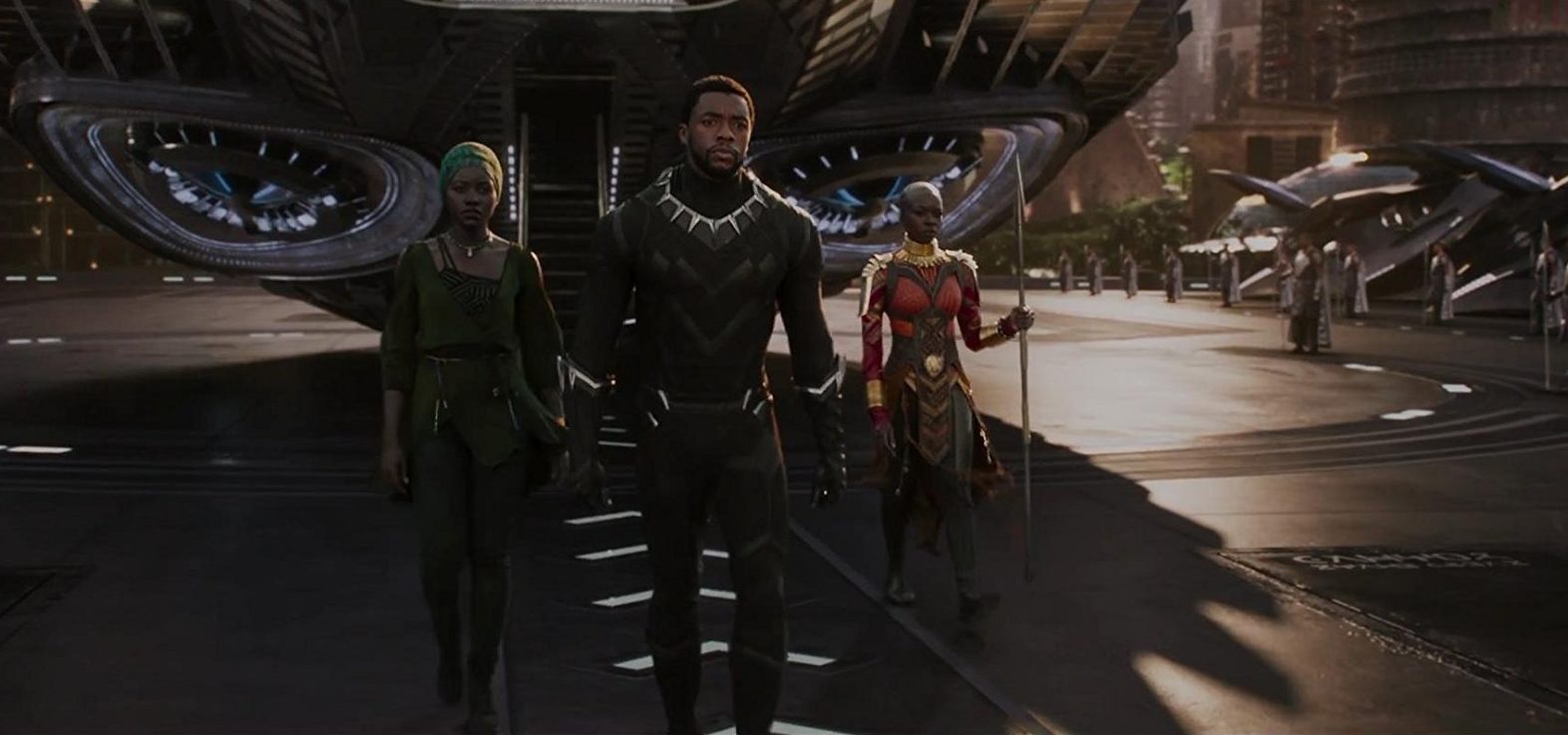 Photo: Disney/Marvel Studios
I will unabashedly admit my bias towards this movie from its initial conception. That being said, my fanboy expectations were surpassed thanks to the brilliant execution of director Ryan Coogler, the seminal work of costume designer Ruth E. Carter, the production design of Hannah Beachler, and the cinematography of Rachel Morrison, along with executive production by Nate Moore…to name a few behind this behemoth of excellence. Coogler's Wakanda feels very real and is enhanced by Carter and Beachler's afrofuturistic designs. The result is a nation parsed out of untainted inspirations from African culture rendered in tangible detail. This team has created a reality that is such a technological marvel it would make Tony Stark shutter Stark Enterprises and open a shawarma shop in Hell's Kitchen.
"Amidst strife, poverty, inequality and horrors beyond imagining, should Wakanda protect its utopia or show itself to be a beacon of hope for the world?"
With that foundation, the creative team unleashes a spectacle of excellence that moves this story from beginning to betrayals to a climax that is stunning and tragic. At the heart is T'Challa's struggle to balance preserving his country's culture versus making a mark in a world that can benefit from their help. Amidst strife, poverty, inequality and horrors beyond imagining, should Wakanda protect its utopia or show itself to be a beacon of hope for the world? It's an incredibly complicated choice that the script, by writers Ryan Coogler and Joe Robert Cole, ponders through every argument for and against. If you're thinking this is a lot for a superhero movie to carry, it is and Black Panther ultimately delivers the only acceptable solution.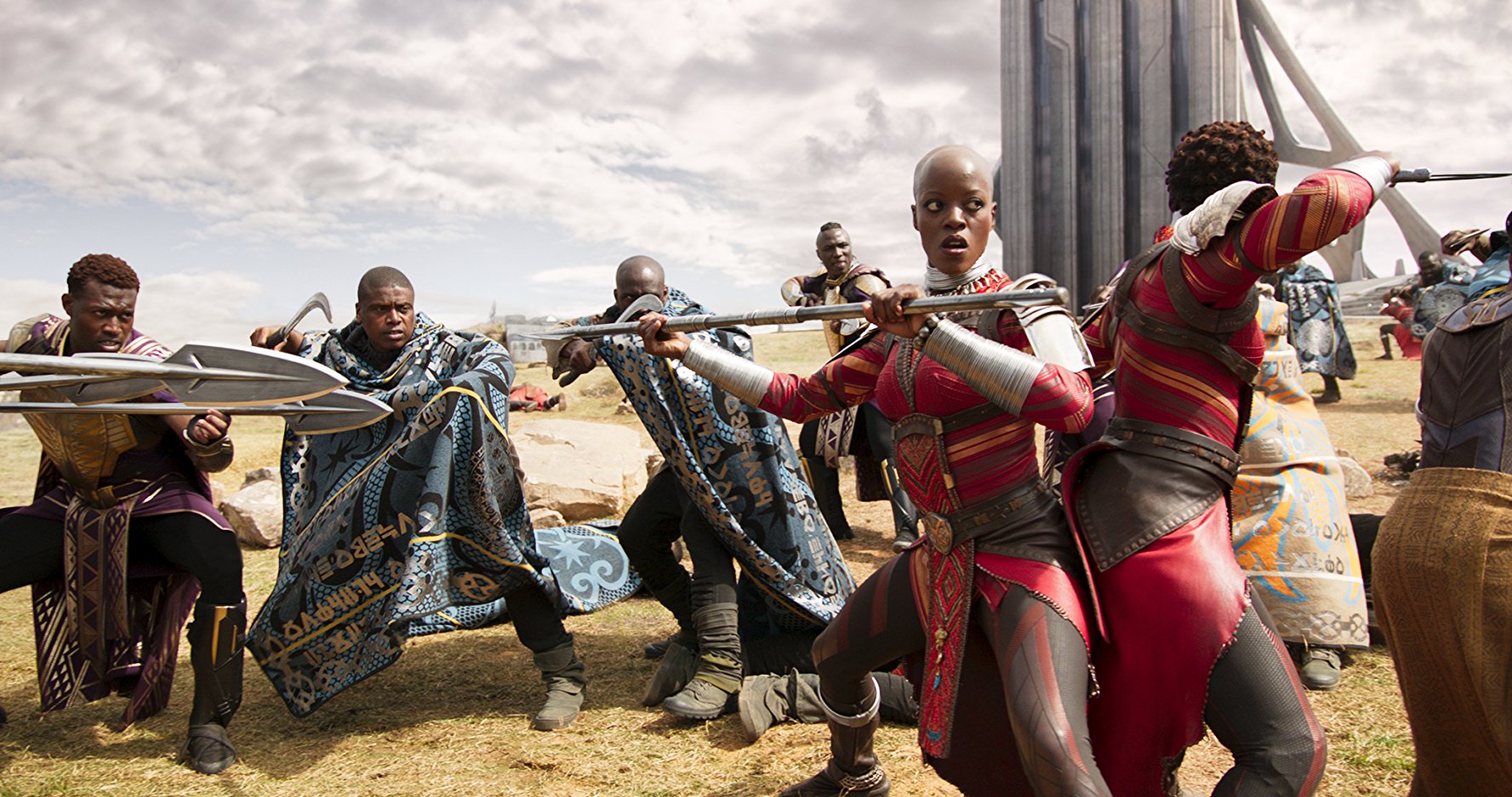 Photo: Disney/Marvel Studios
The riveting performances of the cast reveal a tapestry of emotions, excitement, and conflict as rich as the backdrop itself. Lupita Nyong'o as a sleek and stealthy war dog, Nakia, portrays the battle-hardened spy with a vision of what Wakanda's role should be. Danai Gurira as General Okoye, leader of the Wakandan special forces and the king's guard, the Dora Milaje (The Adored Ones), delivers a whimsical edginess that is both awe-inspiring and at times myopic in dedication to tradition. Additional kudos go to Andy Serkis whose portrayal of Klaue brought an unexpected bit of terrifying levity to the story, and Winston Duke as M'Baku, head of the Jobari (one of the 5 tribes of Wakanda) is an unexpected light in the film. These performances make Black Panther not just a movie about superheroes but more importantly a movie about people.  
"The riveting performances of the cast reveal a tapestry of emotions, excitement, and conflict as rich as the backdrop itself."
Finally we come to our hero, T'Challa. Boseman delivers another good performance in the role of the conflicted and newly crowned hero-king. Part of T'Challa's exploration of his new role includes meeting our "villain" Killmonger, an antagonist who matches the gravitas of the protagonist—something we haven't seen since Tom Hiddleston's Loki. It is said a hero is defined by their villain and Michael B. Jordan takes on his role with a fervor that had me spinning. Yet calling Killmonger "just" a villain would marginalize the effort Jordan put into this role. He presents us with an antagonist who is both abhorrent and appealing in his conflicting nature. Not saying I drank from Killmonger's cup of moral ambiguity and rage but… Jordan's portrayal of this tortured soul made me forgive his role as the Human Torch in the pit of sorrows known as The Fantastic Four (2015) and that's magic.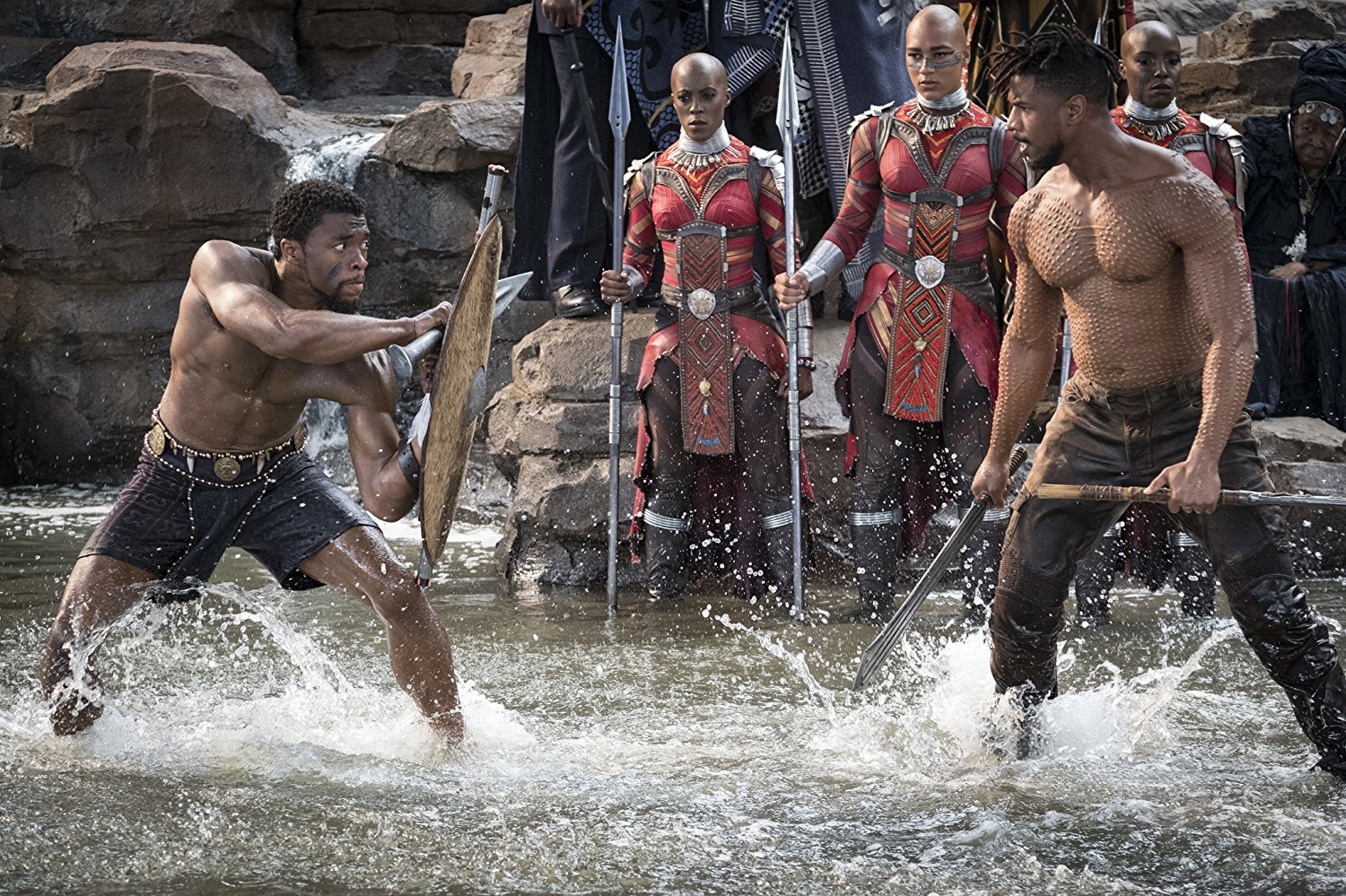 Photo: Disney/Marvel Studios
BUT what about the beam-blasting excitement seen in the Iron Man franchise? The booming-punches of Thor? The high-flying action we loved in Spider-man: Homecoming? I know you're tempted to ask if Black Panther is a high concept depiction of the old Marvel adage: With Great Power; Comes Great Responsibility. YES, it is! It is also an epic adventure of heroes, super cool logic defying gadgets, things going BOOM, punches to the faces of bad guys, and the trademark whimsy of the MCU.
In the end: Thirsty for a hero that breaks the mold? Sit back and marvel at the underworld shenanigans and the high-octane exploits of the MCU's newest standout. Black Panther gives you five full courses of action, tragedy, triumph, betrayal, and adventure in an afrofuturist world that isn't real but will make you wish it was.
—