Rated 7/10 for Nostalgia
Basically: "Sometimes things don't make sense, until the end of the story" but have Bill and Ted reached 'the end'?
In the beginning…wait…we should probably fast forward. I'll start again. 
When we first rejoin Bill S. Preston Esq. and Ted Theodore Logan the Third they're at a family wedding. Their favorite babysitter turned stepmom, Missy (Amy Stoch) is getting married—again. After a cute yet clueless toast, Bill & Ted (Alex Winter, Keanu Reeves) play a song that sounds like an alien rescue party. So…not great.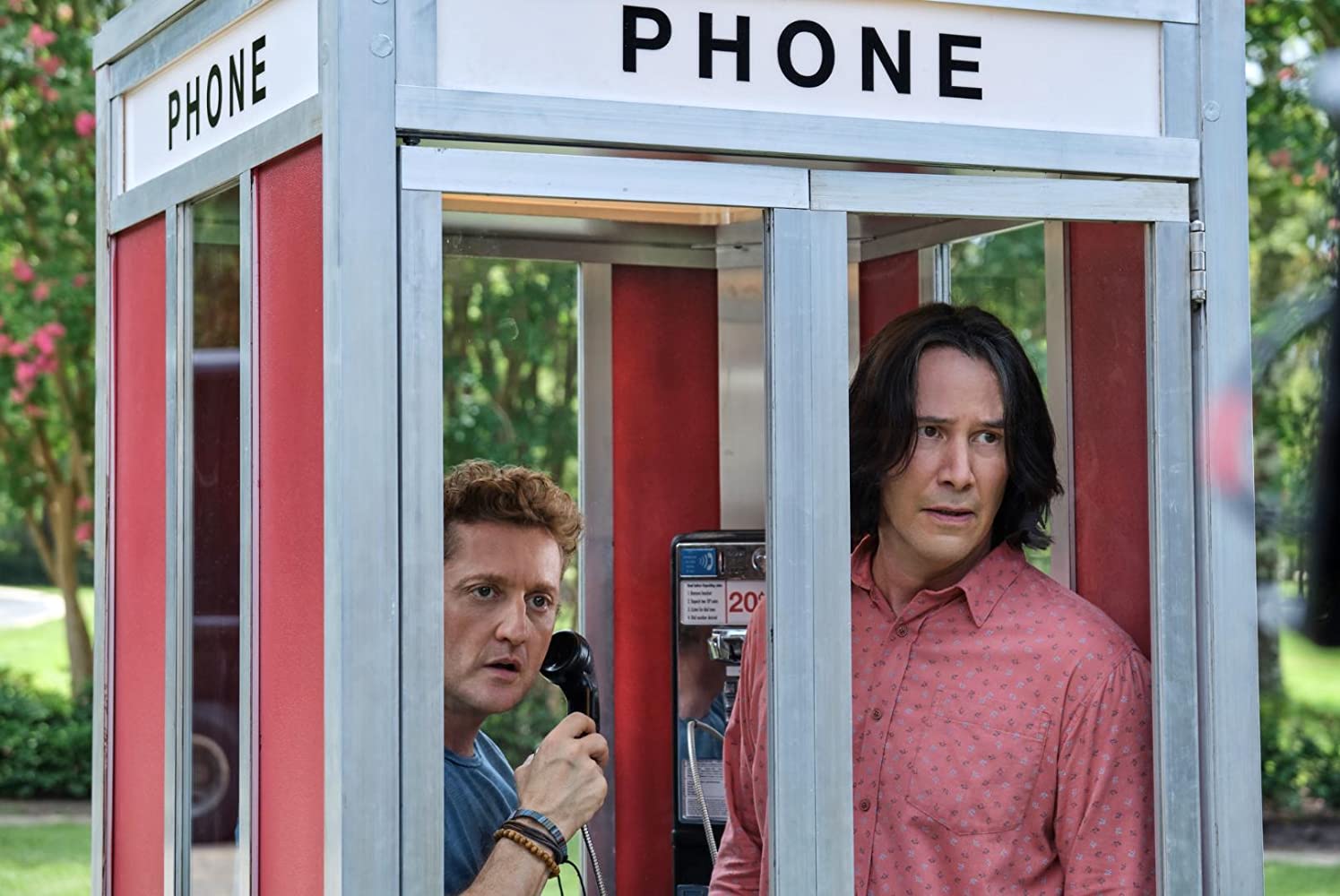 Photo courtesy of Orion Pictures
Although they are prophesied as the architects of a utopian future based on sweet tunes and being "excellent to each other," Bill & Ted's musical careers are on a serious slide in the wrong direction. They have loving wives (Erinn Hayes, Jayma Mays)—who used to be medieval princesses—and a pair of resplendent daughters who are basically their clones (Samara Weaving, Brigette Lundy-Paine), still they haven't changed. At all. Which might be part of the problem. Afterall, art requires growth. Right?
That's when the future comes calling—again. This time their guide is Kelly (Kristen Schaal), the daughter of Rufus (George Carlin), who happens to be the future man who started it all. We have to take a moment to raise our glasses to Carlin, who left us in 2008. No matter how much fun you have with this movie, Carlin's deadpan delivery and improvisation are missed.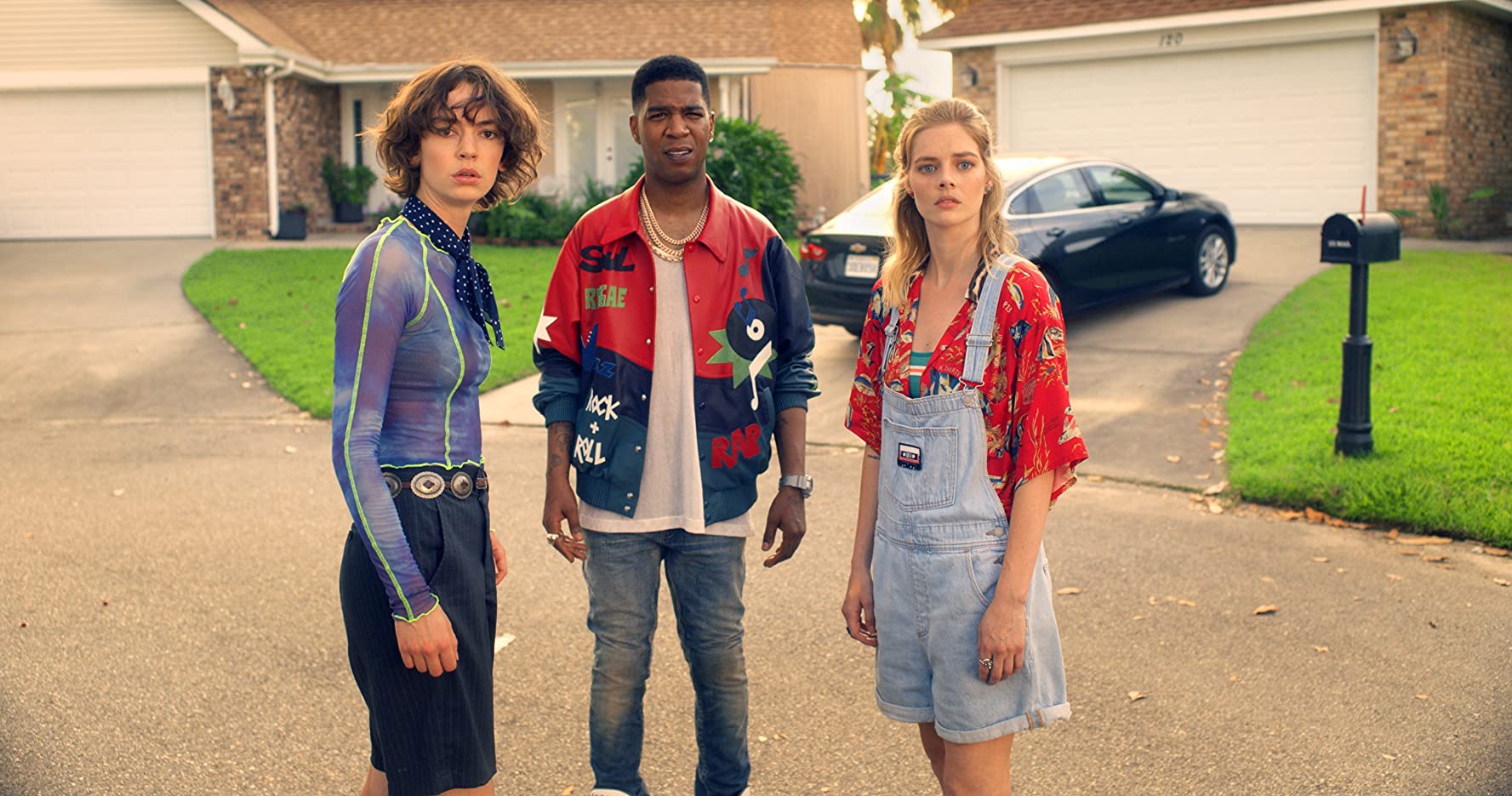 Photo courtesy of Orion Pictures
Back to Face the Music. Kelly drops in from the future…and…thus almost everyone ends up traveling through time. Including me. Wasn't that you I saw at Woodstock? Or was that you storming the Bastille? 
Wait, I forgot to tell you, the fabric of space and time is unraveling. Just don't ask why. Well, you could ask but the movie doesn't have an answer. *shrug*
Yup. Also thusly, I don't think a critical review is the right way to go here. I mean, my grandmother would likely call Bill & Ted: Face the Music "some foolishness." And she'd be right. This movie is frothy with frivolity, fraught with the fantastic, and fueled by nostalgia. It is silly in the extreme, with no identifiable plot other than to have the most fun possible while snatching as many musical legends out of the timestream as possible. Oh and William Sadler returns as Death. Oh oh and the daughters turn out to be the second coming of The Blues Brothers. So what are we going to complain about? Nothing much. Just switch your brain to low power mode and let the eyerolls and the giggles take over.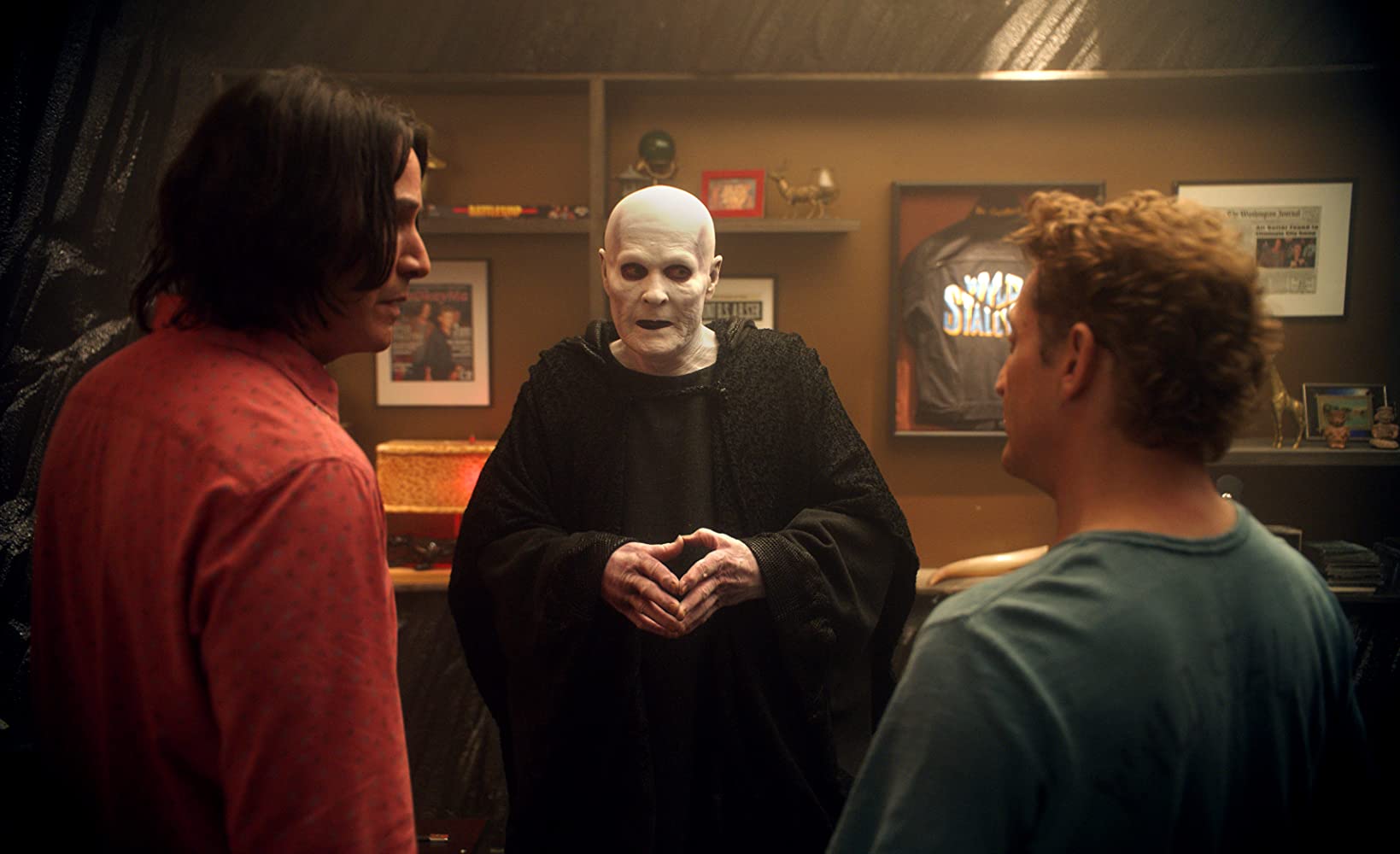 Photo courtesy of Orion Pictures
Okay, there's one thing to complain about. Let's not have the greatest drummer of all time—who appears to be some kind of ancient African, complete with dreadlocks—play the drums with bones. Okay? Thanks.
The acting is campy. The makeup artistry is high. The plot threads dangle (there could be a lot more "afoot at the Circle-K" this time around but it could also be less overstuffed with fluffiness). And the ending is predictable. Yet, it's hard not to enjoy Face the Music because it's a Bill & Ted movie—we need "some foolishness" in our lives right now that doesn't cost life. 
In the End: Switch your brain to low power mode and let the eyerolls and the giggles take over. Bill & Ted have fired up the telephone booth for an escapist adventure.