Basically: A story of a middle-class Jewish American family in Queens, NY, in the early 80s marred by poor handling of race.
Armageddon Time will probably get excellent reviews and hit the awards circuit with all the great campaigns. You'll hear about Anthony Hopkins as Grandpa Aaron, the wise patriarch of this Jewish American family who's the only person our young protagonist Paul (Banks Repeta) listens to. You'll probably see Anne Hathaway on a Hollywood Reporter-style roundtable because of her performance as Esther, Paul's mother who's doing her best to make sure her kids have the best lives while still striving for her own desires. You'll even see kind words about Jeremy Strong as Irving, the handyman father who has most of the laughs yet has an anger his children fear. He plays a character straight out of the Coen Brothers' A Serious Man—but that's a tangent. 
The film sounds like a lovely little family coming-of-age drama. We follow Paul as he enters sixth grade in 1980 in Queens, New York. He's trying to figure things out, find his place in the world, listen to the right advice, and learn from whatever mistakes land him in trouble. Damn, that sounds like a good season of the OG Wonder Years, right? However, there's one big problem with this movie: A character named Johnny.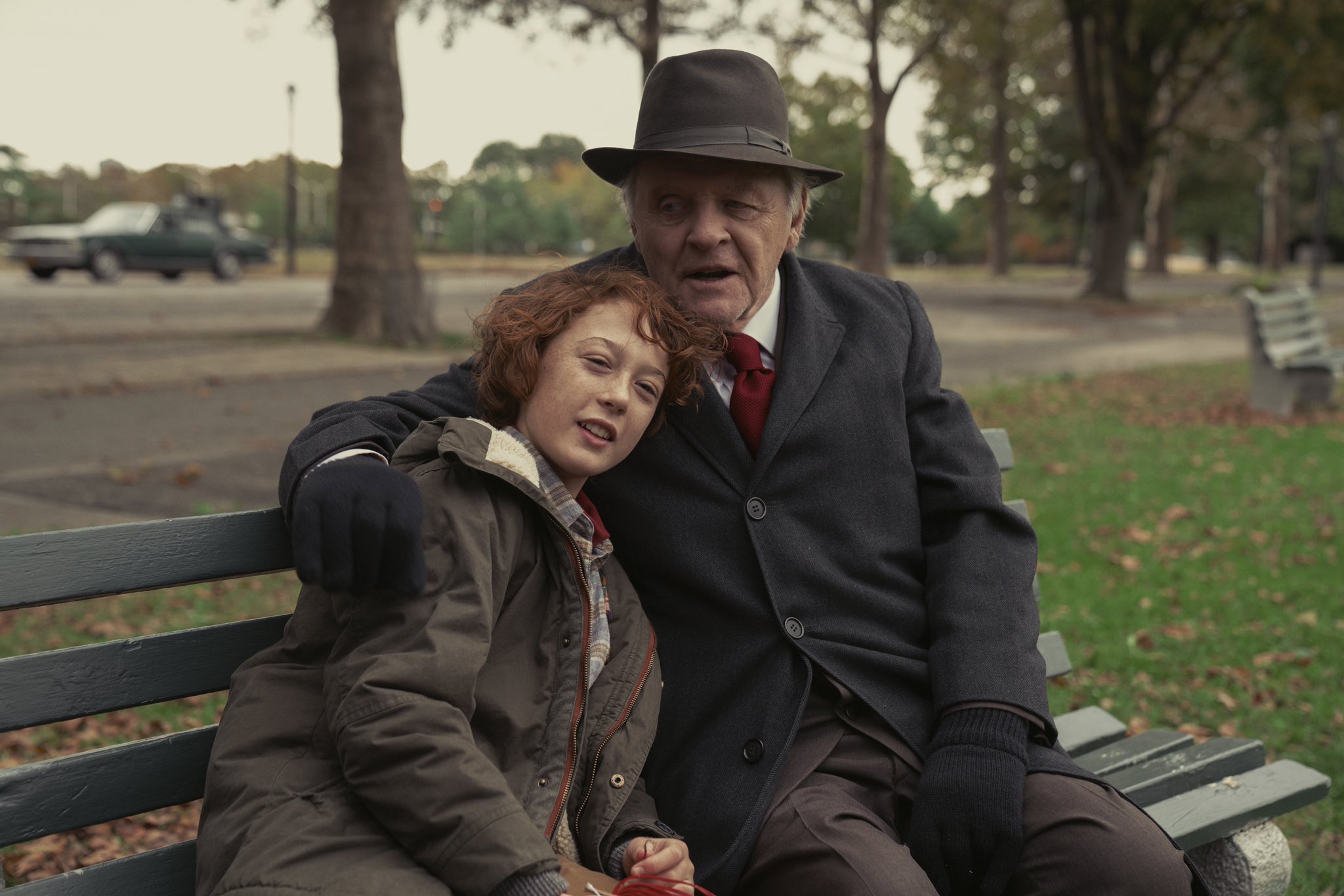 Johnny is played by Jaylin Webb, who is an outstanding actor and equals the rest of the cast performance-wise. Some of the most authentic acting in this film is from him, in his body language and face. But damn, Johnny…Johnny. The film modeled this kid after a stereotype from the late 70s/early 80s sitcom era. He and Paul become friends in school after Johnny was held back in sixth grade for another year. Johnny is already on their teacher Mr. Turkeltaub's (Andrew Polk) bad side. One day Paul makes a scene in class over a drawing he does. They both get in trouble–Paul for a major offense and Johnny for a very minor one, yet they get the same punishment.
When we see Johnny get in trouble again for something Paul did because the teacher "has eyes in the back of his head," Paul feels terrible, so he reaches out while they both miss recess/gym. They bond over rockets and we learn how, even though Johnny constantly gets in trouble, no one pays attention to him and just sends him back to class. We also learn that he has no parents and he's living with his grandmother, who is sick and can't take care of him. He has no phone at home for the school to call. He's the kid who brings weed to class and gets everyone in trouble. He also later becomes homeless.
Johnny is every terrible and downtrodden stereotype of a Black child the media throws at us. He gets all the blame, and then (spoiler alert) he willingly takes responsibility for the most significant thing he and Paul do—even after Paul admits to being the ring leader. He chooses to sacrifice his life and freedom so Paul can be free and not get into trouble. And the kicker? Paul's father basically gives him a BS version of the Don Draper "Move Forward" speech from Mad Men.
So I sat in the theater after the film was over, thinking about how Armageddon Time portrays a nice liberal family. One where we visibly see the significant adults in Paul's life be anti-racist and trash Reagan. We see Paul feel uneasy in the private school he ends up being transferred to as the white kids there are openly racist. But then we have the weird and terrible handling of Johnny, which feels like the movie made a poor choice of not talking to any Black people.
Johnny introduces Paul to hip-hop and he's from Hollis, Queens—the same Hollis made famous by Run DMC. Even though I've never been there, I think of Hollis as a nice working/middle-class Black community of that time, and I've been told as much. Couldn't the film find a little time to explore Johnny outside his friendship with Paul and see how the world treats them together? Couldn't we see two boys, who live similar lives in similar nice neighborhoods, be outcasts together? Couldn't the world tell them BOTH to be realistic when the Black kid dreams of being an astronaut and the white kid dreams of being an artist?
Armageddon Time uses graffiti for its title and, honestly, there's no real exploration of hip-hop as a culture or force for change in these kids' lives, other than some talk of seeing Sugar Hill Gang. That's what makes this film disappointing—you can see its potential if it was more thought out or if they had written Johnny's character better. Black sacrifice is played out but unfortunately, it might still be cinematically profitable and celebrated. 
In the End: Armageddon Time may be an excellent film for some but its handling of race will leave others very cold.