idobi Votes: 8/10 – Sherin Nicole | 8/10 – Alex Bear
The first thing that will immediately strike you about Arlo the Alligator Boy is the animation—it's got the charm and whimsy of Adventure Time and the expressions of the colorful characters are surprisingly deep. Yet Arlo is also imbued with a style and sense of humor that will take you back to a pineapple under the sea. The second thing that pulls you in is the main character, Arlo (Michael J. Woodard) himself—he's a half-human, half-alligator teen who's irrepressible and adventurous. He knows there's more to life beyond the swamp where he grew up with his adoptive guardian Edmée (Annie Potts), the only family he knows. And thirdly, the journey he goes on will make its way to your heart. Oh and Arlo the Alligator Boy is a musical too, filled with all the joys, dance numbers, and magical character arcs of Broadway.
The idea of "finding the place where you belong" is a classic theme because when it's done well it sings—with its music and its sensitivity, Arlo the Alligator Boy is belting out good vibes. When Arlo sets out toward the bright lights of "New York City!" in search of his long lost father, he doesn't expect to find a family of friends along the way. In perfect harmony to Arlo's sunniness, we meet Bertie (Mary Lambert), a summer cloud of protective shade. Bertie, like Arlo, doesn't always fit in but her strength of character and his optimism make for a sigh worthy friendship.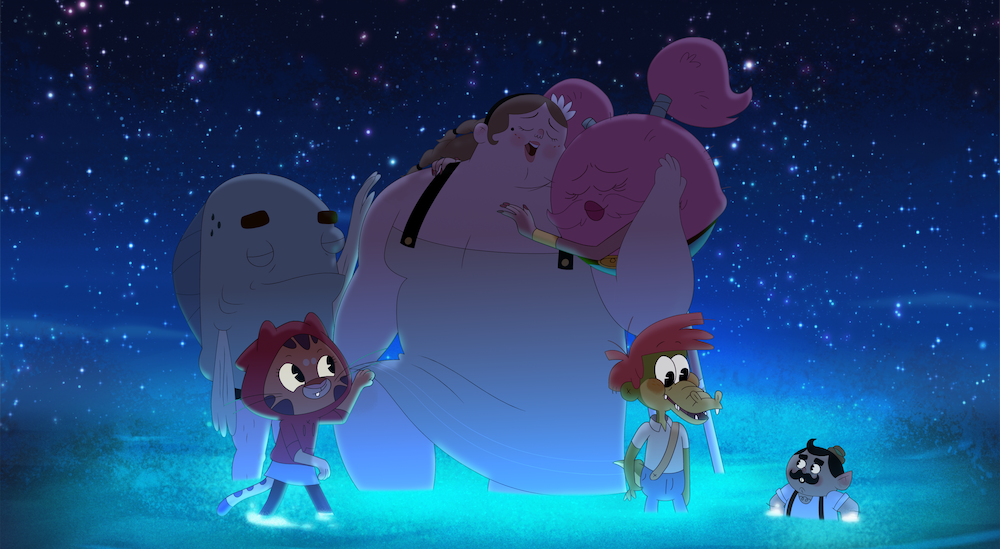 Photo courtesy of Netflix
And there are others who sway along to Arlo and Bertie's love for life. The emo kitty, Alia (Haley Tju) and the fur-rocious-ly fabulous Furlecia (Jonathan Van Ness) are favorites. In turn, through his newfound friends, Arlo gains a deeper understanding of the complexities of relationships and why the politics of "fitting in" aren't always good for the people—especially when your soul has its own singular song to sing!
Arlo the Alligator Boy is simply beautiful; nuanced in ways that are accessible to kids no matter their age. It carries important messages about found family, dealing with pain and rejection, and accepting your true self. As the story rolls along many of those messages are delivered best through song—with euphoric musical anthems like "Follow Me Home" that will get you marching to Arlo's own beat.