Grade: C
Basically: Ant-Man and Wasp is a film about family, adventures…and staying out of jail—'cause nothing's gonna stop this Marvel movie from being a great deal of fun.
Ant-Man and the Wasp is the first movie from Marvel Studios since Avengers: Infinity War but, as it turns out, this story is set before the catastrophic battle with Thanos' in the timeline. So it's a little more light-hearted and, with Peyton Reed back as director, the movie bears his comedic leanings. In fact, one could easily describe it as an action-comedy. Marvel continues to blend laughs with serious material which makes the movie going experience all the more enjoyable.
This is also the first entry from Marvel to feature a female heroine in the title—and the film benefits from having a female lead. Evangeline Lilly has considerably more to do here than in 2015's Ant-Man. Her increased role was teased in that movie's post credits and is right in line with the significance of Ant-Man and the Wasp, who were founding members of the Avengers in the comic books. Lilly is a great actress and does an outstanding turn here as Hope Van Dyne, daughter of Hank Pym. Hollywood veteran, Michael Douglas, reprises his role as Hank and Michelle Pfeiffer joins as Janet Van Dyne, the original Wasp. Also returning is Paul Rudd as Scott Lang, the second Ant-Man.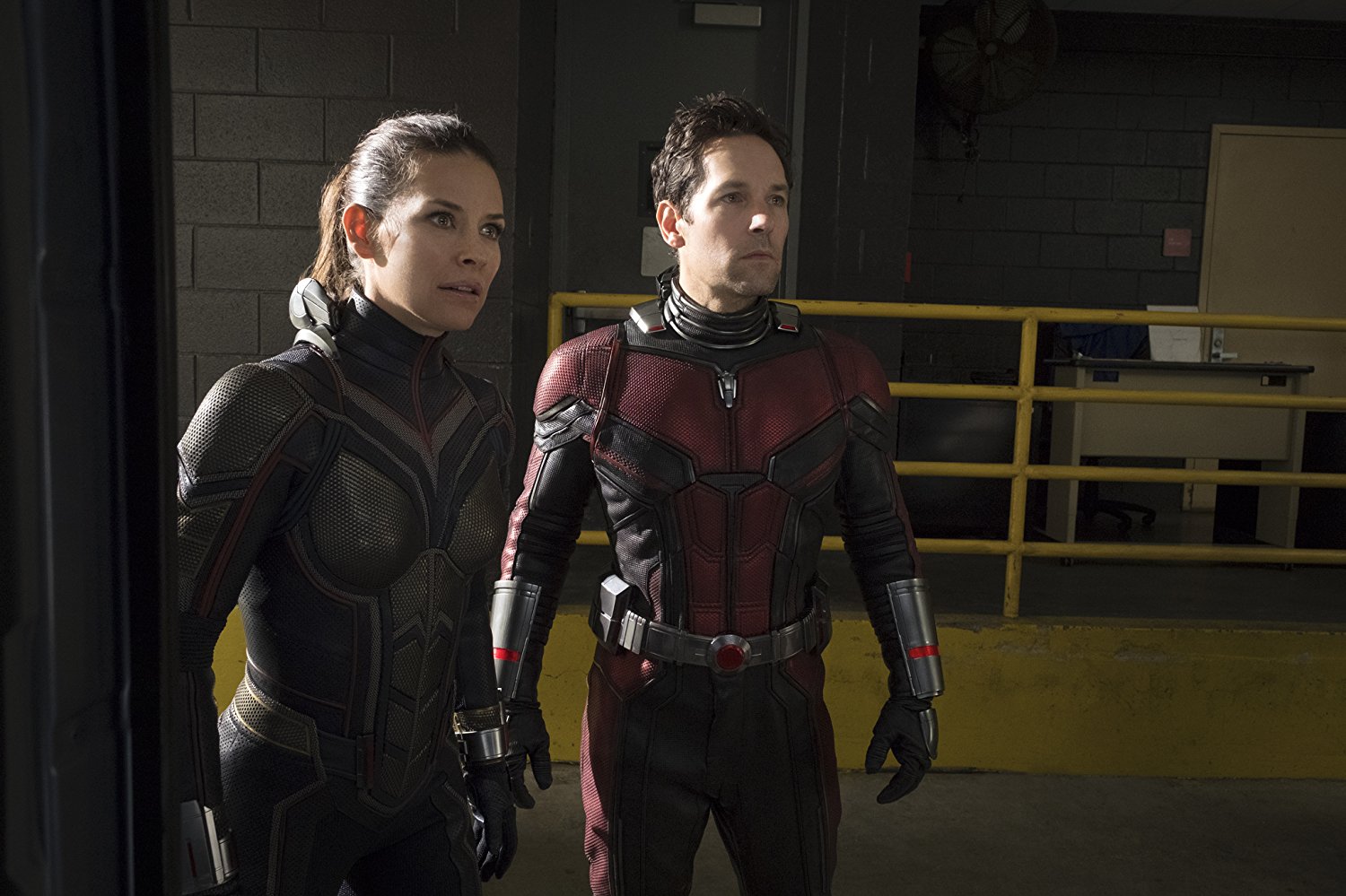 Photo: Marvel
This is our first look at Lang since the events of Captain America: Civil War and we learn early on that he cut a deal to stay out of jail after having helped the fugitive Avengers. Staying out of jail means house arrest and Scott uses the time to go on adventures with his daughter. You'll see what I mean. Meanwhile, Hope is missing her mother and she and her father, Hank, decide to do something about it. Even the primary villain, The Ghost (Hannah John-Kamen) has family ties that come into play. One could say Ant-Man and Wasp centers on parents' relationships with their children and the ways families come together—but that doesn't stop it from being a great deal of fun.
Yup, everyone you liked from the first movie is back: Michael Peña, T.I., and David Dastmalchian as Lang's friends; Judy Greer and Bobby Cannavale as Lang's ex and her boyfriend; and Abby Ryder Forston as Lang's daughter. There are plenty of new faces too. Along with Pfeiffer, we have Walton Goggins as criminal antagonist, Sonny Burch, and Hannah John-Kamen as The Ghost. It's worth noting that The Ghost in the comics is male, making this incarnation one of the first female villains in the MCU. John-Kamen is very good in the role. I particularly enjoyed seeing Laurence Fishburne playing Dr. Bill Foster and Randall Park as F.B.I. agent, Jimmy Woo, given their history in the comic books. Foster was a superhero known as Black Goliath and Woo was one of the first prominent Asian heroes in S.H.I.E.L.D.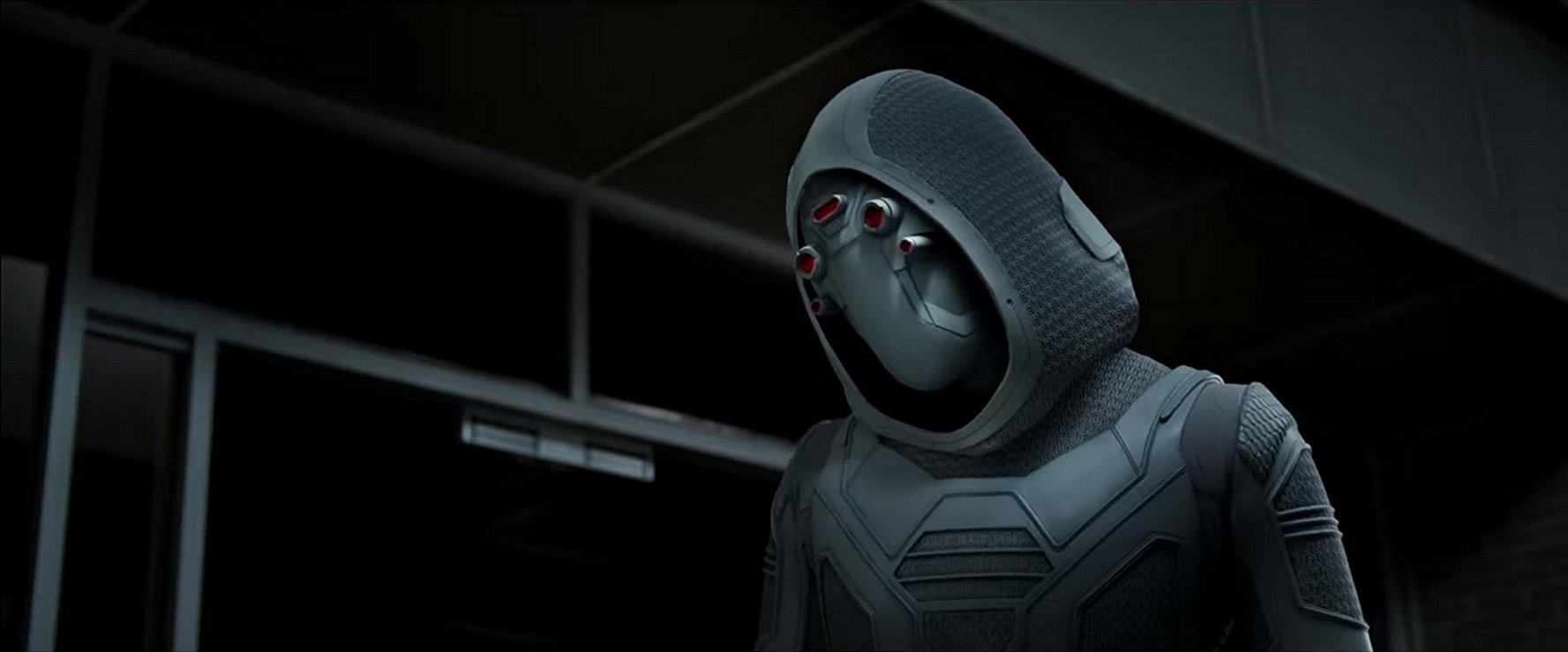 Photo: Marvel
What I really liked about Ant-Man and the Wasp is the way it nods to comics with inclusion of familiar characters. Plus, it has some terrific gadgets and gear that will remind comics readers of stuff that the Fantastic Four's Reed Richards might have built. Of course, the effects are exceptional as to be expected from a Marvel Studios offering. The writing, the delightful score that accentuates what you see onscreen, and the film's star, Rudd, combine for an action-packed script to keep you on the edge of your seat. 
With a runtime of only one hour and fifty-eight minutes it comes in as shorter than most Marvel movies—but it feels longer…and that isn't a bad thing. You won't be checking your watch. Although it has a PG-13 rating you can take even younger children without reservation. There were a few plot and character inconsistencies but Ant-Man and the Wasp is a definite step up from the original.
In the End: Ant-Man and the Wasp blends action and comedy with more serious fare to make for a fun night out.