Basically: Once was chance. Twice was coincidence. Three times is a habit. And Gerard Butler is definitely back to old habits but this time he has to save himself…oh, and the President…again.   
Mike Banning (Gerard Butler) is back. And this time it's personal. In the third installment of what can only be called the "Fallen" franchise, we return to the world of the secret service agent. If you have seen Olympus has Fallen and London Has Fallen, you know the premise of this new franchise…although, according to director Ric Roman Raugh, as far as he is concerned that story trend will not be the case. In the first two movies Mike Banning was the Yankee-doodle-drop-kicking hero—okay, there was no drop-kicking but there should have been! However, with Angel Has Fallen, Raugh decided that our hero needs more depth than simply using a bigger knife to win. (Besides, I think Crocodile Dundee already has that covered.)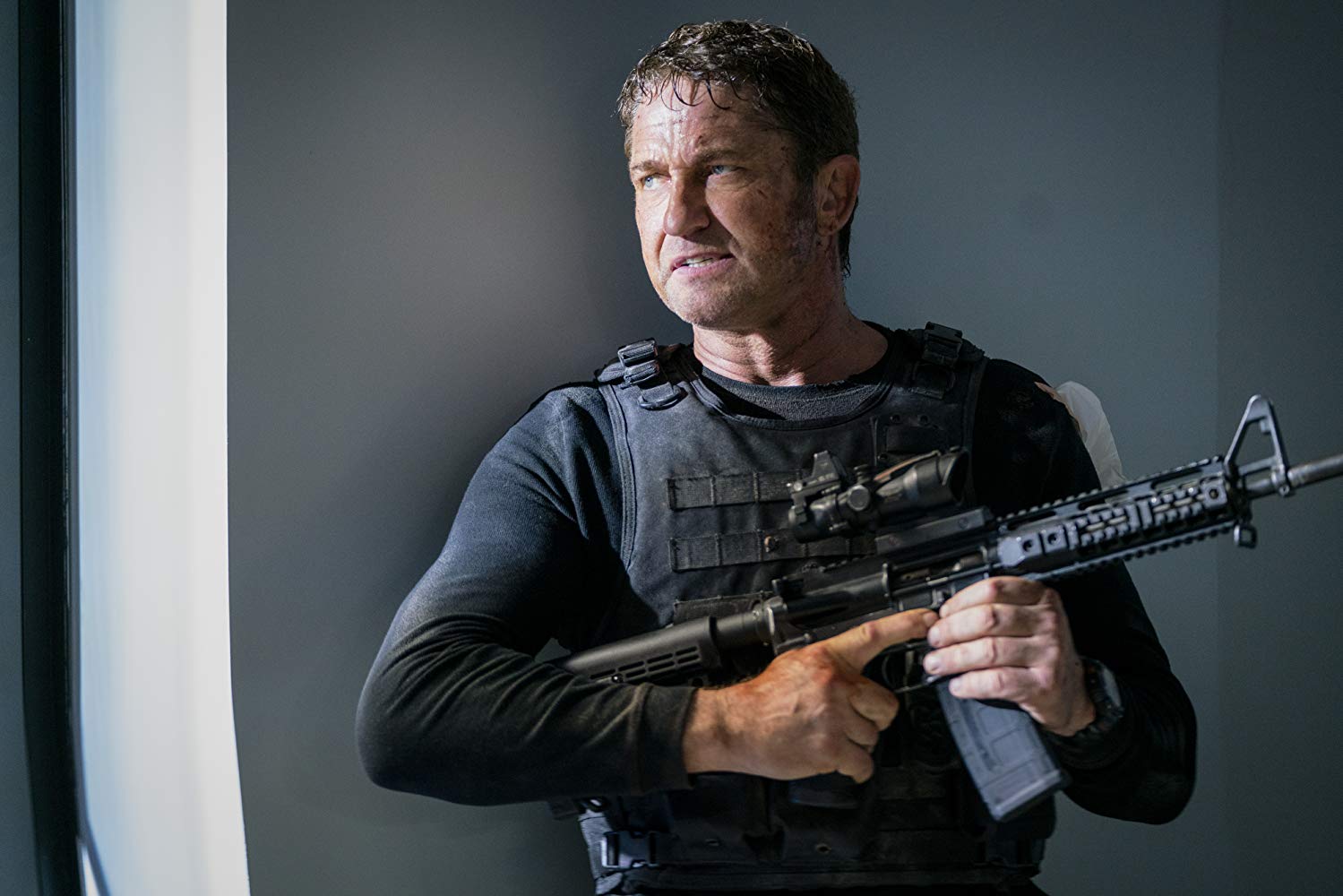 Photo by Jack English / courtesy of Summit Entertainment
In this adventure we get a more personal story. It's a bit of a departure from watching Mr. Banning stomp a mud-hole in a terrorist ass and walk it dry. So what happens when the bumps, bruises, bullets, and booms finally catch up with our intrepid hero? What happens when our hero gets old? What happens the day after tomorrow? Raugh and Butler attempt to answer all these questions.  
Before the feels kick in, let's talk about the fun part: Mike is a celebrated hero. Best friend to President Allan Trumbull (Morgan Freeman). They even go so far as to call him the President's Guardian Angel. However, as is always the case, a looming shadow of treachery and betrayal falls on our cast placing Mike square in the middle of diabolical machinations that hit too close to home. The curtain drops and a game of cat-and-mouse begins. Banning must now uncover a conspiracy, save the President, and clear his name. This time, however, Mike is dealing with the limitations of his body, which is falling apart beneath his gung-ho attitude. After all, how many explosions can one man take before the bowl holding the marbles starts to chip away? He must also deal with a crisis of faith. The man saved the White House from burning down (again—thank you, War of 1812) then kept London Bridge from falling down…mostly. You would think he could be afforded the benefit of the doubt.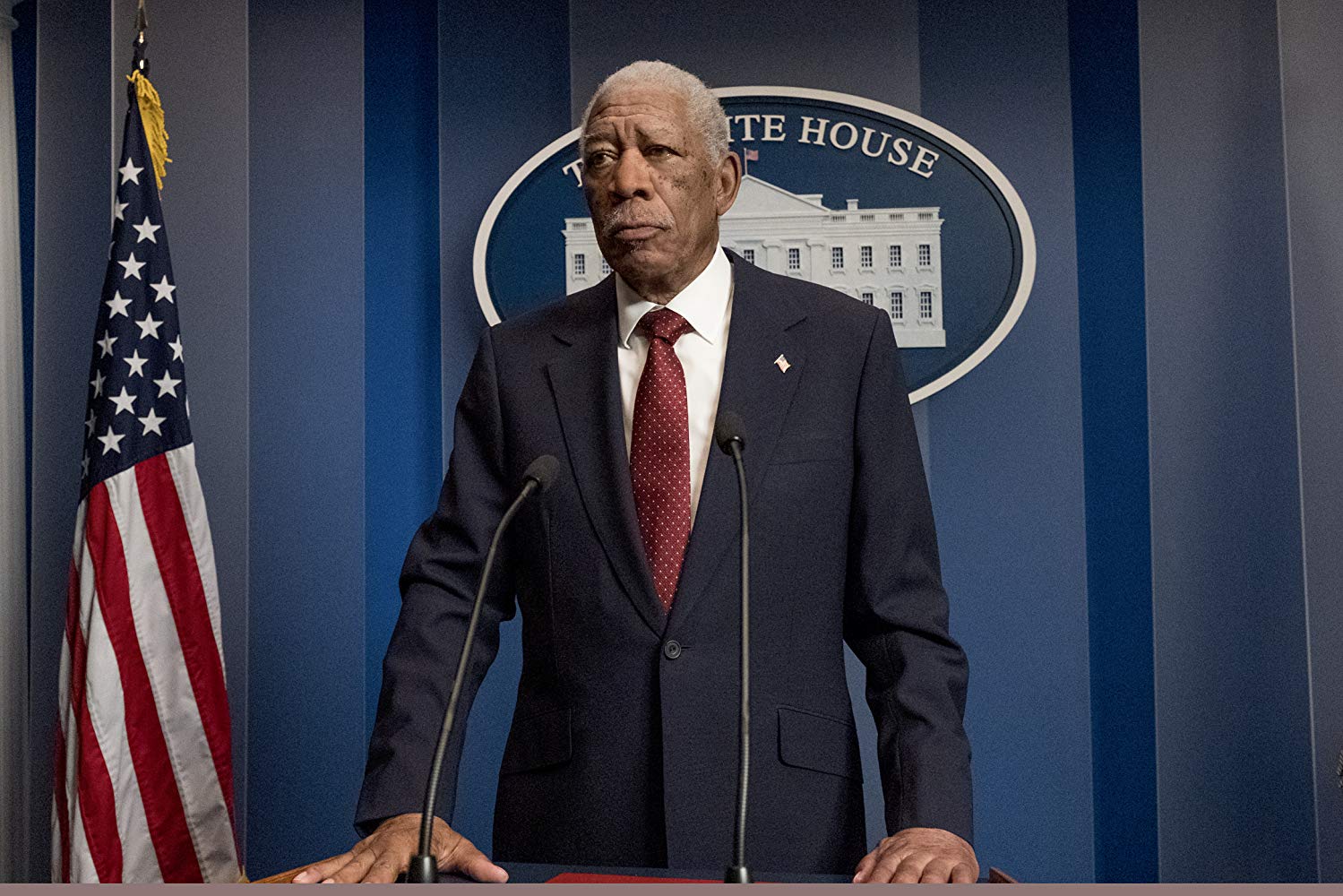 Photo by Jack English / courtesy of Summit Entertainment
Ric Roman Raugh's effort to round out Banning's character from a 90's male caricature into an accessible hero is to be applauded. It's reminiscent of Skyfall. With that said, the story fights itself at times. While the action is well thought out and impressive—due in no small part to Raugh being a former stuntman—some of the "quiet" moments are not given enough time to remind you of Banning's humanity. Several scenes where Banning is at the doctor's office dealing with possible long-term side-effects of his heroics—the stress on his marriage or the likelihood of PTSD or traumatic brain injury—could have used more time on-screen. Another consequence of the imbalance of action in Angel Has Fallen is the one-dimensionality of the surrounding cast. This is definitely Mike's story but cast members such as Secret Service Director David Gentry (Lance Reddick), Spec Ops Commander Wade Jennings (Danny Houston), and FBI agent Helen Thompson (Jada Pinkett Smith) all feel less like supporting characters and more like very expensive extras.
In the End: Angel Has Fallen is a fun adventure with real-world scenarios that hit close to home. Butler stretches his role to add depth and make Mike the friend helping out instead of a superhero.