Basically: The expensive TV musical version of a classic Disney animated film.
I loved the original Aladdin. I watched the 1992 film over and over and over again. It's one of my best theater memories from my youth. I watched every televised special about how it was made and read everything I could get my hands on. That film is still is an amazing feat in traditional 2D animation. It has a tight story with a different type of princess and a reversal of roles—Cinderella into a kinda Cinderfella—as well as early CG in an animated film. But now we are in a time when Disney can no longer use the old vault to sell their classics over and over. We have to sit here and watch them remake everything in live-action.
Only a few months after the weak live-action Dumbo we have Guy Ritchie's live-action adaptation of Aladdin. This version stars Mena Massoud as the title character, Naomi Scott as Jasmine, Marwan Kenzari as Jafar, and the Fresh Prince Will Smith as the Genie. I tried my hardest to be objective while watching but I failed—before I tell you why, here's some setup for those who don't know the story of Aladdin: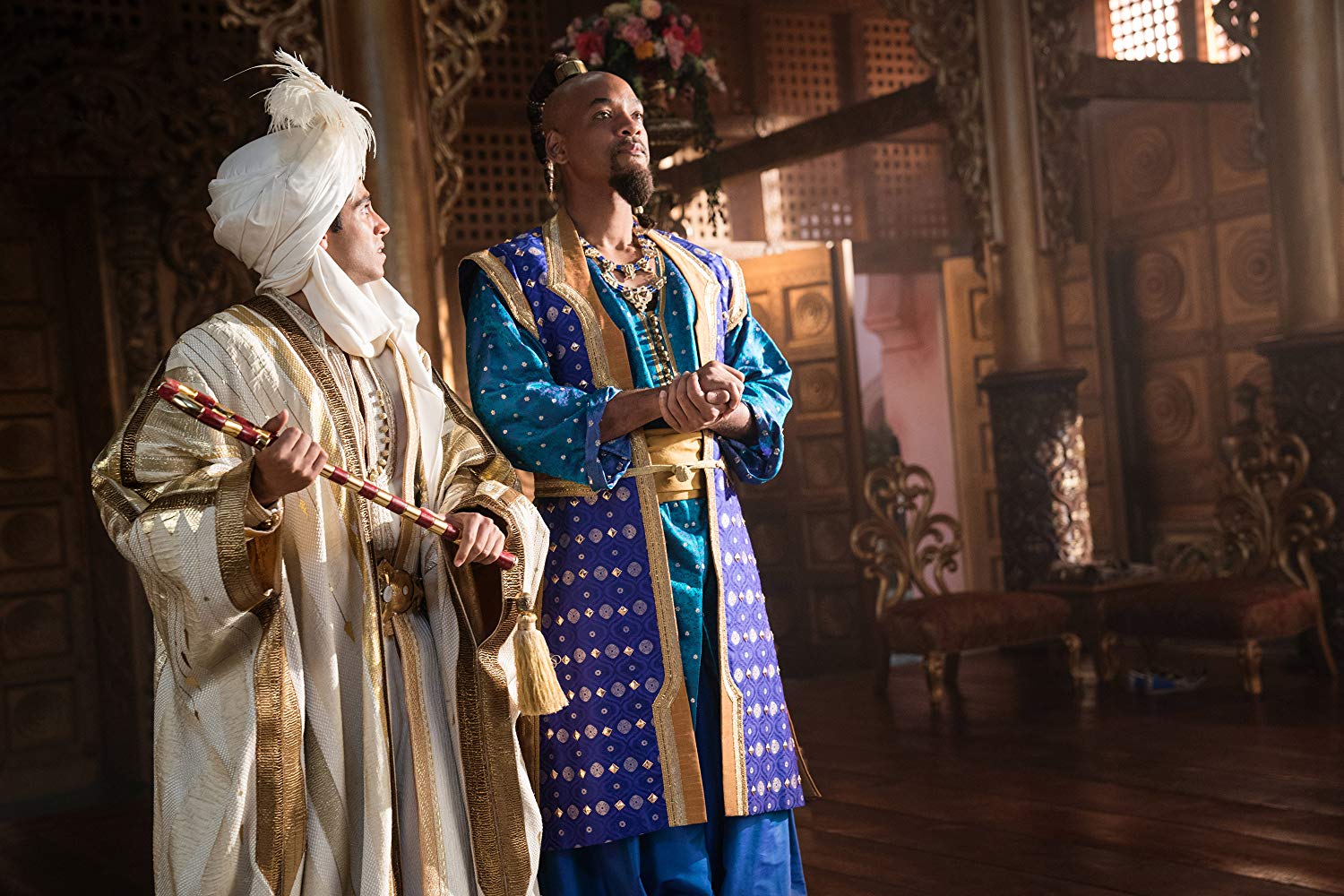 Photo © 2019 Disney Enterprises, Inc. All Rights Reserved.
Aladdin is a poor young man who lives on the streets of Agrabah and survives by being a thief. Here he meets and falls in love with a beautiful woman, who he later discovers is a princess. Meanwhile he finds a Genie in a lamp, who helps him try and win the princess' heart…and many things happen afterward with an evil sorcerer and magic carpets.
Now, back to why I failed at being objective: Wow, this movie left me really cold. Like with zero passion. I watched a bunch of people try to recreate what we first saw in 1992 through what feels like hollow blocking of the original performances, with a little ad lib and some different flourishes of singing performances here and there. You can tell Disney spent a ton on the production but at no point does the setting feel like a real world or city, it always feels like a well-dressed set. This is most apparent in the first song, as Aladdin evades castle guards while running throughout the city. I felt like I was watching something like NBC's The Sound of Music or Fox's Hairspray but shot on film.
All the performers do an excellent job. Massoud and Scott have some chemistry and also sing pretty well, sounding similar to the old voices to tap into that nostalgia. Scott's Jasmine has two new solo songs but they didn't work for me, mostly because they don't really fit in musically with the originals. Even the changes they make to Genie's songs for Smith still have that core melody and rhythmic structure, so it doesn't feel like it's from a different piece of work but that's not the case for Jasmine's new songs.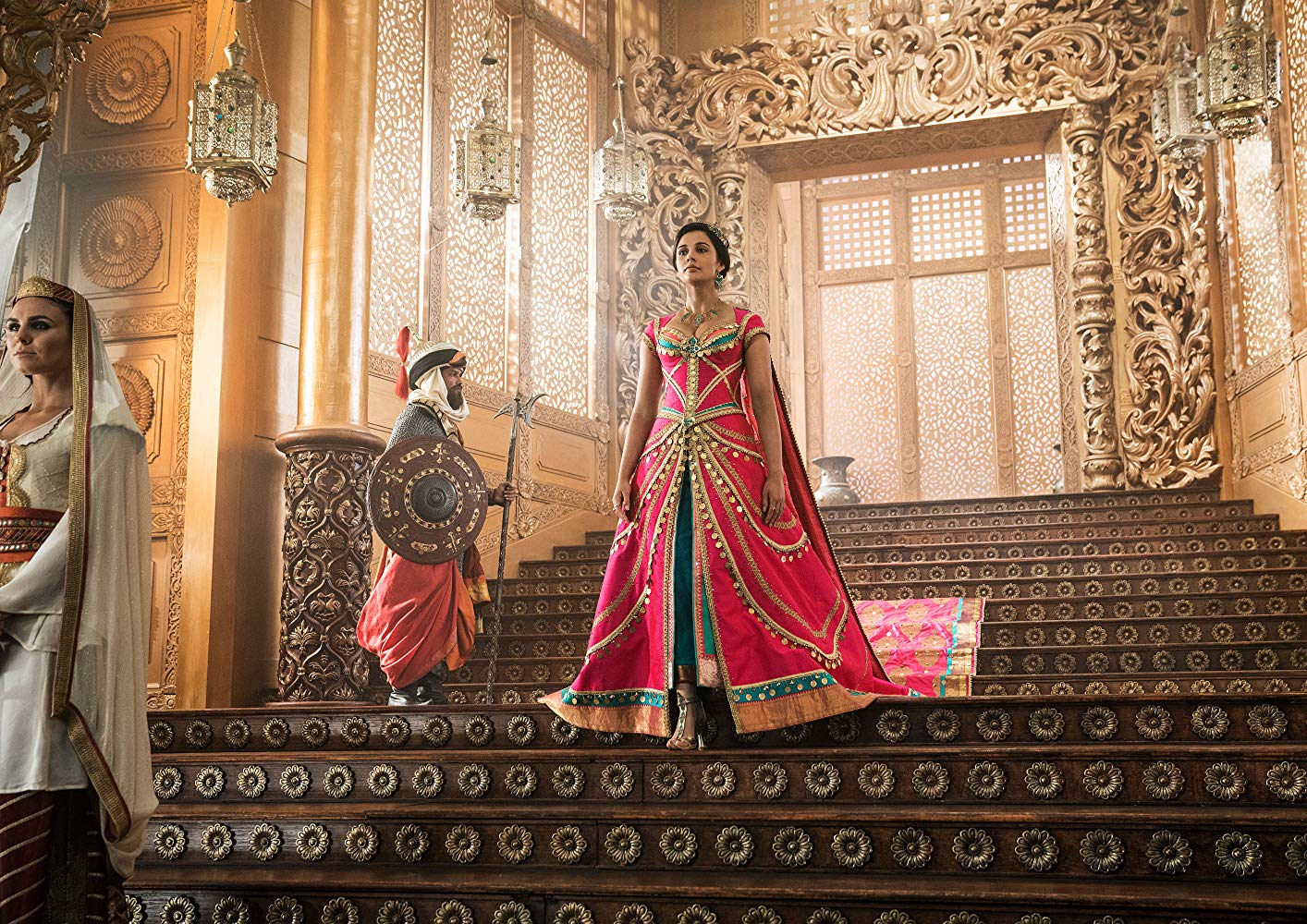 Photo © 2019 Disney Enterprises, Inc. All Rights Reserved.
The issues are more with the direction and visuals. Everything is clean, perfect, and fairly bright to the point where it feels sanitized—the set looks too put together to fall into the world. It's also so close to the old version that I couldn't forget comparisons while watching. A lot of little things bother me about this version, like everything about Jafar (and realistic Iago is wack too) but it could read as being nitpicky by comparing it too much. I feel Will Smith did the best he could in a situation that won't work for some but for new audiences will work great, and he brings a lot of his best comedy to the movie.
Aladdin might work for many, it's a full spectacle with likable protagonists and hits all the notes of the story. The music is still timeless and most of the scenes and jokes still hit even with little updates along with added characters. It'll be fun for kids and families to experience the story together. However this movie makes me question the merits of remaking all the classics. They seem to have ever-diminishing returns and might not stand the test of time as the animated ones have…but only time and tastes will tell.
In the End: An unimaginative remake that can be entertaining but feels empty and forgettable.