Grade: B+
James Gray, the writer/director of Lost City of Z, has given us another story of a father and son who leave women behind to explore unknown territory. Lost City of Z was based on the true story of Percy Fawcett, who traveled through South America in search of the legendary city of gold, inspiring a generation of adventurers. In Ad Astra ("to the stars") an astronaut goes to the farthest reaches of the solar system in search of answers that range from the most cosmic and existential to the most deeply wrenching and personal.
In both films, Gray is better with the settings than the characters and better with the characters than the storyline. And Brad Pitt's acting is better than every other part of the film.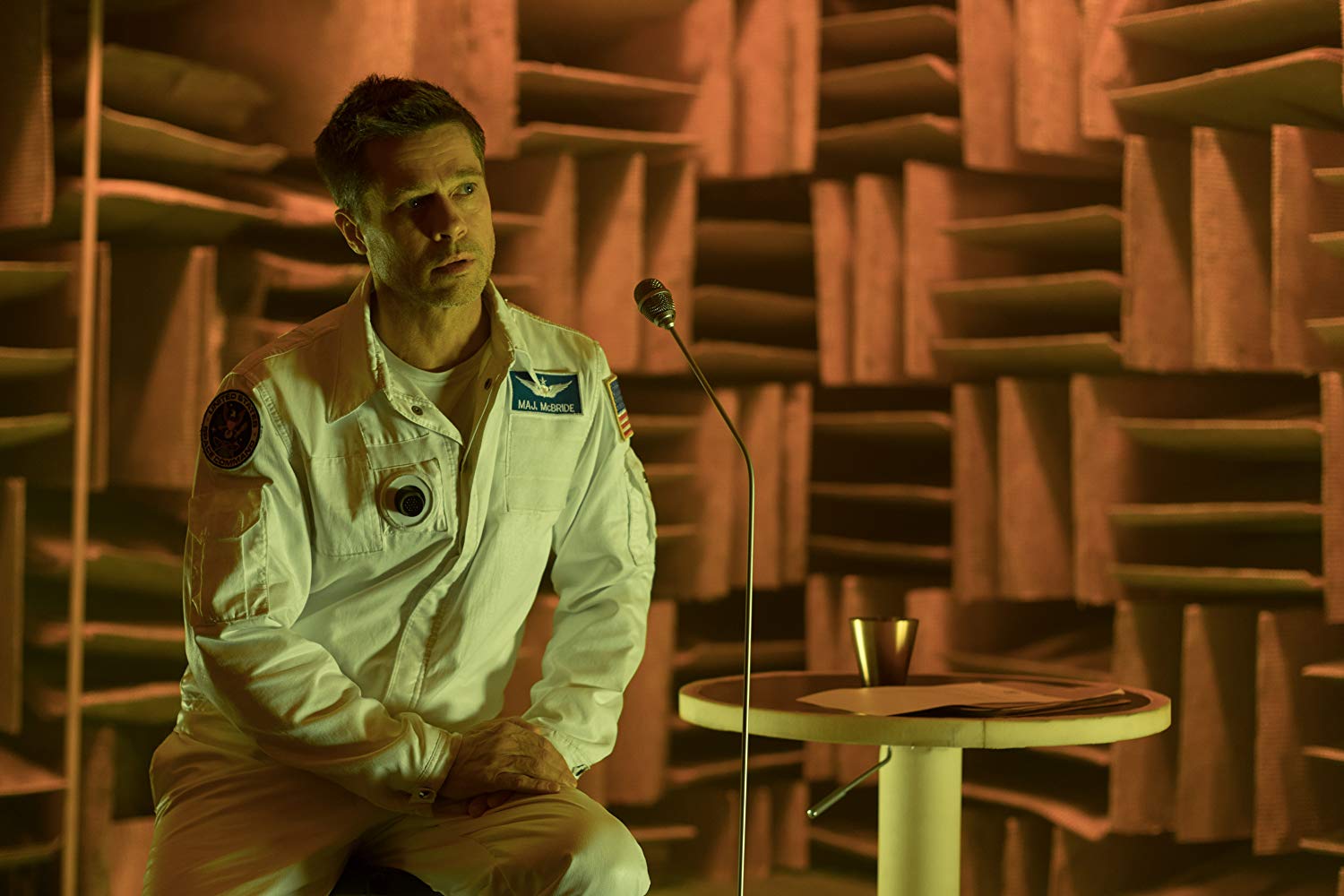 Photo by Francois Duhamel - © Twentieth Century Fox
The look and sound of Ad Astra is spectacular. It creates a completely believable, fully-imagined near-future look and feel of an era of space travel and planetary colonization. It is difficult in a sci-fi movie not to want to show off the coolness of the technology, and make the most of the extrapolations of our time into the worst (or occasionally best) possible outcomes, for example, Earth destroyed by human failings or hubris. But this film makes its imagined future all the more believable by making it fit seamlessly into a world that seems just minutes from where we are now. So of course there will be bomb-sniffing dogs in the rocket hanger; just because we develop the technology for routine travel to outer space does not mean we will develop a safer world at home. And of course there will be a Subway (the sandwich place, not the mode of transportation) in a space outpost because why wouldn't fast food corporations line up whatever territory they can.
I will not spoil the adventures along the journey; I will just say that the characters' acceptance of them as ordinary and expected also underscores the vastness of the imagined world and deepens the impact of the dangers Roy faces.
The score by Max Richter, cinematography by Hoyte van Hoytema (Interstellar), and the sound design by Grant Elder shape the story-telling, making the exploration seem so completely realistic that we can believe it is already an ordinary part of our daily lives, but keeping things exciting and suspenseful when the time comes.
And then there is the story. Roy McBride (Brad Pitt) is an astronaut, like his father Clifford (Tommy Lee Jones), who disappeared on a voyage to Neptune when Roy was a child. Now someone needs to go to Neptune to investigate a mysterious electrical surge that is creating great damage on earth. And it seems possible that Clifford is involved somehow, that he has survived all this time.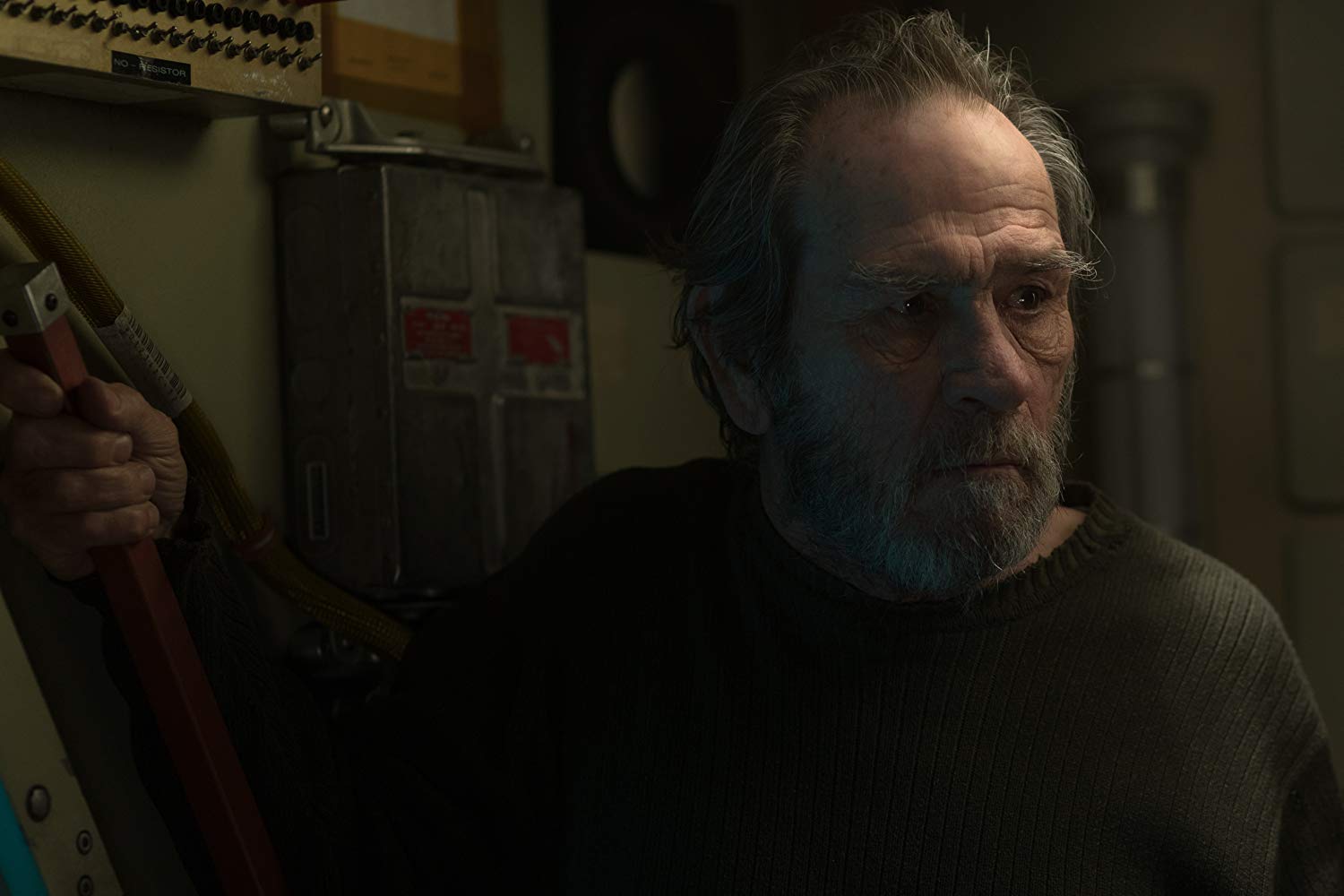 Photo by Francois Duhamel - © Twentieth Century Fox
The astronauts are required to do regular self-assessment check-ins on their mental and psychological states to determine whether they are stable enough for space travel. But it is not at all clear as Roy goes through the list of questions whether he is saying what he really feels or what he knows they want to hear. "I am focused only on the essentials," he says, "I do not allow my mind to linger on that which is not important." Can anyone believe that is possible? Or that it should be possible? What Roy's superiors know is the data that they have received, showing that his pulse never goes above 80, even when the situation is very dire. So, should he have one of those "Houston, we have a problem" complications, they believe they can count on him to be level-headed and focus on practical solutions instead of getting emotional, frightened, or angry.
And so he seems to be the right choice for "a crisis of unknown magnitude," unprecedented electrical surges that put all human life at risk and that seem to be connected to Clifford's long-ago mission. Roy agrees to go to Neptune, requiring stops on the moon and Mars, to see if he can find and stop the surges. But there's a warning. "We have to hold out the possibility that your father may be hiding from us." "I remain mission ready," Roy assures them.
But we learn that Roy understands rage. He has seen it in his father and he feels it in himself. There will be sacrifices along the way, and decisions with tragic consequences. I found the ultimate encounter less than satisfying, not up to the ambitions of the premise and the settings. But Pitt's performance and the world of the film provide more than enough reason to watch and wonder.