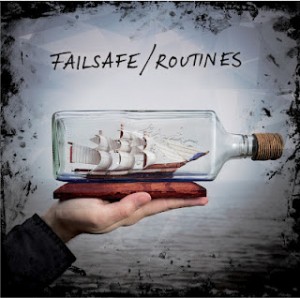 Failsafe's latest release Routines is not only the band's North American debut but also the first release from Hawthorne Heights' new label Cardboard Empire. Failsafe offers a gritty feel that will have you reminiscing of the days "Ohio is for Lovers" was playing on MTV, but they're not just trying to imitate their label owners — they add an indie rock touch to their unique brand of pop punk, throwing catchy hooks in with heart-wrenching guitar parts. Routines is filled to the brim with songs that duke it out in an effort to become your favorite.
Routines carries an overall theme of time, interlacing every song and giving the album a sense of consistency. The first song "Persistence of Memory" starts with a ticking clock but wastes none of your time. The guitars give it the rough, sultry feel of a Polar Bear Club song. "Sleepwalkers" and "Dead to the World" both feature interesting intros before getting down to the good stuff. "Sleepwalkers" will put you in a trance; it's a simple song with pounding drums that will hypnotize you by the first verse. "Dead to the World" lets guitarists Simon Humpries and Matt Cogley show off their prowess with sophisticated riffs that mirror the vocals, almost as if doing a duet with them.
"Routines" has earned its spot as the first single off the album. It's a hard-hitting track with weighty guitars that will hold you down and have you listening again and again. "Every Cycle" has the same ability to keep you on the edge of your seat the whole song. There's not a second of downtime in either of the four minute tracks, so don't plan on multi-tasking while listening to these songs — they demand your full attention.
"Early Hours," "Skin and Bones," and "Light of Day" present a lighter side of Failsafe, perfect for early morning drives. Drummer Rob Catlow steers the album through its twists and turns with ease, transitioning from the heavy songs to the softer ones seamlessly. "Something To Someone" has a slower start, in stark contrast to the anthemic chant of "Forget where we came from" that finishes off the track. The closing track "Worth the Wait" lives up to its name, leaving you begging for just one more song. Reinforcing the lyrics "time is ticking on again" throughout the song, this track winds down the album, letting you down slowly as frontman James Norris' vocals recall Matchbook Romance's Stories and Alibis.
Failsafe have proven in the UK that they can give audiences exactly what they crave, and they bring that same power and passion to their first American release. Cardboard Empire has made no mistake in their decision to team up with Failsafe for their North American debut. Warning: be sure to close your blinds while rocking out to this record or your neighbors might get concerned. In no time at all, Failsafe is sure to become part of your daily routine.
Rating: 4/5