Basically: Brian Banks had 10 years of his life stolen but somehow still shines his light. 
 In 2002 Brian Banks was a 16-year-old kid attending California's Poly-Technic high school in Long Beach, CA. He was a star football player with interest from universities who played alongside future NFL stars DeSean Jackson, Winston Justice, and Marcedes Lewis. The future was bright for the young man until he was falsely accused of rape, pleaded "no contest," and was imprisoned for six years. The story of his triumph over a wrongful sexual assault conviction in this touching drama is inspiring.
In the movie, Aldis Hodge gives a deep and moving performance as Brian Banks. His ability to convey a wide variety of emotions without speaking makes up for places where the script left a bit to be desired. Sherri Shepherd, who might be more easily recognized in her comedic element, flexes her incredible dramatic acting talent as Brian's mother Leomia. Throughout the film, Leomia provides a guiding light along with Brian's mentor, played by Morgan Freeman. 
You can gather from the action that the system is broken, the injustices are clearly messed up but the film doesn't overtly explain or lay out why the American judicial system is broken. The many hurdles placed in front of a reformed offender keep him from achieving, even the most minimal of successes, such as getting a job or even visiting an art museum. After numerous attempts to secure help from the California Innocence Project, the founder Justin Brooks (Greg Kinnear) agrees to take on Brian's case. CIP usually only handles cases of the wrongly convicted who are still serving their sentences but Brooks was so taken with Banks that he agreed to work toward overturning the conviction anyway.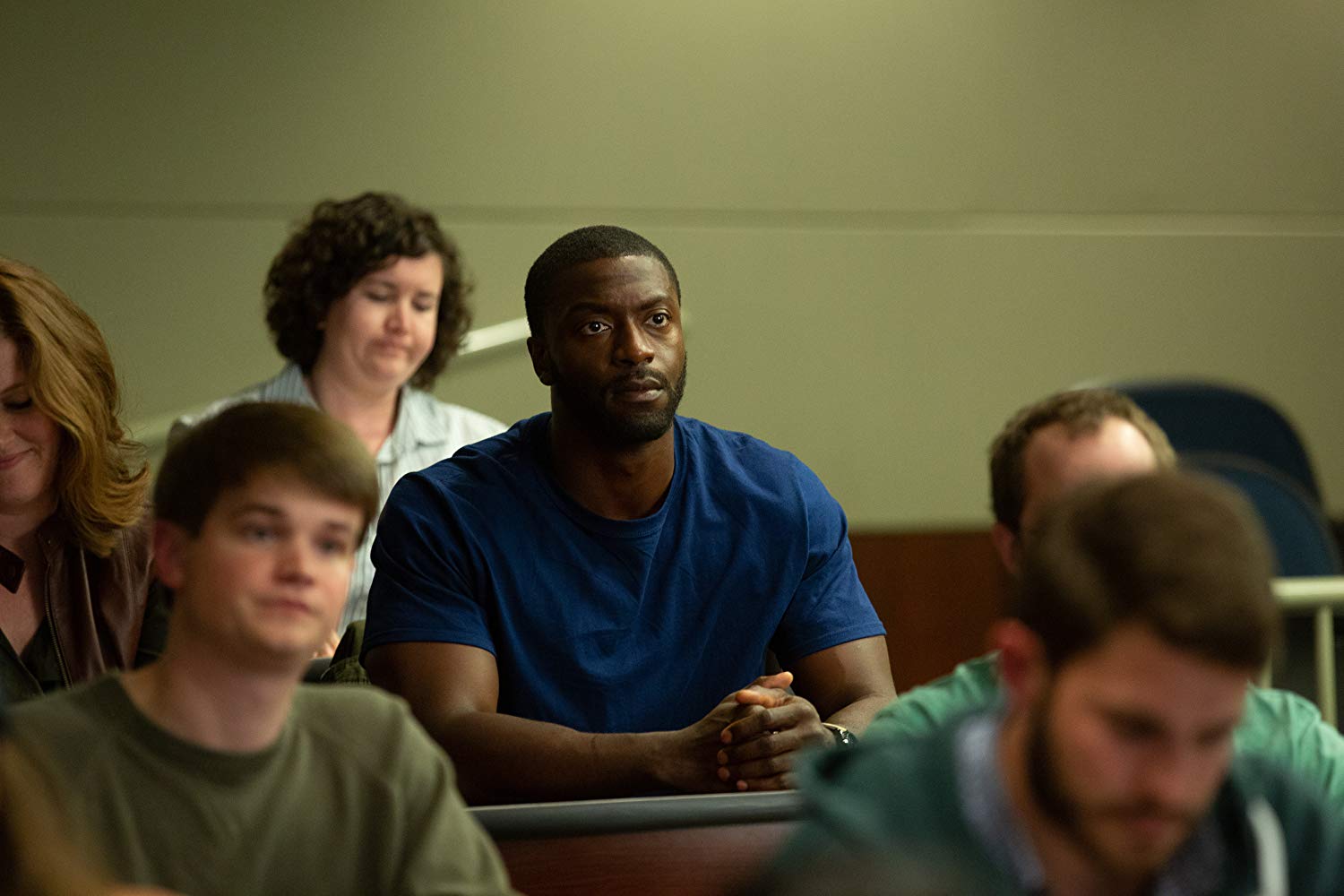 Photo by Katherine Bomboy - © Bleecker Stree
It would be cheap and insensitive to claim that this movie has anything to do with the #MeToo movement. The film does however do a perfect service of clarifying that the judicial system fails the wrongly convicted as well as women who seek legal action for sexual assault but are brushed aside. When Brian and love interest Karina (Melanie Liburd) express the ways the system has failed them individually it may go unnoticed by viewers, looking for reasons to discredit the film or the man, but it's a closed-minded person who believes a broken system is only broken in one way. As a film, Brian Banks is even kind to the accuser when it's repeatedly implied that she was young and made a bad choice. The filmmakers give many explanations that turn the narrative away from "vicious cruel girl ruins star football players life" and they shine a light on how a series of careless legal oversights in the system stole ten years of a young man's life.
The most amazing part is the real Brian isn't bitter. 
Overall, the film achieves its goal of shining a light on the wrongly convicted and how it's next to impossible to overturn convictions. There could have been more clarity provided by the script but that doesn't make the movie any less touching. 
In the End: 'Brian Banks' is an outstandingly acted tear-jerker that should make you question the judicial system.