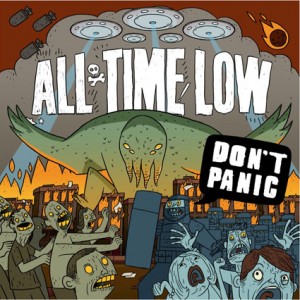 Over the summer, staying up to date with All Time Low was a lot like following a reality TV show. There was so much going on that it was almost impossible to keep up, from leaving Interscope Records, resigning with Hopeless, announcing that they were getting ready to release a full-length record entitled Don't Panic, and of course we can't forget the usual relationship rumors spreading like wildfire over the Internet. But among all the chaos, they managed to release a sign of hope in the form of "The Reckless and The Brave," a contagiously energetic track which seems to have become the anthem of the band's fan base. The song delivers a message of independence and perseverance, a message that the album carries through its entirety while musically resembling the best of the band's previous releases. The single serves as the perfect opener for Don't Panic as it sets the tone for the rest of the record and proves to the Dirty Work-hating skeptics that the All Time Low they love aren't going anywhere.
While there are a few tracks reminiscent of the highly criticized Dirty Work, they capture that album's best moments. "The Irony Of Choking On A Lifesaver" resembles the laid back energy and vocal performance of "I Feel Like Dancin," but this time the message is much more meaningful than getting drunk and speculating whether or not we're aliens. "Outlines" reflects a similar style to "Do You Want Me" or "Forget About It," but guest vocals from Acceptance's Jason Vena make it an immediate standout. His performance makes up the hook preceding the chorus and pulls the listener in to make for a simply addicting track that's bound to be a fan favorite. Another highly anticipated collaboration was Cassadee Pope's appearance in "Backseat Serenade," but while the track itself is a personal favorite, her presence in the song could have been much stronger.
Second single "For Baltimore," "If These Sheets Were States," and "Paint Your Wings" resemble Nothing Personal with the band's "get up and dance" attitude, and Alex Gaskarth shows off his vocal range a bit more than usual. "So Long Soldier" harkens even farther back to the teen angst-filled Put Up Or Shut Up days, a pleasant surprise for older fans, although the presence of Bayside's Anthony Raneri in the song could have been much more distinguished. Rian Dawson owns the drums on the entire record but is especially strong on this song, making his performance one of the most memorable parts of the track.
"Somewhere In Neverland" and "Live and Let Go" are exactly what fans would expect to come out of another fantastic All Time Low album between their heartfelt lyrics and some of Jack Barakat's catchiest guitar riffs to date. Closing track "So Long, And Thanks For All The Booze" follows in a similar fashion, carrying the band's intoxicating energy through to the last note, guaranteed to leave listeners craving more.
Despite its minor setbacks, Don't Panic is a fantastic album sure to silence the doubters. A compilation of the best elements that came from the band's past releases, this record will doubtlessly be an immediate hit among both old and new fans, no matter what album made you fall in love with them in the first place. This record has every type of song you could ask for — songs that you can dance to, cry to, scream to, and make out to — so do your ears a favor and pick up a copy as soon as possible because All Time Low are back and better than ever.
Rating: 5/5