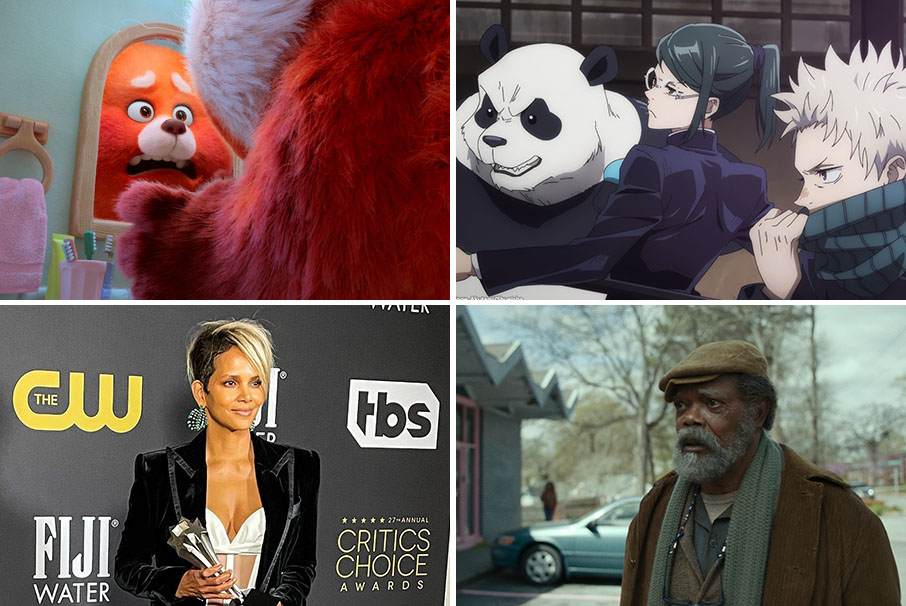 The latest Geek Girl Riot's got the love for Turning Red, Jujutsu Kaisen 0, The Last Days of Ptolemy Grey, and the Critics Choice Awards.
Turning Red
Domee Shi's new Pixar movie Turning Red has got us doodling hearts all over our notebooks—now it's out on Disney+, we're ringing that Spoiler Siren and diving all the way into it. Sherin, Julian, and Kat & Cub share their favorite moments, talk about why it's important, and get into the music. 
Jujutsu Kaisen 0
Sherin and Julian switch gears and talk all things Jujutsu Kaisen 0, the new prequel movie to the beloved anime. Sherin says, "Jujutsu Kaisen is already a favorite series for me and 0 amps that up to infinity. It has everything I love about this kind of storytelling: witty dialogues, friendships, backstories that surprise you and yet make so much sense, amazing fight scenes, and characters who you want to take the journey with. Definitely see Jujutsu Kaisen 0, it is one of the best anime movies in recent times." You can also read Julian's review here. Our Rioters talk about the story and action, the animation style, and how it fits into the Jujutsu Kaisen universe.
The Last Days of Ptolemy Grey + The Critics Choice Awards
Sherin kicks off the final segment with a teaser overview of The Last Days of Ptolemy Grey, which you can stream on Apple TV+. She says, "Similar to a novel, The Last Days of Ptolemy Grey takes its time getting set up, making sure we understand the Before, so the After lands a solid punch. If you're patient, this one pays off."
Then Sherin and Julian break down the Critics Choice Awards—they're both newly inducted members and so got to vote for this year's nominees. They share the surprises, their top picks, and shout out the most well-deserved winners.

We're obsessed with playing detective on the roaring 20s adventure that is June's Journey. The free to download game challenges you to solve an enthralling murder mystery by searching for hidden clues around each room. Ready to awaken your inner detective? Download June's Journey free today on the Apple App Store or Google Play!
—
Tune in to Geek Girl Riot on idobi Radio every Tuesday at 11pm ET / 8pm PT for your dose of late-night geekery. 'Til next time, see a list of everything our Rioters talked about below:
LINKS:
 – Turning Red (read Sherin's review)
 – Jujutsu Kaisen 0
 – The Last Days of Ptolemy Grey
 – Teen Wolf
 – The Good Dinosaur
 – Cars
 – Black Panther
 – Tokyo Metropolitan Magic Technical School
 – The Ring
 – The Grudge
 – Jujitsu Kaisen
 – Naruto
 – Demon Slayer: Kimetsu no Yaiba
 – Bleach
 – The White Lotus
 – The Power of the Dog
 – CODA
 – Ted Lasso
 – Belfast
 – The Eyes of Tammy Faye
 – Succession
 – Hacks
 – Dopesick
 – Mare of Easttown
 – Yellowjackets
 – Squid Game
 – Don't Look Up
 – Winning Time: The Rise of the Lakers Dynasty
 – West Side Story
Podcast: Play in new window | Download